How to Change Your Major to Nursing Without Starting Over
Picture this: You went to college and decided on a major that was right for your future. Now, after taking those courses and gaining some real-life experience in the field, you realize this path is not the right fit for you and instead you want to become a nurse. But is it too late to change your major to nursing? And will you have to start back at square one?
Lucky thing for you, the answer is no on both accounts. Roseman University's Accelerated Bachelor of Science in Nursing (ABSN) program offers students, like you, a second chance. You can change your major by leveraging your non-nursing credits and become a nurse in as few as 16 months after finishing prerequisites.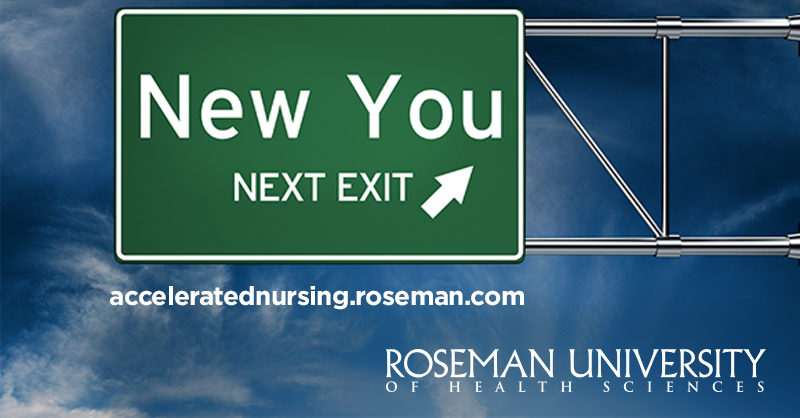 So where do you begin? Here is a step-by-step breakdown of everything you need to know about how to change your major to nursing.
Can I Change my Major to Nursing?
The simple answer is yes. You can change your major to nursing without sacrificing your current education. If you are close to graduating college, or if you've already earned a bachelor's degree in a non-nursing field, you can earn your Bachelor of Science in Nursing today through Roseman University's ABSN program and even shave some time off of your prerequisites depending on you prior training.
The best time to change paths is if you have 60+ credits because you can leverage those for your prerequisites and start the ABSN curriculum sooner.
Your Admissions Checklist
While you do not need prior nursing experience or a bachelor's degree to be eligible for Roseman's ABSN programs in Las Vegas or Salt Lake City, you must meet the following requirements in order to attend the program:
A minimum of 60 undergraduate credits from a regionally accredited institution
Completion of prerequisites with grades of "C" or better and a minimum cumulative 2.75 GPA
Completion of the Test of Academic Skills V (TEAS)
Completion of the Test of English as a Foreign Language (TOEFL), if applicable
Completion of in-person, on-campus interview
For more information about our admission process, download The Ultimate Nursing School Admissions Checklist now.
The Interview Process
One of the most unique requirements of Roseman University's ABSN program admission process is the on-campus interview with faculty and student representatives. While most programs determine a student's eligibility through a student's resume, Roseman goes beyond the paperwork because we know there is so much more to learn about you than what is on a piece of paper.
What will you be asked? "They'll ask specific questions about communication, compassion, motivation, teamwork and problem-solving skills," says Michael Makkonen, Roseman University ABSN Program Site Director. "They want students and faculty to meet in person because it's not just about you fitting Roseman's criteria – it's also about Roseman University fitting in with you."
But you don't have to worry about going in unprepared – your admissions advisor will help you through the process so you'll know exactly what to expect.
Are You Ready to Change Your Path?
Your admissions advisor will begin with these simple questions:
Why did you decide to change your major to nursing?
Why does Roseman University's ABSN program interest you?
So before you make the call, you should be prepared with an answer. Here's why the following Roseman ABSN students decided to change their career path and choose Roseman University's ABSN program:

"I did retail management and although I like people, I hated retail management. I decided that I was going to do the medical field and started working as a CNA. That's when I realized nursing was my calling."  – David S., Roseman ABSN Class of 2017
"I started undergrad doing premed and after a few semesters of not being focused, I switched my major to education. A year from graduation I finally woke up and realized I need to be in the medical field.  – Genessa L., Roseman ABSN Class of 2017
"My family was like – why didn't you just do nursing in the first place? But I love that I could just jump right into this and begin the program right away– Samantha A., Roseman ABSN Class of 2016
Having already earned a degree in economics, I knew I wanted to get done quickly so I was searching for an accelerated program. – Shaun R., Roseman ABSN Class of 2015
Speak to an Advisor
Your passion for nursing is newly discovered and you want answers. The first step: connect with an admissions advisor.
Your advisor will act as your personal guide throughout the whole accelerated nursing program application process. Your initial conversation with an admissions advisor is simply to find out what your goals are and how they can fit with the goals of Roseman's ABSN program.
"The first phone call is an advising appointment to find out about their expectations and match those to program expectations to see if it's a fit," says Michael Makkonen, Roseman University ABSN Program Site Director. "Then we'll review transcripts and help prepare them for all the steps necessary for admission to the program."
Are you ready to take the first step toward changing your major to nursing? Learn more about Roseman University's Accelerated Bachelor of Science in nursing program and contact an admissions advisor today. It's never too late for a second chance at a nursing career.