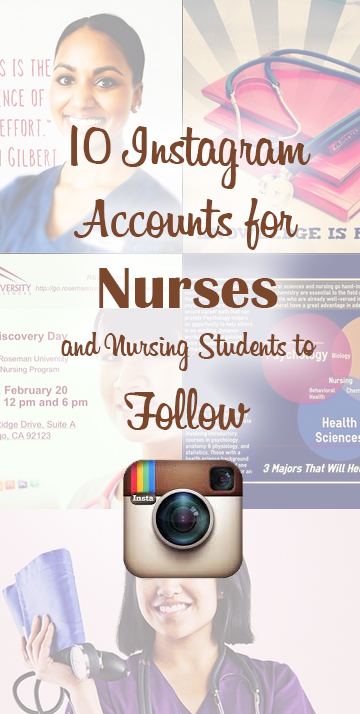 The Roseman University accelerated nursing program believes in cultivating a strong community for our nursing students. We strive to connect our students to each other so they realize the importance of joining forces with one another. A great way to spread community throughout the nursing world is by using social media. One social media channel we like in particular is Instagram. We have created this list of great Instagram accounts for nurses and nursing students to follow.
@RosemanNursing: Stay connected with our program and all things nursing with our program's Instagram. We strive to encourage our students, nurses and future nurses alike. Check in every Monday for inspiration with #MotivationMondays!
@FindNursingSchools: If you are hoping to go to nursing school in the future, follow this account run by Find Nursing Schools for tips on how to find the right nursing school for you. This account posts information about the nursing profession and nursing schools, inspirational photos and the latest blog posts.
@NursingSchoolProblems: This funny Instagram is run by the Nursing School Problems blog. If you have funny pictures to submit to the @NursingSchoolProblems page, hashtag your photo with #NursingSchoolProblems and your picture may be featured!
@NursingLOL: This account literally does as the name says and make you laugh out loud! This Instagram posts funny memes, jokes and cartoons that will brighten any nurse's or nursing student's day. Follow for a good LOL!
@Scrubscriptions: This Instagram promotes ScrubScription, a company that delivers new medical scrubs to the front doors of nurses and healthcare professionals monthly. The Instagram shares the company's website and posts promotions, competitions using #hashtag challenges, jokes and inspirational quotes.
@NursingAdventures: This off-beat, humorous Instagram posts jokes and memes to brighten up the days of stressed nurses and nursing students.
@AliKaps: This Instagram endorses the AliKaps store on Etsy, which sells stylish and unique scrub hats for nurses and physicians. The @AliKaps account posts pictures of the newest designs modeled by nurses and close-up pictures of the fabrics used to make the nursing caps.
@ExploreNursing: This Instagram does as the name suggests – explores the nursing industry with fun, informational posts and inspiration.
@MedicalSolutions: The Medical Solutions Instagram promotes the travel nurse agency. The posts include pictures of nurses and healthcare professionals, photos of their headquarters, inspirational quotes and #hashtag challenges with prizes for participants.
@ThreeTwelves: The Three Twelves Instagram promotes the stylish company run by two sisters whose goal was to not sacrifice style while wearing scrubs. Three Twelves design chic scrubs, such as color block peplum scrub tops, "skinny" scrub pants bottoms and studded scrubs outfits. Their Instagram includes pictures of the sketches and designs of the scrubs, inspirational posts and jokes.
If these Instagram accounts have inspired you and you are ready to take the next step towards becoming a nurse, contact us here to learn more about one of the best nursing schools in Las Vegas!