Travel nursing is an exciting and fulfilling career option that many registered nurses will consider at one point or another. Unfortunately, it's quite common to become overwhelmed during the research process with hundreds of companies and myriad issues to consider. Fortunately, like many things in life, 20 percent of the work will yield 80 percent of the results.
In this blog post, we'll offer 10 tips that will simplify your transition to travel nursing.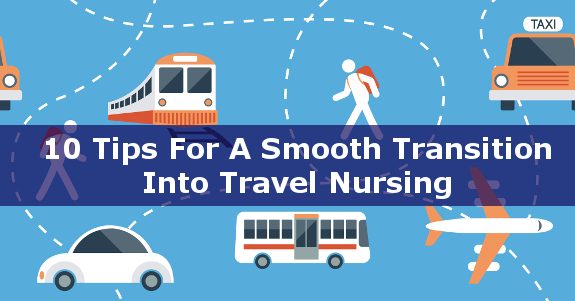 1: Have A Specialty That Is In Demand
Travel nursing requires at least one year of experience within the past three years in the specialty you'll be applying for. This is the minimum requirement, and many jobs require two years or more of experience. More importantly, certain specialties are in greater demand.
The most in demand specialties tend to be:
Intensive Care Unit (ICU, CCU, CVICU, MICU, etc.)
Labor and Delivery (L&D)
Emergency Room (ER)
Operating Room (OR)
Pediatric Intensive Care Unit (PICU)
Neo-natal Intensive Care Unit (NICU)
Pediatrics (PEDS)
Telemetry (TELE)
Step-Down Unit (SDU, PCU, DOU)
Medical Surgical (MS)
Other popular specialties include PACU, Case Manager, Home Health, Post Partum, and Mother Baby. It's important to note that the less demand there is for a specialty, the more flexible you'll need to be as far as location in order to stay continuously employed.
2: Know Your Travel Nursing Destinations In Advance
Planning your destinations in advance is highly recommended. For starters, most hospitals require that you have a license to practice in their state before they will consider you for their jobs. This is because hospitals typically want travelers to start within two to four weeks of the job opening and it typically takes longer than that to secure a license in most states.
Additionally, getting licensed in one or more of the states which use the most travel nurses is a good idea. By doing this, you increase your job possibilities, which helps you stay continuously employed. The busiest states for travel nurses are:
California
Arizona
Texas
Florida
Finally, if you have a compact nursing license, then you'll be able to practice in a large number of states, which is most beneficial. Also, remember that places like Hawaii and San Diego are possible travel destinations, but don't put all your eggs in those baskets, because they're competitive. It's good to diversify your destinations.
3: Make Sure You Have The Required Certifications
Each specialty has commonly required certifications. However, many hospitals require additional certifications. The more certifications you have, the more jobs you can access. Therefore, it's best to obtain as many certifications as you can for your specialty in advance. Each specialty is different, but here are some examples:
Med/Surg: BLS and ACLS
ER: BLS, ACLS, PALS, TNCC
ICU: BLS, ACLS, TNCC
Labor & Delivery: BLS, AWHONN Fetal Heart Cert, ACLS, NRP
Finally, certain certification bodies are mandatory. For example, use only the American Heart Association for your ACLS, BLS, and other common certifications.
4: Get Your Paperwork Together
When you on board with a new travel nursing agency, you will need to send them front and back copies of all your licenses, certifications, and employment documents like your driver's license and social security card. In addition, they will ask for copies of your clinical records like immunizations, PPD exams, and physical exams.
It's best to make copies of everything you have in advance. Also, try to obtain as many clinical records as you can from your current employer. Hospitals and other healthcare employers typically provide these exams and clinical records for free. This can save you a ton of time by not having to make several trips to clinics to get them all done through the agency.
It's best to save all of your documents as a PDF. Then, save the copies on a cloud storage system like DropBox, Box, or OneDrive. That way, you'll have access to them anywhere you have an internet connection.
5: Customize Your Resume For Travel Nursing
Travel nursing resumes are much different than permanent nursing resumes. In fact, there are over 30 details to include on your travel nursing resume. These details include the number of beds in the hospitals you worked for, beds in the units you worked, and your references and their telephone numbers. The best thing to do is run a Google search for "Travel Nursing Resume." There are some great resources out there to help you create the perfect resume.
6: Understand The Travel Nursing Pay Package
The travel nursing pay package is much different than permanent compensation packages. Travel pay may be comprised of hourly pay rates, housing or a housing stipend, travel stipends, meals and incidental expenditure stipends, medical benefits, rental cars, and more. The most important thing to know is that nothing is free, contrary to what many agency websites say.
Therefore, it's important to consider every last compensation variable in order to properly evaluate and compare pay packages. It's important to do this because negotiating is required in order to get a fair and good deal. Unfortunately, many first-time travelers arrive at their destination hospitals to find that they are getting underpaid.
The best resources for learning about travel nursing pay can be found on BluePipes Blog. Their pay category has over 60 articles including videos and step-by-step guides on negotiating.
7: Figure Out Your Tax Home
Accepting tax free money requires that you maintain a tax home. We're not tax advisers and this issue has several scenarios to consider, so we won't go into detail here. The important thing is that you know to do your research on this issue. Be sure to trust only reputable resources and registered tax advisers who specialize in taxes for traveling professionals.
8: Determine What You Want
By considering the items above, you will develop a pretty good idea about what you want out of your pay package and where you want to travel. It's a great idea to make a checklist that includes the following:
Items you must have
Items you'd like to have but aren't necessary
Items you do not need
Your desired destinations
This checklist will guide your conversations with agencies. If an agency cannot provide the things you must have, then move on to the next. For example, if you want to travel to Dallas, Texas, then there is no need to spend time with an agency that doesn't have jobs there.
9: Find The Right Travel Nursing Companies
There are hundreds of travel nursing companies. It's best to work with multiple companies for two reasons. First, no one agency has contracts with every hospital in a given state. In fact, you'd be hard pressed to find an agency that worked with every hospital in a major metropolitan area.
Second, working with multiple agencies is the easiest way to increase your negotiating strength. Let the recruiters know that you're working with other agencies. They're used to it. If they make a fuss, it's okay to move on. Again, there are over 300 agencies out there.
To find companies that work in your desired locations, you can use Indeed or SimplyHired and search for travel nursing jobs by location. If an agency is advertising jobs for the location, then they have contracts there. It doesn't matter at this point if the jobs are for your specialty. At this point, you're just looking for agencies that have contracts in your desired locations.
Next, use a resource like Highway Hypodermics to look up reviews, ratings, and other pertinent information about agencies. This way, you'll be able to find highly-rated agencies that work in your desired destinations.
10: Watch Out For Travel Nursing Agency Marketing Sites and Lead Generators
When doing your research, it's important to know that there are many websites that look like independent resources for travel nursing information but really aren't independent resources. Many of the largest agencies have blogs, community sites, and even CEU services that they use for marketing purposes. The information you receive is typically scant on actionable details and the sites are designed to funnel you to the agency. That's okay, it's just good to know in advance.
Finally, you should also watch out for "lead generators". These websites are designed to get you to provide your contact information so that it can be sold to third parties. They typically make a promise like, "Fill out this simple form to work with all the top agencies!"
Your contact information will be sold to any agency willing to pay for it. You will receive a ton of calls and emails for years to come. You'll spend a lot of time speaking with agencies who can't meet your needs. Some people are okay with this and find the services useful, but it's good to know what you're signing up for in advance. Be sure to take a look at their privacy statements before proceeding.
Travel nursing is a fun way to experience the country and increase your skill set. We hope that these tips help simplify your transition so you can spend less time researching and more time enjoying the adventure.
Kyle Schmidt is a Co-Founder of Bluepipes.com, a healthcare professional networking website that provides features designed to solve the unique career management challenges facing nursing, physician and allied professionals.
Learn how you can become a nurse quickly through Roseman University's accelerated nursing program in Utah or Nevada by contacting us today.