This is a guest post written by one of our instructional designers.
Nursing school is a challenging undertaking, and accelerated nursing programs can be even more difficult for some students. However, the following tips can help increase your chances of being successful.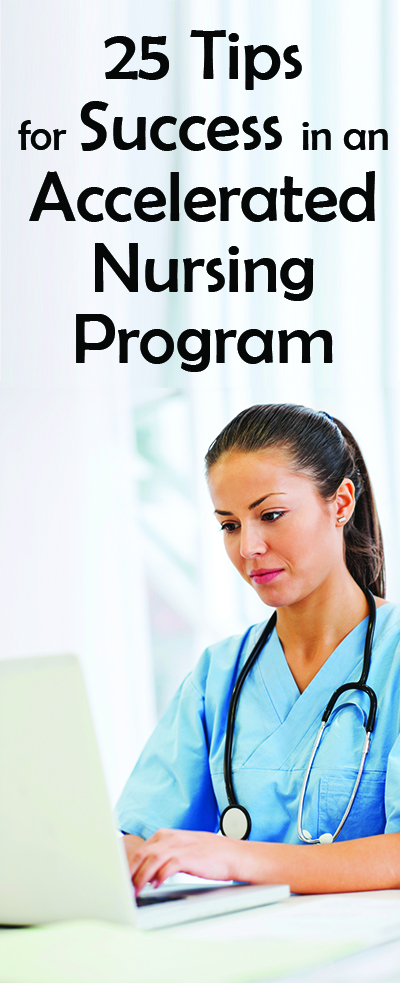 Take responsibility for your own learning:
1. Define your priorities. Make it clear to everyone that nursing school is at the top of your list.
2. "Attend" your courses by logging in on a regular basis.
3. Practice the clinical skills you're learning in your online didactic course.
4. Get organized.
5. Contact your instructor for help as often as you need to.
6. Search online for additional resources to help you learn difficult content.
7. Do whatever it takes to motivate yourself to learn.
8. Put in the time required to sufficiently learn the material – no matter what the clock says.
9. Maintain a professional appearance and attitude at all times.
Manage your time:
10. Cut back on other activities that aren't related to nursing school. Working during your time in the program is not recommended.
11. Create a schedule at the beginning of each class.
12. Set aside time each week when you know you'll be able to sit down and study without interruption.
13. Do everything in your power to stick to your schedule.
14. Create a course calendar (or make note of the calendar your instructor provided) for each course.
15. Plot out assignment due dates on the calendar, including the time you'll need to complete each assignment on time.
16. Include the time it'll take to complete your reading assignments, listen to lectures and complete the practice activities in each course.
Take advantage of the resources available to you:
17. Read your textbook and answer the practice questions at the end of each chapter.
18. Go online to take advantage of the web-based resources associated with your textbook.
19. Ask questions of your instructor.
20. Listen to all of the online lectures.
21. Use the optional activities in your course to help you practice the application or memorization of content.
22. Log in to your course frequently to look for instructor announcements and student communications.
23. Use your clinical experiences to help you apply the information learned in your didactic course.
24. Use online discussions to help you make connections between didactic concepts and their clinical application.
25. Use the technical support options available to you.
For more information about the Accelerated Bachelor of Science in Nursing at Roseman, request information today.