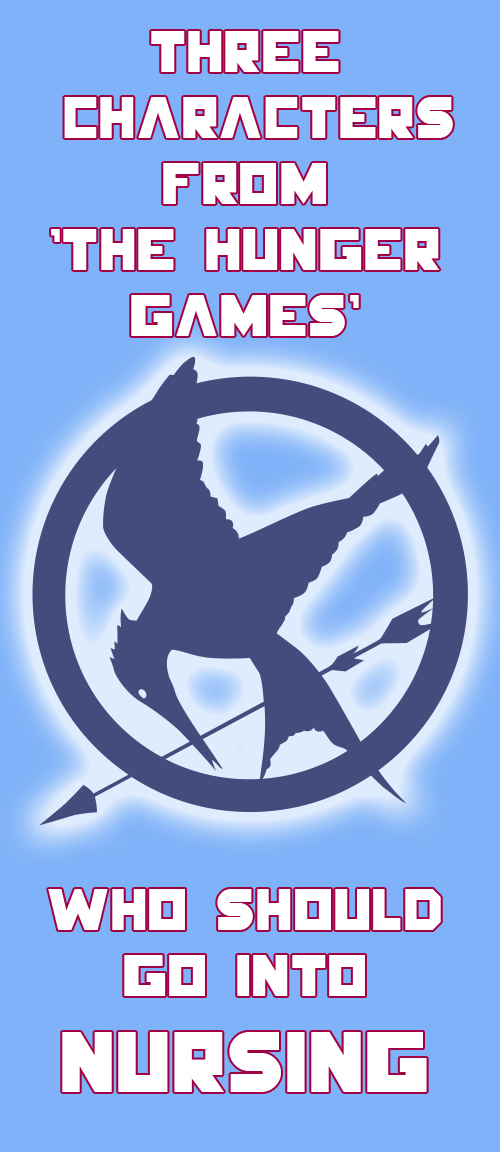 Who doesn't love "The Hunger Games"? Action, drama, love, war – this series has it all, including characters with the strength and skills to pursue nursing as a second career. Here are 3 characters from the country of Panem who have all the makings of an RN. Our choices may surprise you!
(Warning: Spoilers ahead.)
Peeta
If you've ever been a patient in a hospital, you know that the competency of a nurse isn't based solely on clinical skills. If you can't connect with patients on an emotional level, your ability to provide good care is severely limited. Peeta Mellark may not be much of a fighter in the arena, but his ability to communicate and empathize with those around him is second to none. Peeta's benevolence and compassion shine throughout the series, whether he's soothing a terrified Katniss after her post-Games nightmares or calming the mass of thousands at District 11 during the Victory Tour. But Peeta's defining moment is his encounter with the female morphling in the second Games. Bleeding profusely from a neck wound after saving the boy from a deadly attack, the morphling from District 6 spent her last moments on the beach with Peeta, cradled in his arms, listening to his earnest description of the sunset until she died.
Peeta embodies the true spirit of a nurse – someone who isn't afraid to be present for heart-breaking moments, who can push aside fear to connect with someone in pain. If he ever wanted to explore ER or trauma nursing, he would be more than capable.
Beetee
Not every nurse is called to the bedside. Beetee, an electronics wizard from District 3, won't win any congeniality awards, but his technical prowess would be a huge asset to the nursing profession. His calculated mind and inquisitive nature allowed him to win the Hunger Games with brains instead of brute. They also position him well for a career in informatics nursing, a specialty that uses advanced computer and information technologies to improve communication and data flow. This area of nursing will only grow in popularity as more people enter the healthcare system as a result of the Patient Protection and Affordable Care Act.
Informatics nursing is one of countless opportunities for RNs who are looking for jobs outside of patient care. Quality improvement, clinical research, academia, textbook writing, medical sales and legal consulting all need baccalaureate-educated nurses to mine data, produce content, inform business decisions and educate the workforce of tomorrow.
Haymitch
To describe District 12 mentor Haymitch as "rough around the edges" would be an understatement. His brash demeanor makes him a poor fit to assist patients in an acute care setting. But that doesn't mean he couldn't make a great nurse. Haymitch's coaching abilities suggest that he might be a powerful  (if not unique) public health nurse. These nurses create care plans for entire communities to address local health and safety issues. Isn't that what Haymitch did for Katniss and Peeta? Orchestrating the lovebirds strategy, supplying essentials like food and medicine, forging alliances on their behalf – all of these actions contributed to their success ("health") in the arena. Haymitch's tough love approach could save even more lives (provided he can stay sober).
In Roseman University's 16-month accelerated nursing program in Las Vegas, community health is just one of several nursing areas covered in our ABSN curriculum. The program combines online theory classes, practice sessions in our nursing simulation lab and clinical rotations in hospitals and healthcare facilities throughout Southern Nevada. Our goal is to prepare you to think like a nurse before you graduate.
Roseman's ABSN program offers three start dates with no wait list for nursing school! To carve out your path to nursing, call us at 877.885.8399 or complete our contact form.