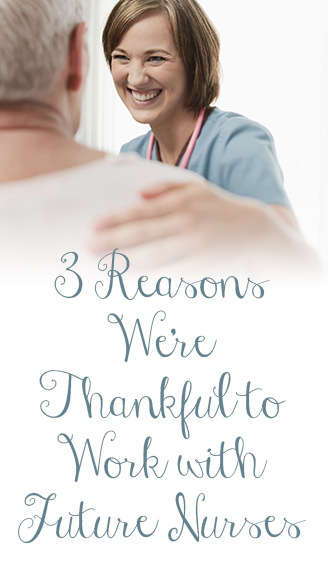 It's the season to be thankful for all that you have. All of us at the Roseman University accelerated nursing program in Las Vegas are thankful to have the chance to know future nurses and help them realize their dreams of a career in health care.
This year, we moved to a new location and watched students start their journey to a nursing career in our expanded and improved space on the Roseman University campus. We met people in California during Nursing Discovery Day who are interested in a nursing career and are willing to take the steps to get there. We talk to future nurses daily about their goals, challenges and excitement. And we still have one more Open House this year to speak to even more! The future nurses we work with make us thankful daily.
Why are we thankful to spend our time with future nurses?
They're passionate.
There's nothing easy about earning a Bachelor of Science in Nursing (BSN) in just 16 months. Our program requires discipline and ambition, and our students continue to show us that they are passionate about a career in nursing and committed to making it happen. From prerequisites to clinicals, our students give their all in our demanding program to ensure that they are wonderful nurses. Their desire to become RNs is inspiring.
They're courageous.
Returning to school for a second bachelor's degree is a huge step. Many of our students have decided that they want to change their lives, and they have the courage to make it happen. They've left jobs that weren't fulfilling, returned to school after many years outside of the classroom, and taken the steps to make their dreams come true. Our future nurses know the importance of taking courageous leaps to live their best lives.
They want to make a difference.
We hear again and again from our students that their goal isn't money or recognition. Our students want to positively affect lives. And they do. Even as nursing students, those studying in our program touch the lives of patients during clinicals, as well as the lives of their fellow students with their support.
At Roseman University, we're thankful that we're lucky enough to work with future nurses. They're an impressive bunch who inspire us to keep giving our best. Thank you, nursing students! We know how hard you work and appreciate all the traits that make you who you are!
Are you ready to become a nurse? Contact us today!