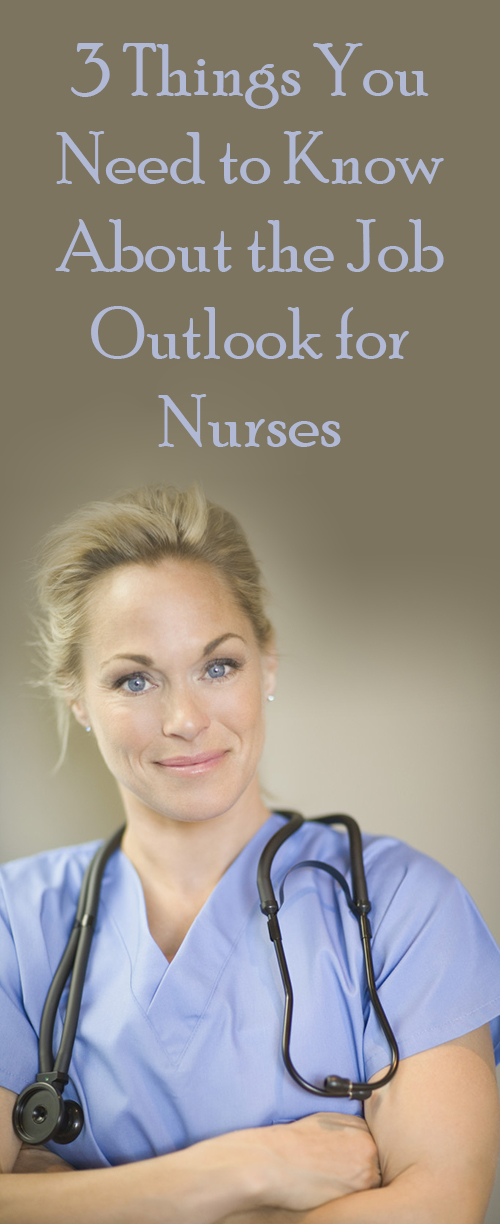 The fact that RN jobs are growing at a faster rate than all other occupations combined is common knowledge to anyone who reads the news. But here are some facts you might not know about the job outlook for nurses:
BSN grads are more likely to find work shortly after graduation than in other fields.
If you're worried about finding a job after nursing school in today's job market, let new data from the American Association of Colleges of Nursing (AACN) put your mind at ease. Just last month, the national voice of nursing education issued a press release stating that nurses who earn a Bachelor of Science in Nursing (BSN) or a master's degree in nursing are more likely than graduates of other fields to have jobs offers at the time of graduation or soon after. A national survey revealed that 59% of new BSN graduates had job offers at the time of graduation – almost 30 percent higher than the national average across all professions. At four to six months after graduation, 89% of new BSN grads had secured employment as an entry-level nurse.
These findings show that healthcare employers are taking to heart the Institute of Medicine's recommendation that 80 percent of the nursing workforce hold at least a bachelor's degree by 2020.
The Affordable Care Act will expand the scope of nursing.
Formally known as the Patient Protection and Affordable Care Act and commonly nicknamed "Obamacare," this federal law was designed to increase the quality and affordability of health insurance in the United States. Key provisions include the requirement for all individuals to purchase health insurance (barring certain exceptions), a minimum care standard for insurance plans, coverage of pre-existing conditions, subsidies for low-income households and expanded access to Medicaid. As a result, more Americans than ever before will have access to preventative medical services.
But who will provide this care? Current predictions reveal that nurses will play a key role in expanding healthcare access to Americans across the lifespan. In September, the California Institute for Nursing and Health Care released a white paper discussing new roles for RNs in the state to address the ACA's focus on wellness and primary care. These new nursing roles demonstrate the need for RNs to lead the way in reducing healthcare costs by optimizing patient care outside of the hospital, managing the continuum of care and developing new technologies – all to make people's lives better.
Nursing jobs are growing outside of the hospital.
While more than half of practicing RNs work in hospitals, job opportunities for nurses don't stop there. If patient care is your passion, you can find work in long-term care, community health facilities, hospice, private practice, school systems, outpatient centers, retail health clinics, overseas mission work and more. If you want to use your BSN to break into a different industry, you can pursue management positions, teach at the college level, write textbooks, pursue clinical research, work in pharmaceutical sales and explore other roles that put nursing knowledge to work in unique and interesting ways.
Through Roseman University's Las Vegas accelerated nursing program, you can earn a BSN in just 16 months and choose from three start dates – no wait lists! Connect with an admissions advisor by calling 877.885.8399 or completing our online contact form. To learn more about the admissions process, download our free ABSN roadmap.