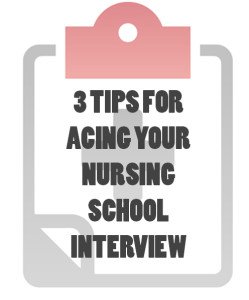 You've decided to attend nursing school and start your new career, but since nursing schools in Las Vegas often require an interview, this may be one of the biggest milestones you must first pass. The interview process doesn't have to be daunting, though. Follow these tips (the "three Ps," we'll call them) and feel confident when walking in to meet your interviewer. Here are some tips for acing your nursing school interview.
First Things First: Presentation
You've probably heard, "Dress for the career you want, not the one you have." However, showing up to your nursing interview in bright scrubs may not be the best move. When interviewing, you want to display your professionalism and dedication. It's amazing how little things can sometimes undermine that first impression.
Look clean and natural: Ladies, don't apply a thick layer of makeup and get your hair done as if you were going to prom. Look like yourself. If you generally like bright lipsticks, feel free to wear a fun shade. If you like leaving your hair down, blow dry it and style it for a polished look. Don't feel obligated to wear makeup if you normally don't. Gentlemen, make sure you go in with a fresh shave—you shouldn't look like you've just come back from a week in the wilderness. If you do have a beard or mustache, make sure it looks shaped and tidy.
Wear what fits: To avoid feeling uncomfortable and fidgety during the interview, wear clothes that fit properly. Avoid wearing form-fitting attire or anything best saved for a night on the town, and don't drag out that ill-fitting, retro suit from last decade. For women who feel unsteady in heels, a pair of dressy flats is always a good alternative. If you want to wear a skirt, practice sitting in it in front of the mirror beforehand. For men, a suit and tie are always the safest choice – better to be a little overdressed than underdressed. And don't forget the details, like a nice belt and polished shoes.
Keep jewelry simple: Big necklaces or multiple bangles are distracting. Keep earrings toned down, and avoid wearing too many rings.
Avoid heavy scents: It's perfectly acceptable to use a small dab of perfume or aftershave, but avoid dousing yourself with body spray, strong deodorants or fruity shampoos. Your interviewer may have allergies, for one thing! And overwhelming scents can be a turnoff. If you drink coffee before your interview, make sure to have a breath mint afterward. But don't chew on a mint or a stick of gum during the interview! (Hey, we've seen it happen.)
Be conscious of your handshake: Nothing will start your interview off on the wrong foot like a limp, halfhearted handshake. Ladies, we're talking to you here too! But, the interviewer also shouldn't feel like his/her fingers just landed in a vice. Go easy on the big squeeze. If you're not sure what kind of handshake you have, practice on a friend or family member and ask them what kind of impression you're making.
Preparation
Don't walk into your interview without considering what you'll be asked. Although you may have spent months researching online universities in Nevada and be convinced that an accelerated nursing program is the key to your future, your interviewer will almost certainly ask how you know that, and what your motivation is for becoming a nurse in the first place. Also consider your past education. Have you attended a college or university? Why did you choose your major or field of study? How would you describe your study habits? Why do you want to change careers now? Do your family and loved ones support the change? Can you dedicate the time to nursing school? How would you describe yourself? Are you patient? All these are things your interviewer may want to know.
Consider experiences from your past that could be highlighted as strengths, such as a time when you had to care for sick younger siblings or had to lead multiple projects at once. Emphasize your best qualities with specific examples that show them in action. Equally importantly, have questions for your interviewer—questions that show you've thought carefully about the nursing program and whether it's a fit for you. Feel free to ask how graduates of the program have fared in terms of job openings, NCLEX pass rates, starting salaries, specialty areas, etc. Ask about the school's culture, what backgrounds the students and faculty come from, and what sets this program apart from others.
Practice
Think of your interview as a sales presentation to an important buyer. You want to sell yourself to your interviewer by showing all of your best qualities, but without sounding forced or stilted. You can expect standard questions, such as "Why do you want to be a nurse?" and "Where do you see yourself in your nursing career in five years?" These questions aren't meant to trick you; your interviewer just wants to know that you've considered how much time and effort goes into nursing. If you're on the shy side and tend to get nervous in one-on-one situations, practice in front of a mirror. If you already know a nurse, ask him or her to give you a practice interview. You didn't come to your decision to attend nursing school lightly, so you already know the answers to the questions you'll be asked. If you practice beforehand, you'll have all of the answers ready and waiting. Practice also helps you condense your answers and avoid rambling—a trap many people fall into.
Finally, do your best to stay relaxed. Everybody stresses out from time to time, and relaxing is never as easy as simply flipping a switch. Give yourself plenty of time to relax ahead of your interview. Make sure you get good sleep the night before, and eat a healthy and filling meal beforehand. Go ahead and bring a bottle of water to avoid getting a dry mouth while speaking to your interviewer. And while it may be impossible to avoid sweaty palms, don't exacerbate the problem by using lotion.
Now that you're prepared to ace your interview, go knock 'em dead and get started on your nursing career! Contact us today to learn more about our accelerated nursing program in Las Vegas.