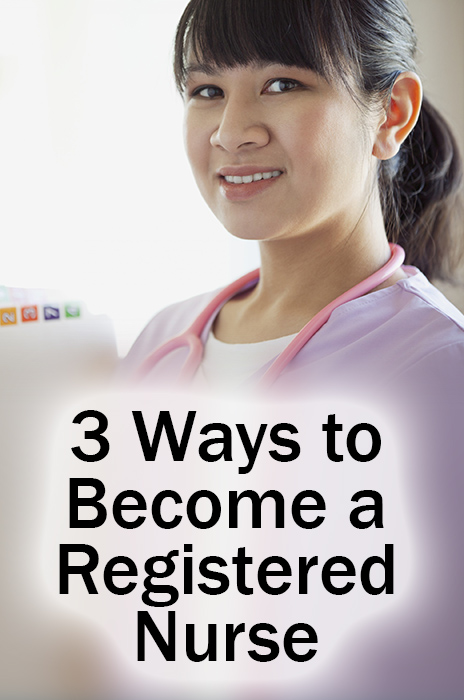 As nursing has grown from a skills-based profession to one of strategic thinking and technical prowess, your options for obtaining a registered nursing (RN) license have grown as well. Today, there are three nursing paths that qualify you to sit for the National Council Licensure Examination (NCLEX) and earn your RN license. Which one is right for you?
1. Hospital Diploma Programs
Hospital diploma programs take two to three years to finish, and the diplomas are awarded by the hospital itself. These programs are steeped in hands-on learning experiences in each clinical unit, offering you in-depth exposure to daily nursing tasks. A standard diploma curriculum typically includes nursing courses at the facility and general education courses at a community college affiliate.
Some hospitals have their own school of nursing and follow an admissions process that mirrors traditional colleges and universities. Financial aid is usually available, and some hospitals will cover a portion of your tuition in exchange for a fixed duration of employment.
However, as more employers prefer to hire RNs with a BSN (Bachelor of Science in Nursing), these programs are few and far between.
2. Associate Degree Nursing (ADN) Programs
Associate degree programs are a viable option for nursing students who can't take on the upfront costs of a bachelor's degree but are headed in that direction. Associate programs are about two years long and commonly offered at community colleges and baccalaureate campuses. The ADN curriculum covers science, clinical preparation and general education.
The key benefit of an associate's degree over a nursing diploma is that many of credits you earn in an ADN program can be applied toward a BSN (as long as the school is accredited).
3. Bachelor of Science in Nursing (BSN) Programs
The BSN is a one-stop shop for entry-level RNs, integrating the core sciences with clinical instruction in and out of the hospital and exposure to professional nursing specialties like research and informatics, giving you a more diverse educational experience. A BSN primes you to earn a higher salary than your non-degree counterparts and qualifies you for a wider variety of certifications. A bachelor's degree also puts you in a great position to further your education and lean in to senior positions in health care.
Earning a bachelor's degree is no small task, but Roseman's Accelerated Bachelor of Science in Nursing in Las Vegas can help you become an RN in just 16 months. Contact us today to learn more.