You have decided to become a nurse, now you have to choose from a variety of nursing degree options. This is a pivotal yet, exciting time – especially if you are considering a Bachelor of Science in Nursing (BSN) degree.
Hospitals and nursing organizations everywhere are paying close attention to the vast information that suggests BSN graduates are providing safer patient care as opposed to nurses with less education.
If you're still weighing your nursing degree options, keep reading to find out how a BSN can benefit your nursing career in the long run and how Roseman University's Accelerated BSN program can get you started.
With support, you can earn your BSN quickly.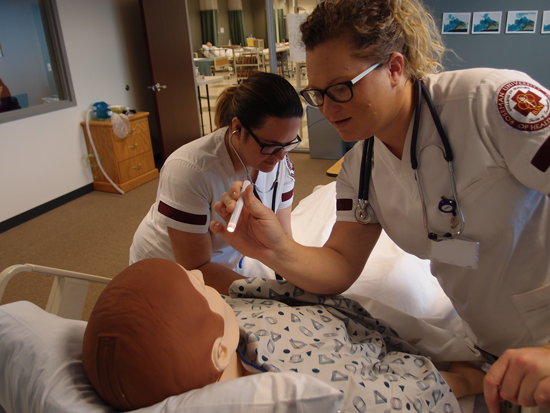 As a student in Roseman University's ABSN program, you can expect a financial return on your educational investment. Roseman's accelerated nursing program has a compressed academic format, allowing you to earn your BSN in less than 18 months, granting you the opportunity to get started on your nursing career sooner.
While it is an accelerated format, Roseman's ABSN students are extremely disciplined, and know how to maximize their time wisely. Outside clinical rotations and skills labs, you may find ABSN students studying for several hours a day.
Malarie Martin, a current Roseman University ABSN student, says she has a lot to juggle between being a full-time student and a full-time wife and a mother, but it's all worth it.
"Nursing school is hard, but it's worth it," she says. "Lives are at stake when you're a nurse, so it should be hard. My family's support has helped me so much through the year and a half. There are days where I'm up, and out of the house before they even wake up and I don't return until after they have gone to bed. But that's what it takes and they are so supportive of my end goal to become a nurse."
BSN degree-holders are being hired, first.
If you're looking to get hired right out of nursing school, a BSN may be your best nursing degree option. Currently, there is an initiative that is in place called the 80/20 by 2020. This means, that by the year 2020, every hospital in the US will strive to have 80% of their staff BSN prepared in order to meet higher standards.
To meet this growing demand of nurses with baccalaureate degrees, Roseman University's ABSN program partners with renowned healthcare providers to help ensure students receive hands-on experience through diverse clinical rotations. This real-world practice gives students the chance to showcase the skills they have learned online and in their labs while networking with fellow registered nurses, doctors, and nurse recruiters.
In fact, Roseman ABSN students are being sought after by nurse recruiters for jobs after graduation and upon passing the NCLEX-RN. This is a huge deal that sets our ABSN program apart from other nursing programs.
"One of the things about Roseman is that in our clinical setting we operate in full clinical shifts really preparing students for what it's like to be a nurse and this is what separates us from other schools," says Erik Dillon, Director of Admissions and Enrollment for Roseman University's College of Nursing. "These clinical experiences help our students become confident nurses so come time for employment those clinical agencies remember our students."
You can experience non-hospital opportunities.
A BSN degree is essential for nurses who wish to take their careers outside of the hospital setting. And thanks to the booming healthcare industry, the nontraditional or non-hospital nursing sector is advancing at a rapid pace.
The first few years you spend as a BSN-prepared nurse is crucial because you are gaining valuable, patient-focused experience in a fast-paced healthcare setting. The training you receive at  the healthcare facilities will prepare you to transition to a mixture of engaging and challenging jobs that are not just inside hospitals, including:
Risk Management
Nurse Case Manager
Health Care Recruiting
Informatics Nurse
Nursing IT
Research proves that there is a demand for nurses in nontraditional settings. A report from the Bureau of Labor Statistics notes that there were 2.9 million active nursing positions in the U.S. in May of 2016, and 1.6 million of those jobs were in the general medical and surgical hospitals industry. This means that 1.3 million nurses work outside of the hospital – this is an exciting statistic for aspiring BSN's everywhere.
A BSN may grant you a promotion down the road.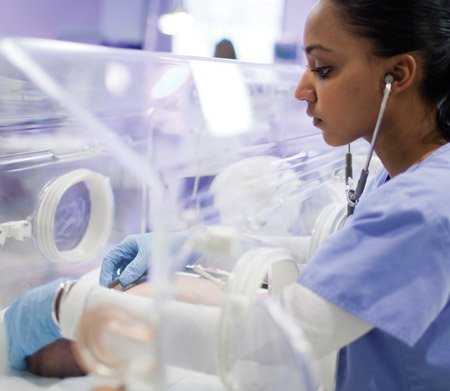 Earning a BSN will open your career up to various specialties including, pediatrics, oncology, research, mental health and more. Plus, learning about each one won't be as overwhelming as you may think thanks to Roseman University's single-focus on healthcare education.
Our ABSN block curriculum will require you to learn, apply, and master one subject at a time. This will help you in the long run to determine which nursing career path you would like to embark on after graduation.
Once you pick your preferred area of interest, you will have the chance to seize opportunities for career advancement in the future. Whether you wish to take on a leadership role, mentor nurses with associate's degrees or certifications, or make a lateral move to an elite hospital, there is never a wrong time to start thinking about your next step when it comes to your nursing career. You can position yourself for success in the following ways:
Self-Promotion: Network with fellow nurses and find a mentor to help foster your nursing skills.
Knowledge and Skill Development: Be proactive! Attend trainings and other learning programs that will allow you to brush up on your skills.
Be a Leader: Leading by example is one of the best things you can do to work your way up to an upper-management position – make everything a teachable moment.
Get Started on Your BSN Today!
Earning your Bachelor of Science in Nursing (BSN) degree is a great nursing career option to choose. Earning a BSN presents endless possibilities for your future and poises you for success once you graduate and pass the NCLEX exam. Are you ready to take your nursing career to the next level and make a difference in the lives of others on a daily basis? If so, contact an ABSN admissions advisor and find out how to get started.