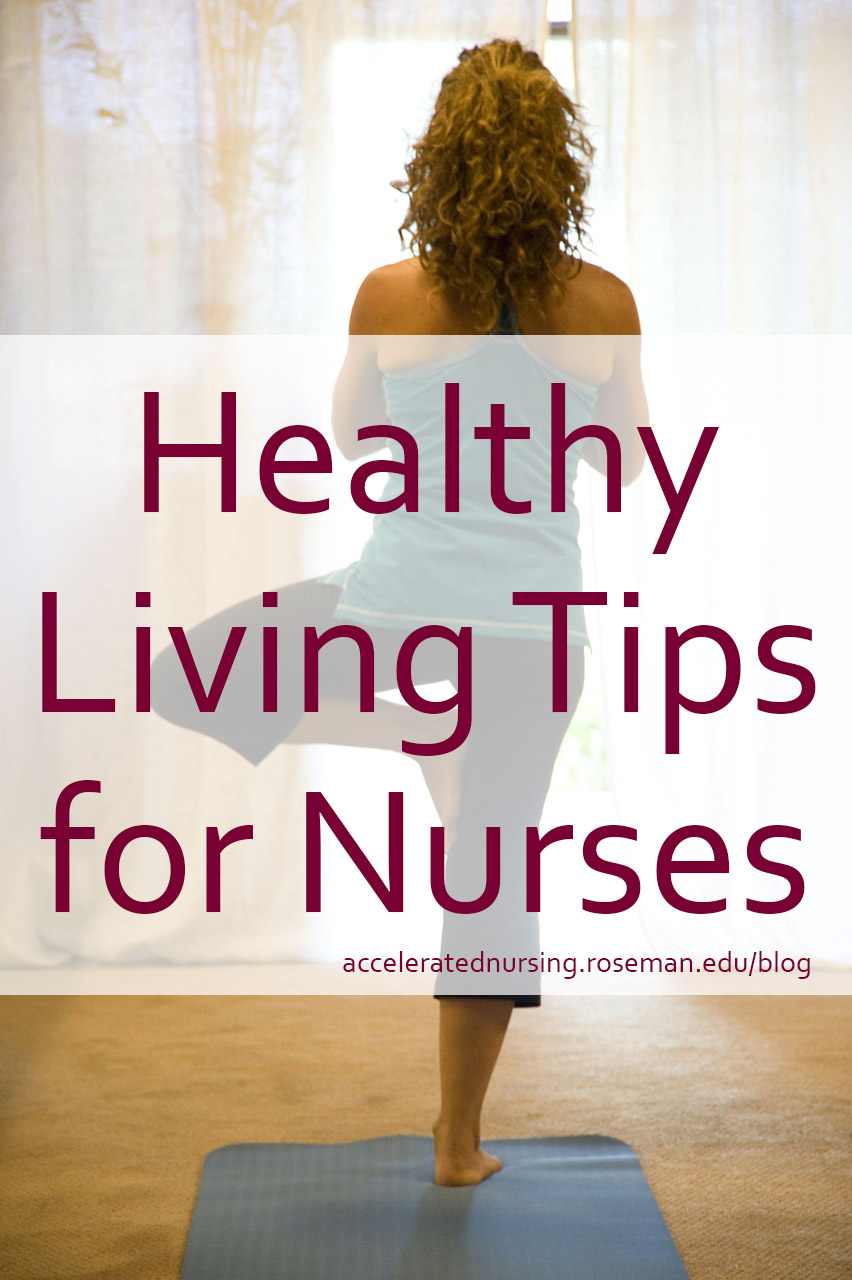 You're a busy nursing student, juggling courses, skills labs, exams, and clinical rotations, not to mention the rest of your life. The last thing you need is to be sidelined by illness. Yet that's exactly what happens to many nursing students, especially once they start their clinical work and are in a hospital environment day after day. And of course, there's the fact that nurses and nutrition are not always compatible concepts. But keeping a few simple healthy living tips for nurses and nursing students in mind could make the difference between treating patients and becoming one.
Become a hand-hygiene enthusiast. There's a reason those nursing outfits are called "scrubs." Scrubbing is something that needs to become an ingrained habit—not just before and after direct patient contact, but several times throughout the day whenever you're working in the hospital or skills lab. Whenever you can, gloves and/or face masks are a good idea to control the spread of germs as well. And don't forget to scrub off the less obvious, but no less germ-infested, effects of the computer lab, skills lab and study rooms. If you're not feeling like you need hand lotion everywhere you go, you're probably not scrubbing enough.
Keep your distance. Sure, you love your fellow students and your cohort, but remember that they're all out there doing clinical work as well, effectively multiplying your risk of exposure to a wide variety of illnesses. If you don't need to be up close and personal in your work together, don't be. And the same goes for when you come down with something—steer clear of your classmates and avoid putting them at risk.
Get creative about exercise. It doesn't really matter what the exercise is, just fit some in wherever you can. Take the stairs at the hospital. Park far away from your lab building and walk the rest of the way. Walk three laps around the nurses' floor every time you visit. Walk with a classmate as you review for an exam. While practicing RNs are often very active on the job, nursing students spend a lot of time viewing online courses, studying, taking exams, etc. So push yourself to get moving.
Start with a good foundation: eat well! It seems obvious, yet many nursing students seem to throw their healthy eating practices out the window as soon as the stress and hectic schedules kick in. Sure, we all know a burger and fries or a few slices of pizza come with the territory during some of those late-night study sessions. But the rest of the time, it helps a lot to focus on healthy, energizing foods and not to fall into the habit of skipping meals or getting them from the vending machine. When you don't have time for a full meal, a series of healthy snacks throughout the day can do just as much good and help you keep your energy up. And that age-old advice for patients goes for nursing students, too: always drink lots of fluids and get plenty of sleep.
Don't self-diagnose. As tempting as it may be to use your newfound nursing expertise to assess and treat your own afflictions, it's best to go see your doctor. If it's obvious that you have a cold or the flu, that's one thing. But when you're not sure what's ailing you, it's best not to play illness roulette. Getting the right treatment early on can help you get back on your feet sooner. And when it comes to nursing school, down time can really sabotage your progress. As an RN, you're unlikely ever to tell one of your patients to "just tough it out," so make sure you show yourself the same courtesy!
Want to learn how to become a nurse? Contact an admissions advisor today.