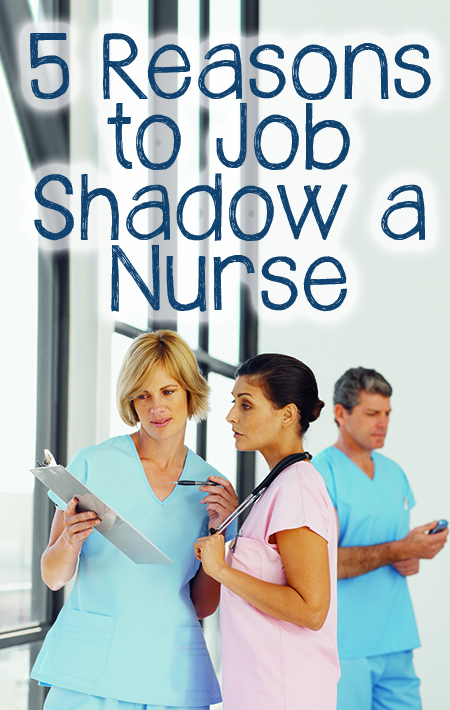 No matter how much information you've gathered about the nursing profession, nothing can compare to the experience of job shadowing a nurse. Before you embark on the journey to become an RN, consider job shadowing a nurse to gain a realistic perspective of what the job entails.
Here are 5 reasons to job shadow a nurse:
You'll learn the day-to-day tasks of the job.
You already know there's more to nursing than what you see on "Grey's Anatomy" and "Scrubs," but shadowing a nurse will show you parts of the job that don't get airtime on TV. While websites like the Bureau of Labor Statistics provide accurate job responsibilities for RNs, they're not all-inclusive. You'll be exposed to the full scope of a nurse's duties by spending a few hours with one.
Your network will grow.
In the field of nursing, don't underplay the importance of networking. Anyone you connect with during your job shadow can be used as a contact in the future. Not only is this beneficial in answering any questions you may have along your path to nursing, it will also become important when you enter the job market. If individuals allow you to shadow them, they are genuinely concerned about helping you discover if their passion is also yours. So, don't hesitate to contact them in the future.
You'll see how nurses fit into the larger healthcare landscape.
You may be dead set on becoming a nurse. But have you considered similar occupations in the healthcare field? Before making a firm decision, you might benefit from being exposed to a variety of different positions. This will ensure that you'll remain satisfied with your career in the future. If you job shadow a nurse, you'll also gain insight into the roles of many other medical professionals, such as physicians and pathologists. And if your hunch is correct, it can be extremely helpful to see how nurses interact with other members of a healthcare team.
You'll get honest answers to your questions.
Start brainstorming a list of questions as soon as you schedule your job shadow. Your list might cover topics such as day in the life of a nurse, job opportunities, pros and cons and much more. Active RNs will give you honest answers to make sure that you'll be happy as a nurse and that you begin your education with the right perspective.
You'll gain exposure to different work environments for nurses.
Shadowing a nurse will help you get a better idea of the work setting that's right for you. Some people prefer the hustle and bustle of a hospital, while others prefer long-term care facilities or community health centers. Or your preferences will change over time. The reality is that you'll probably work in several different environments over the course of your career, so it's good to stay open-minded about where your nursing career will take you.
If you plan to shadow a nurse, be mindful that it'll require some pre-planning on your end. Many hospitals and healthcare facilities require that you test negative for tuberculosis since you'll be interacting with patients. You'll need to set this up with your healthcare provider in advance. Depending on the facility, you may be required to undergo an application process. You can start by calling local hospitals and healthcare facilities to ask about their policies.
Make 2014 the year that you start your path to nursing! Roseman University's ABSN program in Las Vegas can be finished in 16 months and has three start dates to choose from – no wait lists! If you're ready to pursue a career in nursing without the wait, call us today at 877.885.8399. You can also download our admissions roadmap for free.