Welcome to National Nurses Week!
Every year, the American Nurses Association (ANA) sponsors National Nurses Week, calling attention to the 3.1 million active RNs who strive to improve the healthcare system and the nursing profession for a society that's living longer and absorbing more medical services.
Nurses are a big deal. They make up the largest profession in the healthcare industry and the largest single component of hospital staff. But unfortunately, patient loads are growing faster than the number of qualified nurses entering the workforce. By 2020, more than 800,000 RN positions will go unfilled nationwide.
At Roseman, we're doing our part to lessen the impact of the nursing shortage. Our College of Nursing admitted its first traditional BSN class in April 2006 after data revealed the need for a baccalaureate nursing program in Nevada. The 16-month ABSN program was started in 2010 to accommodate students with a bachelor's degree who were interested in making a career change.
We're proud of the work we do through our accelerated nursing program in Las Vegas, but our students deserve the accolades. They're breaking down doors to forge a new career path for themselves and raise the bar for patient care.
Need a reason to hug a nursing student this Nurses Week? We'll give you two.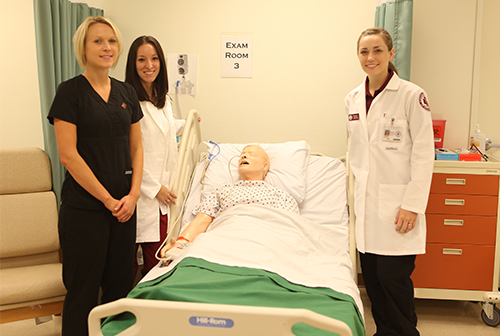 Nursing students work HARD
In our latest graduating class, all 14 passed the NCLEX the first time around. Out of 98 ABSN alumni, 97 passed the first time. That's an NCLEX pass rate of 99% – incredible! Students don't come by scores like that on accident; they dedicate everything they have to becoming strong caregivers and advocates for their patients. We need nurses like them!
They're making a leap of faith
Our ABSN is a second-degree program, which means our students are walking away from their current professional lives to pursue a new career in nursing. It's hard to gather the courage to start over. It's scary to disrupt the status quo and go after your dreams. But these students turn their lives upside down to do it, and as our NCLEX scores indicate, they're doing it well.
Are you thinking about a nursing career? To learn more about an ABSN degree from Roseman, contact us.