Quick Summary
Nurses Are in High Demand
You Can Become a Nurse in Less than 18 Months
You Can Start Nursing School Sooner
You Can Directly Apply Your Knowledge of Biology to Nursing
It Pays to Be a Nurse
Nurses Make a Difference
You worked hard to earn your biology degree. Now, what do you do with it? Research jobs can be hard to come by, and some even require a Ph.D. Likewise, it can take another seven or more years of school to become a doctor.
One way to put your biology to great use now is by becoming a nurse. Not only will you benefit directly from your knowledge of the human body and its processes in nursing school and on the job; your biology degree will give you a leg up during the enrollment process.
Here are six reasons to consider becoming a nurse with a biology degree.
1. Nurses Are in High Demand
Before considering any career, it makes sense to take a look at future job prospects. There's been talk of a nursing shortage since at least the 1960s when the advent of Medicare and Medicaid greatly expanded Americans' access to healthcare coverage. While the need for nurses has fluctuated over the years, today the shortage is at epidemic levels — the result of increased access to healthcare services, an aging Baby Boomer generation that is living longer than previous generations, and a sharp rise in chronic conditions.
This has many leaders in healthcare worried, with the American Nurses Association estimating that the U.S. will need one million new RNs by 2022. And nowhere is the demand for nurses greater than in California, which alone anticipates a shortfall of 44,500 full-time nurses by 2030. Unfortunately, while the Golden State suffers from no lack of interest in nursing, the state has a reputation for exceptionally long nursing school waitlists — up to six years! — leading many future nurses to look out of state for a quicker path to becoming a nurse.
2. You Can Become a Nurse in Less than 18 Months
With campuses in Henderson, Nevada (near Las Vegas) and South Jordan, Utah (near Salt Lake City), as well as three starts a year. Roseman University's Accelerated Bachelor of Science in Nursing (ABSN) program offers a smart way to get ahead quicker by making it possible to earn a nursing degree in less than 18 months through a blend of:
Online, interactive coursework that is designed to accommodate various learning styles (visual, aural, etc.) and can be accessed any time day or night
Rich skills and simulation lab experiences that allow you to hone your skills in a safe, risk-free environment
Clinical rotations at top healthcare institutions
And speaking of becoming a nurse sooner …
3. You Can Use Your Biology Degree to Start Nursing School Sooner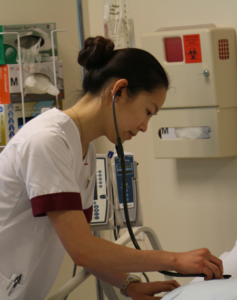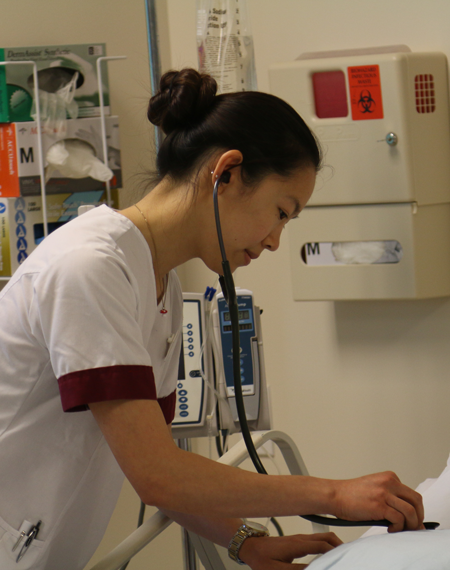 Biology majors aren't the only people who make great nurses, but when it comes to nursing school, they certainly have an advantage. Perhaps this — along with the much greater demand for nurses than for biologists — is why so many of our nursing students hold prior biology degrees.
Compared to other degree holders, biology majors tend to meet more of the program's prerequisite course requirements — including chemistry, biochemistry, human anatomy and physiology, microbiology, and statistics — meaning they can enroll in the program sooner.
Of course, just because you haven't yet taken all of the prerequisite courses doesn't mean you can't get into the program. You'll just need to work with your admissions advisor to determine the best and quickest path to meeting the requirements.
4. You Can Directly Apply Your Knowledge of Biology to Nursing
However, it's not just in the lead-up to nursing school that your biology degree will come in handy. In addition to directly applying what you learned as a biology major in nursing school, you'll be able to use your extensive knowledge of the body and its processes in your day-to-day work as a nurse. For example, nurses often help educate patients and their families on their condition(s), the care they're receiving, and the reasons why.
5. It Pays to Be a Nurse
According to the Bureau of Labor Statistics' most recent findings, registered nurses earn about $70,000 a year —pretty good considering the average mean salary for all occupations in the United States is just $50,260. Of course, wages vary by location, with nurses in Nevada, for example, earning about $84,980 a year. By far, nurses in California take home the highest pay — on average around $102,720 a year.
But paychecks don't tell the full story of the impact the nursing shortage is having on healthcare providers. Earlier this year, CNN reported on hospitals and other medical facilities offering five-figure signing bonuses, free housing, and even college tuition reimbursement to attract new nurse hires.
6. Nurses Make a Difference
Sure, the pay is great and high demand for nurses means there are ample jobs, but the greatest part of being a nurse is knowing that what you do makes a real difference in people's lives. Nowhere is this more obvious than in the hospital setting, where patients often have limited contact with doctors — and a lot of contact with their nurses. Not only are nurses at the forefront of patient care as they routinely monitor patients' conditions. They also educate patients on their health and conditions, work with other providers to coordinate care, serve as patient advocates, and often fulfill the all-important role of doctor-family liaison.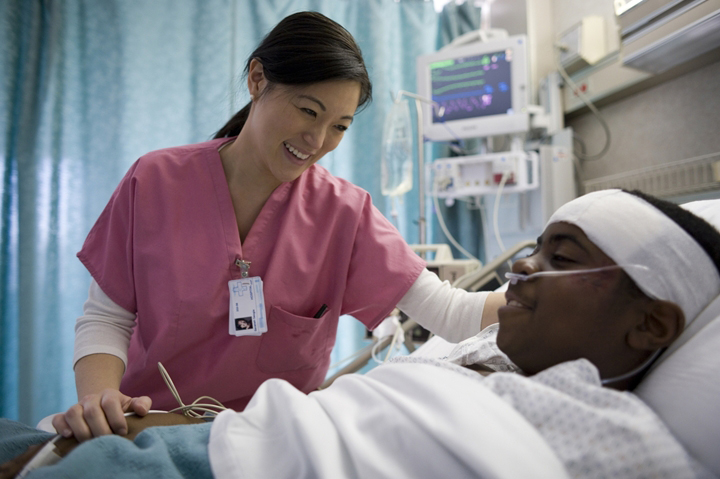 This isn't to say nursing is for everyone. It takes a special kind of person to be a nurse. Compassion, patience, emotional toughness, and excellent communication skills are all musts. Not to mention, you have to be able to remain calm under pressure and think critically — another skill you no doubt honed as a biology major.
Ready to Use Your Biology Degree to Become a Nurse?
If nursing sounds like a good career fit for you, there's no reason to wait. To find out more about how you can become a nurse in less than 18 months with Roseman University's ABSN program, give us a call at 866.892.2928 or fill out the form to have an admissions advisor reach out to you.