You want to pursue a career that matters and makes a difference in the lives of patients. The truth is you won't find many more professions more valuable to the healthcare landscape than nursing. As you're planning your healthcare career, consider these six reasons why nurses are important in healthcare below.
Why are nurses important in healthcare?
Whether at the bedside, in the classroom, out in the community or from behind a desk, they're the ones advocating on behalf of patients, teaching the next generation of caregivers and moving the industry forward with innovative practices and technological advancements.
And that's all just for starters. Your options for helping patients multiply when you earn a Bachelor of Science in Nursing (BSN) from a reputable institution such as Roseman University. Through our Accelerated BSN program, you can earn your BSN in less than 18 months, meaning you can start making your mark on the healthcare field even sooner.
1. Advocate for and Garner Trust with Patients
It's no wonder why nurses have topped the annual Gallup poll of most trusted professions for the better part of two decades. Besides the daily responsibilities of monitoring patient progress and administering medications, one of the most important roles nurses play in healthcare is patient advocate.
Nurses understand a hospital stay is likely not routine for most patients, who often just want to ensure someone is there to listen to them. While doctors likely make rounds once a day, spending a few minutes with each patient, nurses are the ones delivering hour-to-hour care, acting as an empathetic ear and advocating on behalf of patients and their loved ones to other members of their care team.
2. Improve Patient Outcomes
With the general population living longer, medical conditions becoming more complex, and medical techniques and policies continuing to evolve, BSN-educated nurses especially play a vital role in improving patient care. Many studies prove this fact, including this oft-cited report from the Robert Wood Johnson Foundation. It finds hospitals with more BSN-prepared nurses on staff have lower patient mortality rates, a shorter average patient stay and reduced healthcare costs. Studies have also correlated having a higher proportion of BSN-educated nurses on staff to lower:
Incidence of pressure ulcers.
Postoperative deep vein thrombosis.
Hospital-acquired infections.
3. Prepare Qualified Nurses to Enter the Workforce
As mentioned above, the healthcare landscape continues to evolve and grow. The Bureau of Labor Statistics estimates the profession will grow by 12 percent from 2018 to 2028, much faster than the average for all occupations. That makes the need for a workforce of highly educated nurses even more critical.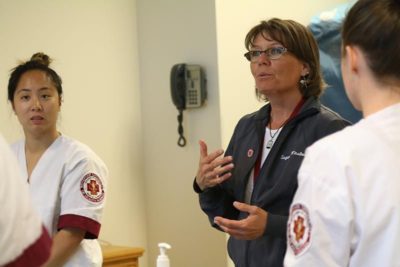 For that reason, nurse educators and nurse recruiters play a vital role in healthcare. They're often the first to not only recognize the potential in promising candidates entering the nursing profession but also push them to advance their careers and fill key staffing vacancies across clinical settings.
Besides teaching aspiring nurses about patient care via lectures, lab and clinical work, nurse educators serve as mentors and advisors, guiding and motivating students on the path toward achieving their nursing career goals. You'll find this especially true of the faculty and staff in Roseman's ABSN program.
On the other side of that, nurse recruiters help healthcare providers find qualified nurses to fill job openings by reviewing resumes, interviewing candidates for potential job placements, and negotiating salaries.
4. Educate Patients and Caregivers
Patient and caregiver education is another important part of any nurse's job. In the hospital setting, nurses play a vital role in helping patients learn how to make healthy choices at the bedside, understand their doctor's diagnosis, and how to manage symptoms. They then arm them with the best information at discharge, so they understand what to do once they get home.
Outside the hospital, home nurses work to educate patients and their caregivers on how to prevent illness and lead healthy lifestyles within the context of their condition. For example, for a patient at risk for heart disease, a nurse may encourage regular cholesterol and blood pressure testing while also providing information on the benefits of exercise and a heart-healthy diet.
5. Use Technology to Innovate and Care for Patients
Nurses are great at using innovative methods and technology to deliver the best care for patients. This isn't anything new: Florence Nightingale advocated for improving sanitary conditions in military hospitals to prevent infection and using statistics as a decision-making tool, helping to set a precedent for continued growth and ingenuity in healthcare.
Today's nurses embody this same pioneering spirit. Some even take it to the next level, working on the technology side of the profession to innovate patient care. Informatics nurses, for example, work with device and tech developers to help them understand how patients experience the clinical setting so they can create better systems and protocols.
6. Keep Communities Healthy
Nurses do much more than care for sick patients at the bedside — they also serve to promote wellness strategies before patients even need a hospital visit. This important role can take many forms: one-on-one discussions with patients at routine well visits, coordinated campaigns focused on specific health issues or community-based events.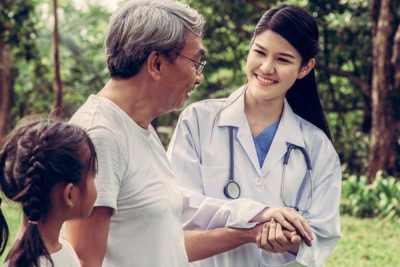 Public health nurses, for example, focus on advocating for and educating communities on preventative health efforts. In essence, they "treat" patients before they require care, shifting their focus from treating ailments to building an overall culture of holistic health in communities. This may include, but isn't limited to:
Passing on written educational materials (i.e., brochures, links to online resources and apps).
Partnering with local organizations to hold events centered on health-related topics (i.e., blood drives, cancer screenings, immunizations, etc.)
Ready to Make a Difference in Healthcare?
It's not hard to see why nurses are important in healthcare. With the varied and valuable roles nurses play, ranging from patient advocate to educator to technological innovator, you're sure to find a place for yourself in this rewarding field. Consider your degree from Roseman's ABSN program a fast-track to the many opportunities it offers, both inside and outside the hospital setting. Contact an admissions representative today to get started in this ever-evolving career path.