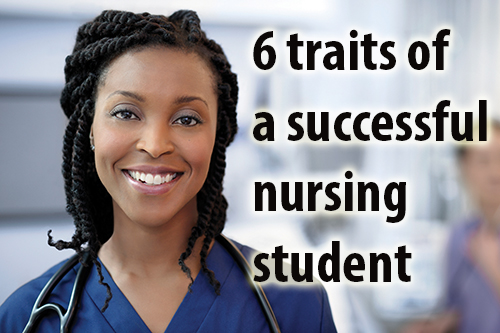 When reviewing the details of Roseman's accelerated nursing program in Las Vegas, you might wonder if you have what it takes for nursing school. It's a smart question to ask. After all, a 16-month accelerated nursing program like ours requires a lot of time – studying, test taking, practicing in the lab, participating in clinicals – all while managing the other priorities in your life.
If you feel called to nursing but have concerns about life as a nursing student, you are not alone. Many students enter the program with similar fears but are able to do well and pass the NCLEX. If you're on the fence about your own ability to succeed, read this list of six traits of a successful nursing student. Does this list describe you?
Motivated. You might choose nursing school for any number of reasons: to make a living helping others. To expand your career opportunities. To carve out a brighter future for your family. When you are genuinely motivated, the hardships of going back to school are a little easier to get through knowing each day brings you closer to your goal.
Positive. There are ups and downs in nursing school. Struggling with a nursing concept, missing an exam question, difficulty managing your schedule – these setbacks are par for the course, but a successful student is one who can get over the humps with a positive attitude. They don't ignore obstacles, but they find the best solution they can and move on.
Organized. Being intentional with time management goes a long way in school. Students who formally schedule study sessions (both self-study and with a group), have a dedicated space for school at home and take other measures to organize their lives position themselves well for success.

Connected. Successful students build relationships with faculty, staff and classmates. They join study groups, reach out to instructors with questions and ask for extra help in the simulation lab when they need it. They make friends and find strength in numbers.
Realistic. As a second-degree student, your educational experience is very different from when you earned your first bachelor's degree. Memorizing facts and formulas isn't the key to "winning" nursing school, and you will make mistakes. That's okay! The purpose of nursing school is to learn and practice. Successful students set realistic expectations and remind themselves of the end goal – to retain information that is critical to optimal patient care.
Excited. Many of our students come to nursing after a career in a non-nursing field because they want work that's more meaningful. They are excited about pursuing a new career, and that excitement helps carry them through the program.
Ready to take the next step in your nursing career? Contact us for more information.