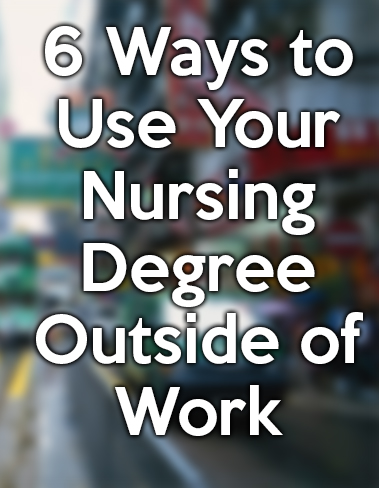 Practical uses of your nursing education extend far beyond the hospital setting. Both the technical nursing skills and "soft" people skills you learn in nursing school and in the workplace can be beneficial outside of your day-to-day job. Not only does your experience allow you to handle just about any situation like a pro, your nursing degree can also open doors to new opportunities that you might have never had otherwise – such as traveling to a foreign country or working alongside professional athletes.
Once you've completed our accelerated nursing program in Las Vegas, here are six ways that your nursing education pays off (sometimes literally) outside of work:
1. Be the go-to expert.
All of your friends and family want your advice on their ailments – from bug bites to sports injuries. Maybe you won't want to know all of their problems (like, what's up with that mole on your aunt Trudy's back?). But it's nice to be sought after, right? If you've got kids, you'll also be the go-to mommy for all those cuts and scrapes from the playground. With your background in nursing, you'll know exactly what to do, and minor injuries won't scare you like they often do other parents.
2. Go with the flow.
Being in a hospital setting exposes you to all sorts of fast-paced, high-stress situations. After just a short time working as a nurse, there won't be much you haven't seen – meaning you'll be able to roll with the punches in every area of your life. Being busy and on your feet all day means that you'll be well-practiced in managing your busy-ness and getting things done, which lends itself well to just about any area of life.
3. Communicate with all types of people.
As a nurse, you come in contact with people from all walks of life, and effective communication is critical to providing excellent patient care. Your experience in dealing with patients from diverse backgrounds and personality types will serve you well in all areas of life. No matter what the circumstances, you'll know how to get necessary information from people and communicate your message back to them in a way that is clear and compassionate.
4. Earn some extra cash.
Although nurses often work long hours, your flexible schedule may very well leave you some time to put your nursing background to use to earn some extra cash. For example, registered nurses can find work in medical call centers such as FONEMED, where medical professionals provide patients with telephone triage care. Additionally, you might be able to find work at immunization clinics during the busy flu season. Registered nurses can also set their own hours and work from home as a medical transcriptionist after completing online certification courses. Finally, many athletic organizations and sports teams also require nurses to be available at sporting events to treat both athletes and spectators. These are just a few examples of the many ways that you can use your valuable nursing degree to use to increase your income.
5. Volunteer.
With a unique and respected nursing skill set, you can offer valuable service to a variety of organizations as a volunteer. Locally, you can volunteer regularly at a Red Cross or other clinics. Nurses are also often needed at large community events. For example, many charity races – from 5ks to full marathons – require athlete medical care throughout the course. Beyond serving your local community, your nursing background may also give you the opportunity to travel as a volunteer, perhaps even internationally, on a medical mission trip. Organizations such as International Medical Relief organize short-term medical mission trips all over the world, and they're constantly looking for qualified medical professionals to serve.
6. Dominate trivia night.
OK, maybe this is a stretch. But hours of pouring over your nursing school text books has to pay off at some point, right? If there's ever a nursing-related question at trivia night, you're sure to know the answer. Plus, who knows all of the interesting facts you'll learn by chatting with patients. Your experience as a nurse might just pay off in the most unexpected ways – especially if you ever find yourself as a contestant on Jeopardy.
If you're not a nurse yet, but would like to be, contact us about our accelerated nursing program in Las Vegas today!