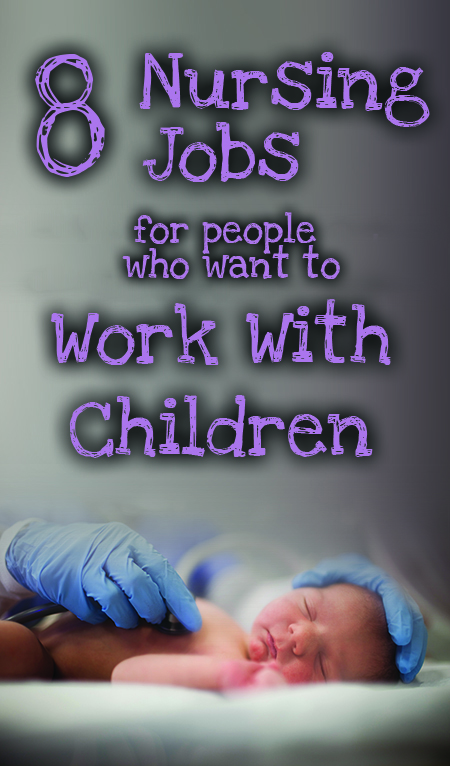 There are lots of different type of nursing jobs and specialties out there. If you want to be a nurse who works with children, here are 8 jobs you might want to consider, complete with job titles, education requirements, job functions and average salaries.
Pediatric Registered Nurse
A pediatric RN works with children in doctors' offices and hospitals. They provide routine checkups to children of all ages.
As a pediatric RN, you should expect to do the following:
Give developmental screening and immunizations
Provide routine checkups on children
Treat illnesses like the chicken pox
Work with parents and families
To be a pediatric RN, you need a Bachelor of Science in Nursing (BSN). The average salary for a pediatric RN is $67k.
Neonatal Intensive Care Unit (NICU) Nurse
As a NICU nurse, you work with the smallest of small babies. The NICU is full of newborn babies who are having trouble making the adjustment from living in their mothers' wombs to living on their own. The NICU is full of advanced technology and medial professionals who help babies successfully make that transition.
As a NICU nurse, here are some things you might be expected to do:
Monitor vital signs of the babies in your care
Work under the supervision of a neonatologist
Keep parents educated and informed on their babies' progress
Make sure all equipment is working correctly
To be a NICU nurse, you need a BSN. Typically, NICU nurses also have previous experience in general pediatrics. A NICU nurse's average salary is around $65k.
Labor and Delivery Nurse
Labor and delivery nurses bring new life into the world on a daily basis.
Here are some things that labor and deliver nurses may be asked to do:
Monitor vital signs for mother and baby(ies)
Be aware of potential complications and notify a doctor as necessary
Assist mothers with breastfeeding
Handle the demands of a fast-paced environment
Both licensed practical nurses (LPNs) and registered nurses (RNs) can become labor and delivery nurses. Most of them get training on the job. LPNs should expect to make around $40k, while RNs can expect to make around $64k a year.
School Nurse
If you like kids but prefer not to work with small babies, school nursing might be a good fit for you. School nurses provide basic care for children while they are attending school.
Here are a few things that you might do as a school nurse:
Administer prescription medications to children
Deal with wounds that occur while children are in school
Make sure heath requirements are met including immunizations
Lead heath education programs and education seminars
School nurses should expect to make around $70k a year. Most school nurses have a BSN and previous experience in acute care.
Pediatric Intensive Care Unit (PICU) Nurse
While the NICU deals with newborn children, the PICU is for children of any age – infants, children and teenagers. Children in the PICU typically have life-threatening illnesses.
Here are a couple things that might be expected of a PICU nurse:
Monitor vital signs of critically ill children
Work with parents, doctors and other healthcare providers to aid in a child's recovery
PICU nurses need to be an RN, and most hospitals will require a BSN. A PICU nurse with a BSN should expect to make around $72k.
Certified Nurse Midwife
Certified nurse midwives adopt a holistic approach to child birth. They are qualified to deliver babies who aren't high risk.
Here are a few tasks that might be asked of a Certified Nurse Midwife:
Provide gynecological exams
Consult on family planning, prenatal care and birth plans
Deliver babies with little assistance
Identify high-risk pregnancies
Most certified nurse midwives obtain a BNS and then continue their education with a master's degree. A certified nurse midwife should expect to make around $84k.
Pediatric Endocrinology Nurse
As a pediatric endocrinology nurse, you will help children who have endocrine diseases. These diseases include diabetes, hypoglycemia and thyroid and pituitary problems. In this profession, you work with children of all ages.
Here are a few tasks you might be asked to perform as a pediatric endocrinology nurse:
Educate children and parents on the effects of lifestyle choices such as diet and healthy eating
Evaluate vital signs
Take blood samples
Create care plans for patents living with different disorders
To become a pediatric endocrinology nurse, you need a BSN and experience in the field. There is no advanced certification for this field currently. In this field, you can expect to make around $80k.
Developmental Disability Nurse
Developmental disability nurse work with children of all ages who struggle with special needs. They typically work with children who have autism, Down's syndrome or other type of special need.
To become a developmental disability nurse, you must obtain your RN license and work in the field for a few years. After you've gained some experience,  you can pursue a Developmental Disabilities Nurse Association (CDDN) Certification. A Developmental Disability Nurse with a BSN and CDDN should expect to make around $62k.
Not everyone has the compassion, toughness and communication skills needed to work with children in the nursing field. However, if you want to become a nurse to help save, educate and nurture children, the sky's the limit! Most of the jobs above require you a BSN. If you're interested in obtaining your BSN quickly, consider Roseman's accelerated BSN program in Utah or Nevada. The programs don't have a wait list and you can earn your BSN in just 16 months. To learn more, call us today at 877.885.8399.