Nursing is very much a hands-on profession, so you may be wondering what the benefits of online learning are for nursing students. While we can't speak for other nursing schools, in the Roseman University Accelerated Bachelor of Science in Nursing (ABSN) program, online learning plays a central role in your nursing education — and future career.
Below, we'll outline how exactly online education combines with the other parts of our ABSN curriculum to give you a quality, well-rounded nursing education. We'll also take a closer look at the benefits of online learning for nurses.
1. Supplements Hands-on Learning Components
First things first: Online learning is only one component of the Roseman ABSN program. To be successful in your future nursing career, you'll need hands-on experiences as an accelerated nursing student.
That's why part of our learning model involves students going to the ABSN campus affiliated with their program for nursing skills and simulation labs and completing clinical rotations at top healthcare facilities in the Las Vegas or Salt Lake City areas.
Our hybrid approach to nursing education offers several benefits:
Online learning lets you engage with nursing theory coursework at your own pace.
Nursing skills labs give you hands-on nursing skills practice under the guidance of faculty in a controlled environment.
Nursing simulation labs allow you to flex your critical-thinking and decision-making skills in mock patient care scenarios.
Clinical rotations put you in direct contact with patients. Here, you'll apply your nursing theory knowledge and lab experience to different areas of nursing practice.
2. Rigorous, Accredited Curriculum
Are online courses easier than classes offered in a traditional classroom setting? In some regards, the opposite is true.
As a Roseman University ABSN student, you're learning the same material you'd study in a traditional, campus-based program. The only difference is how long it will take you: as few as 18 months vs. four years. It requires just as much reading, homework, and class participation as its in-classroom counterpart. Except with online learning, you'll submit assignments online and engage with instructors and classmates via discussion boards in an e-learning platform.
You're not taking any shortcuts with your nursing education by completing your nursing theory coursework online, either. Online courses must meet the same high curriculum standards as their on-campus equivalents. For example, Roseman's ABSN program is accredited by the Commission on Collegiate Nursing Education. That means you can expect to receive a high-quality education when enrolled in our program.
3. Easy-to-Navigate Online Learning Platform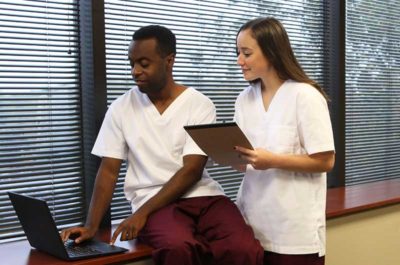 Understanding complex nursing topics should be your main concern in accelerated nursing school, not where to find important course information on a complex online learning portal. That's never an issue with the online component of Roseman's ABSN program. Through the easy-to-navigate learning management system Canvas, you'll find the following components:
Interactive activities for all types of learners. Simulated scenarios featuring 3D animations and advanced graphic design elements supplement what you learn in recorded lectures and textbook readings. Whether you learn best by doing or by seeing or hearing information, there's an interactive learning component for you.
Discussion boards and virtual office hour chats. These components make class participation and communication with instructors and classmates easy.
24/7 access to course materials. Reading lists, assignments, syllabi, lesson summaries, and self-assessments–all the key information you need to succeed is right there in the online platform for you to download and reference as often as you need.
4. Scheduling Flexibility
Around 85% of Americans enrolled in postsecondary institutions consider themselves "non-traditional" learners, and 26% of adult learners are raising children (source). If enrolling in nursing school will put you in either of those categories, you'll appreciate the fact that online learning allows you to learn on your time where it works best for you. However, when weighing how accelerated nursing school may fit into your schedule, keep in mind:
Courses are synchronous, meaning you're covering the same coursework at the same time as your classmates, so you must complete coursework by assigned due dates.
You must go to the ABSN campus routinely to sit for proctored exams and labs.
This is a full-time program. It moves quickly and compresses a rigorous curriculum into a condensed timeframe. For that reason, you should plan to dedicate most of your time to nursing school.
5. Student Support Systems
Just because you won't see them during regularly scheduled classes in a campus setting doesn't mean you won't develop meaningful relationships with your nursing school instructors. Canvas still allows your instructors to be a key partner in your accelerated nursing education.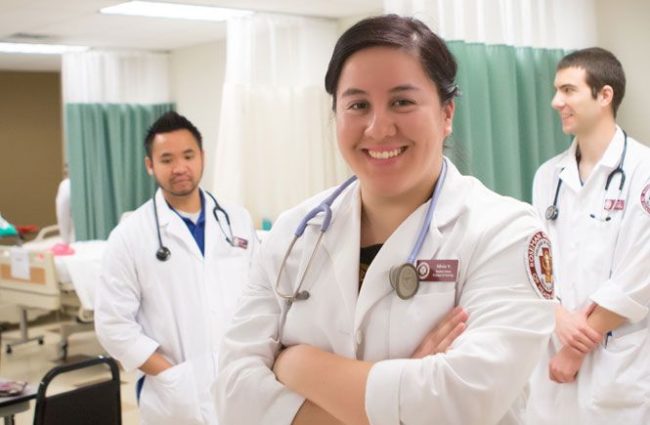 The only thing that changes is how you stay in touch. Through Canvas, you can connect with your instructors via email, live video conferencing (similar to FaceTime), and discussion forums. While you don't have to physically meet up with professors, the option to arrange an in-person meeting may be available in some cases.
6. Nursing Skills Development
Online courses in accelerated nursing programs demand even more organization and self-motivation than needed for traditional classroom-based courses, both with how you manage time and information. Yes, instructors are there to help you understand the course material and answer your questions, but they are not going to remind you when it's time to "go to class" or study for exams.
Developing an efficient routine and staying self-disciplined while completing your online coursework as a Roseman ABSN student only stands to serve you well in your future nursing career. As a nurse, managers will expect you to know what you need to do, then organize your schedule to accomplish those tasks. Your supervisor likely isn't going to prompt you every time a patient needs to take medication or have vitals checked, for example.
Discover the Benefits of Online Learning
Online learning is just one part of the Roseman University ABSN program, but it offers many benefits to nursing students. Not only does online learning supplement the hands-on components of our ABSN curriculum, but it also helps nursing students develop a sense of self-motivation and organization. This will aid in their success in their future nursing careers.
If you're ready to learn more about the benefits of online learning for nursing students, reach out to our admissions team today.