How to Choose a Start Date for an Accelerated Nursing Program at Roseman University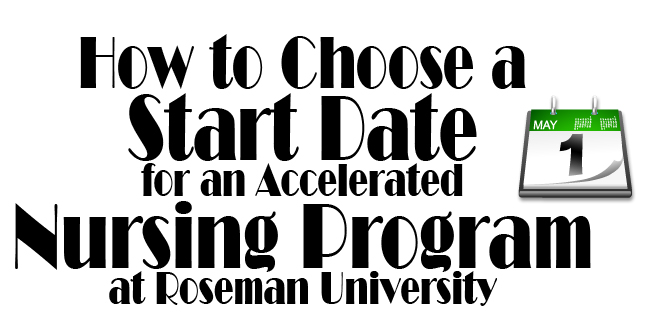 At Roseman University, we have two great admissions benefits for those exploring our accelerated nursing program in Las Vegas: no wait lists and three target terms to choose from! With new cohorts starting in February, October and July, we can always find a place for you. But how do you choose a start date? Here are 3 issues you'll need to tackle first, as they will heavily impact your ability to enroll:.
1. Verify your program eligibility.
Second-degree nursing students with a strong academic background have a higher chance of succeeding in an accelerated nursing program like Roseman's. That's why our admission requirements focus on the quality of your bachelor's degree, your minimum GPA for the last 54 credits of undergraduate coursework, passing grades on nursing prerequisites and satisfactory completion of the Test of Essential Academic Skills (TEAS). To see where you stand in terms of eligibility, chat with one of our admissions advisors. They will review your unofficial transcripts and build an academic plan that's based on your personal situation. You must meet all of the eligibility requirements to be considered for the program; if you're on the cusp of eligibility, your advisor can recommend ways to strengthen your academic profile so you can become eligible – for example, taking additional courses to improve your GPA or retaking the TEAS to earn a higher score.
2. Determine how quickly you can finish your prerequisites.
Roseman's admission process including taking several nursing prerequisites before you can begin our Bachelor of Nursing (BSN) curriculum. The number of prerequisites you personally will need to take depends on your previous coursework. For example, a prospective student with a bachelor's degree in biology will likely need to take fewer prereqs than someone with a degree in business. Your advisor will use your unofficial transcripts to identify which prereq courses have been satisfied and which ones you need to take before you can apply. Roseman doesn't offer these prerequisites directly, but we've developed a partnership with Marian University in Indianapolis to help you complete the majority of your nursing prerequisites quickly and easily. Click here to learn more. An advisor can also recommend institutions that offer these classes in your geographic area. In either case, the faster you fulfill your prereqs, the faster you can start the program.
3. Create a plan for registering for the TEAS.
Requiring the TEAS is one more way to prepare you for the challenges of nursing school. Research has shown that nursing programs that require the TEAS have a 4% lower attrition rate than programs that don''t. At Roseman, our TEAS scoring requirement is a minimum 58.7% overall score, but the average overall score of students offered admission between our Nevada and Utah campuses is 80%, so your goal should be to do as well as you possibly can. There are a variety of study materials available in the form of books, apps and practice tests, so when scheduling your exam, be sure to allow yourself plenty of time to study. Click here for more information on things to keep in mind when registering for the TEAS. Your advisor can help you determine the best time to take the TEAS in relation to your desired start date.
4. Evaluate your need to relocate to Las Vegas.
The demand for nursing education varies by state and by school. More than half of our ABSN students come to the program from outside of Nevada due to the ability to start your degree faster than in states such as California, where nursing school wait lists are the norm. For the greatest success in the program, we recommend that students who live outside of the Las Vegas metropolitan area relocate for the duration of the 16-month program to be in close proximity to lab and clinical sites, which must be completed in person. If this describes your situation, your admissions advisor can offer information related to housing, moving resources and finding a roommate.
Do you want more information about the admissions process at Roseman University? Call us at 877.885.8399 or download our ABSN roadmap for free.