Download Roseman's Free ABSN Roadmap to Understand the Admissions Process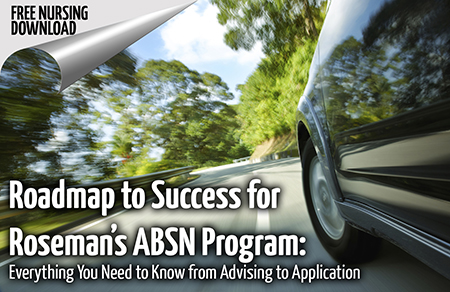 You've made a great choice to pursue a Bachelor of Science in Nursing (BSN)! Nursing is the largest healthcare profession in the United States, and RN jobs are expected to grow 26% between 2010 and 2020. The Roseman University nursing program prepares you for a career as an RN in just 16  months of online theory courses, simulation lab practice and clinical experiences at hospitals and healthcare facilities in Southern Nevada.
For many students, the biggest hurdle isn't deciding to change careers and become a nurse – it's understanding the admissions process for nursing school. You can find a wealth of information about applying to Roseman's ABSN program on this website, but now we have an easy-to-read guide that gives you all the information you need in one central place.
Our free ABSN roadmap covers the following topics:
Evaluating your eligibility
Completing your prerequisites
Taking the Test of Essential Academic Skills (TEAS)
Navigating financial aid
Applying for admission
Relocating to Las Vegas
Getting started!
Are you ready to begin your bachelor's degree in nursing? We're still accepting applications for our February cohort, so today is the perfect time to get started! To take the first step in the admissions process, call us at 877.885.8399 or complete our contact form.