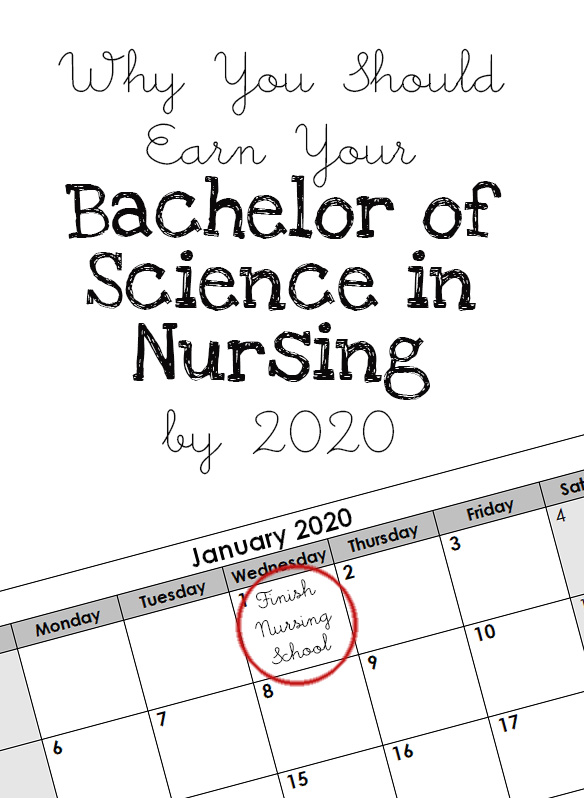 If you're just starting to look into nursing and not sure which degree will be the most beneficial, there are many reasons why you should earn your Bachelor of Science in Nursing (BSN) by 2020. In 2010, the Institute of Medicine began an initiative to increase the number of baccalaureate-educated nurses by 80% by 2020. When the report was released, only slightly over half of all nurses held a bachelor's degree. Keep reading to learn more about the nursing shortage and how you can benefit.
The future of nursing
For the last few years there's been a lot of talk surrounding the nursing crisis. You might be wondering what exactly this crisis means. Right now, the United States is experiencing the largest nursing shortage in history.  According to a study by the PEW Charitable Trust, there will be a shortage of approximately 1 million nurses by 2020. The Bureau of Labor Statistics has projected employment for registered nurses to grow by 19% by 2020, making it the fastest growing industry.
It's important you understand why the supply of nurses is falling short of the demand. The Baby Boomer generation is contributing to the projected shortage for two reasons. Baby Boomers are aging and are approaching the threshold for needing more care. Also, nurses from the Baby Boomer generation are beginning to retire. A study by Vanderbilt University concluded that four of every 10 nurses in the country are already over the age of 50. Another contributing factor is the Patient Protection and Affordable Care Act that will give more Americans access to health care than ever before.
Earning your bachelor's degree
Entering the nursing profession with a bachelor's degree has many perks. Before you enroll in a BSN program, you probably want to know why it's worth the extra time and money. According to the AACN, below are some of the benefits that baccalaureate-educated nurses experience.
Studies show that increasing the number of BSN nurses decreases the number of resulting deaths.
A BSN opens up more career opportunities, including nursing administration and education. You'll also be prepared to enter graduate school to become an advanced practice nurse.
Nurses with a bachelor's degree earn an average of 10% higher than their associate degree counterparts.
Baccalaureate-prepared nurses experience more autonomy and higher job satisfaction.
Investing in your education before 2020
Now is your time to enter the nursing job market. Industry growth is expected to peak around 2020, and you won't want to miss your opportunity for a lucrative and successful career.
If you're ready to advance your degree in nursing or jump into the workforce for the first time, Roseman University is here to help you. In our Accelerated Bachelor of Science in Nursing (ABSN) Program, you'll graduate with a well-respected degree in 16 months. Or, if you don't already have a bachelor's degree, our Accelerated BSN program in Utah may be the right fit for you.
Call us today at 877.885.8399 or contact us for more information.