Perhaps the single most critical element of the Roseman University's Accelerated Bachelor of Science in nursing (ABSN) program is the simulation labs. Sim labs are the penultimate step that leads you to direct patient interaction, so it's important that you get the most realistic experience you can before you get to your clinical rotations.
Roseman University's singular focus on healthcare education means your ABSN simulations will be realistic and will require your full engagement. From sights to smells, patient complaints, and family history, from the moment the simulation begins, your "patients" will be giving you clues to the care they need.
1. Participating & Observing
Getting the right diagnosis when a new patient walks into a hospital is just a matter of finding out the right information. It's one of the most important elements of learning to be a great nurse, so your Roseman University education hinges on your ability to ask these questions when you need to. This sounds easy, but in the high pressure of an emergency situation, remembering what to ask can seem like a herculean task.
During your simulation labs, your cohort will be divided into participants and observers. Those participating in the scenario will play out the entire scene as if they are dealing with a real patient, and instructors will only intervene if students are about to make a fatal mistake. Once the simulation is over, the instructors will ask the observers if they noticed any mistakes or have feedback. You will be expected to participate heavily in both roles, and to use your observation time to help your cohort become better nurses with a keen eye and constructive feedback.
"The observer is just as important as the student nurse," said site director Michael Makkonen.
Your participating classmates will need to hear from you on what mistakes you made and what you could have improved. In fact, your professor will likely start the evaluation portion by asking the observers what mistakes they saw and improvements they would make. Active participation, from online work all the way to your simulations, will be key to your ABSN success at Roseman.
2. Starting from Zero, Treating Holistically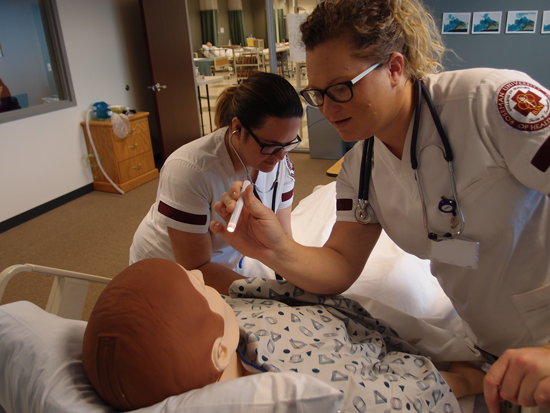 The process of providing great care goes far beyond just treating the immediate injury or symptoms. For example, you might go through a simulation where a child or spouse comes in with a broken bone. The purpose of the simulation is to learn as much as you can about the injury itself and to ask the right questions to make sure your patient is safe from the dangers of domestic violence. In this simulation, your scenario might involve you pointing the patient to a domestic violence resource, or getting Child Protective Services involved. You may have a simulation with an older patient suffering from problems caused by malnutrition, and you'll have to figure out if the problem is digestive, dental, or just in need of a meal delivery service like Meals on Wheels.
Once you can get to the root of the problem – often multiple, tangled roots – employing resources and making sure your patient has access to follow-up care and community help, you become a true healer. This is what it means to put a faith-based nursing education into practice, by teaching our ABSN students to look beyond just the symptoms.
3. Eliminate Surprises
Every nurse you talk to, old and young, will tell you about the first time a horrible smell or a shocking injury knocked them off of their game during their training. At Roseman, we're in the business of graduating nurses that are ready for anything, so we would rather you experience these surprises and extremes in a simulation setting so you can go into the job market feeling extra prepared. How do we do it? Well, sometimes the process stinks – literally.
"We have instructors that put smelly things in the pockets of the mannequin. Rotten food, blue cheese, that kind of thing," says Makkonen, "because you will absolutely experience that in a hospital."
Smells are usually what surprises new nurses the most, especially when treating homeless patients or those with chronic illnesses. We want our students to get used to this phenomenon so they can continue to focus on giving great patient care and preserve the dignity of every patient.
Instead of walking into a hospital on their first day of work not knowing what to expect in the "real world," Roseman's nursing graduates will be able to calm their jitters, and they enter the workforce knowing that they can take on the world. Of course, there will always be surprises in the field, but your simulation lab instructors are there because they have recently worked in the field and they can tell you what you're most likely to encounter. They are there to advise you and give you honest answers, so ask all the questions you have.
4. Make Mistakes in a Low-Pressure Environment
You will make mistakes, both while you work through the ABSN program, and when you are out in the field. That is a part of life and a part of being human. Simulation labs are a great opportunity to weave all your knowledge together and find where the holes are without putting a patient's life at risk.
Not only will you make those mistakes in a low-risk environment, you will have your observers to help you failsafe your decision-making process in the hospital, and your nursing instructor to tell you where you went wrong.
Remember: the purpose of simulation labs is to solidify your knowledge and to make mistakes. Do not dwell on the mistake, but use it as an opportunity to improve your process for dealing with patients.
5. Learning to Manage the Stress of a Medical Emergency
Our students become nurses because they want to help their fellow humans in a stressful, often painful time in their lives. It's also why nursing, especially in emergencies, can become emotionally charged as you negotiate your patient's care, their family's questions, and maintaining the clarity you need to treat your patient effectively.
Your simulation labs will help you practice keeping a clear head during these high-stress situations, teaching you how to cut through the noise to get the information you need. You will practice thinking through your coursework as people are asking you questions and "panicking" over their loved one. You could participate in all kinds of simulations, each of them designed to get you thinking outside of the box and engaging with the reality of patient care. Expect each one to be different, expect them all to amalgamate your online work with your skills labs, and expect to actively participate in every step.
Patient simulations are one of the most necessary parts of the ABSN curriculum, and your Roseman University instructors take a lot of pride in giving you the most realistic preparation for clinicals they can. You should come to your simulation labs ready to weave your skills and knowledge into a seamless patient interaction, and always be on alert for ways you can help your cohort succeed. If you have more questions about your Roseman ABSN experience, including the skills lab, online coursework, or simulations, call an Admissions Advisor today.