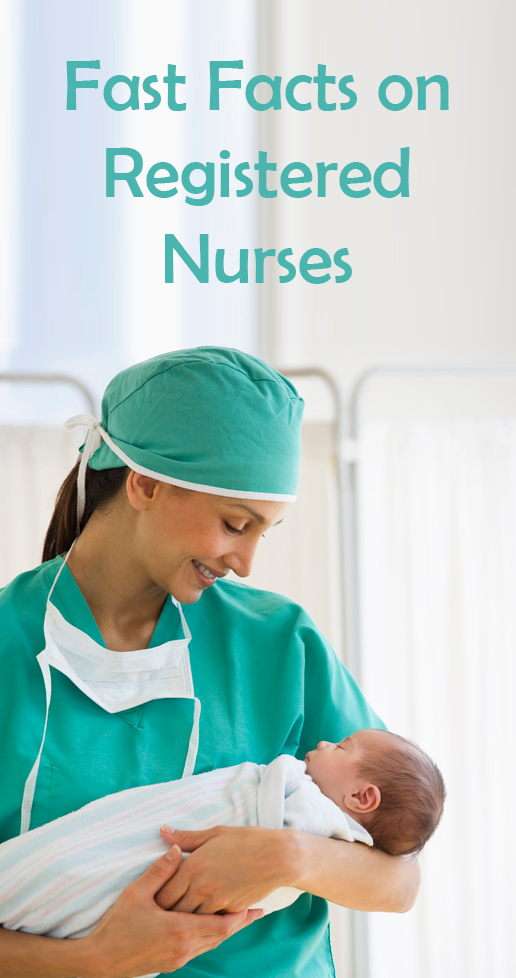 Are you looking for a quick overview of the nursing profession? Check out these key facts and stats:
Industry Profile
Nursing is the nation's largest healthcare profession.
There are 3.1 million active RNs nationwide.
62.2 percent of RNs work in hospitals.
RN jobs will grow 26% between 2010 and 2020.
Education Tracks
Registered nurses are prepared one of three ways: 1) Four-year baccalaureate program; 2) two-year associate degree in nursing program; 3) three-year hospital diploma program.
Baccalaureate programs are more likely than other entry-level nursing path to include onsite clinical experiences in and outside the hospital.
Accelerated nursing programs offer the quickest route to RN licensure for those who have a college degree in a field other than nursing.
Lead nursing organizations identify the Bachelor of Science in Nursing (BSN) as the minimum educational requirement for professional nursing practice.
The Institute of Medicine recommends increasing the amount of baccalaureate nurses to 80% by 2020.
Salary
The Bureau of Labor Statistics cites the 2010 median pay for nurses as $64,690 per year/$31.10 per hour.
The top-paying industry for nurses is personal care services ($85,940).
Specialties
Nursing specialties include cardiac care, certified nurse midwife, diabetes, domestic violence, family nurse practitioner, geriatrics, home health care, informatics, long-term care, nurse attorney, oncology, psychiatry, substance abuse, trauma and more.
Non-caregiver roles
Looking for job opportunities outside of direct patient care? You can join the ranks of nurse educators, healthcare consultants, public policy advisors, researchers, hospital administrators, pharmaceutical and medical sales and medical authors and editors.
To see how our Accelerated Bachelor of Science in Nursing (ABSN) Program in Nevada can prepare you for your RN license, contact us.
Sources:
American Association of Colleges of Nursing, Your Nursing Career: A Look at the Facts.
Bureau of Labor Statistics, U.S. Department of Labor, Occupational Outlook Handbook, 2012-2013 Edition, Registered Nurses.
Institute of Medicine, The Future of Nursing.