It is hands down the most common question asked by potential nursing students – How hard is accelerated nursing school? More and more people are looking to a career in healthcare as the demand for nurses increases. But between finding the right school, applying, being accepted, completing prerequisites, and getting licensed after graduation, the process to become a nurse can seem daunting.
So, how hard is accelerated nursing school? While there is no mathematical equation that can provide a finite measurement to satisfy this query, one thing is certain: accelerated nursing school is not easy, but it's worth it. For many, a career in nursing provides more than a steady income and job security – it provides them with a sense of purpose and a rewarding opportunity to truly care for others.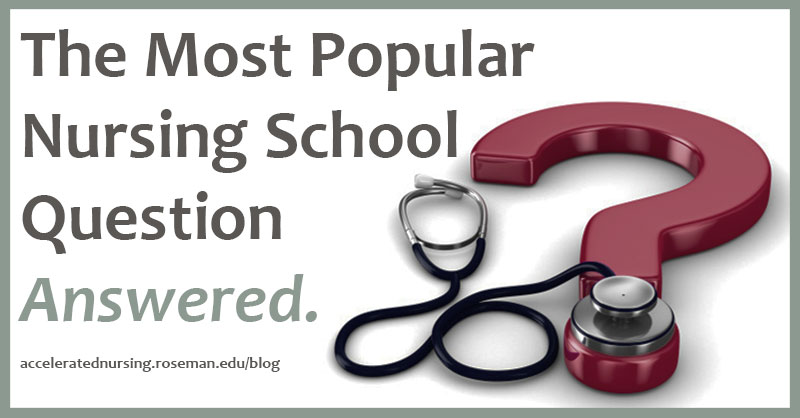 Accelerated Nursing School: The Facts
To begin answering the question – how hard is accelerated nursing school, one must look at the facts. More specifically, a school's retention rates. Looking into retention rates can provide potential students valuable insight into a program's difficulty. It is usually measured in one-year increments and varies among schools. The higher the retention rate (above 80%), the better the program.
One of the highest retention rates for an accelerated nursing program is at Roseman University. Our accelerated BSN program's retention rate is consistently in the 90% range. This success is due to small class sizes and Roseman University's innovative six-point mastery learning model, which includes block curriculum.
What is Block Curriculum?
Unlike traditional ABSN programs that require students to complete multiple courses per semester, Roseman University's accelerated BSN program uses a block curriculum model that allows students to take one course at a time.
So how does this help with the retention rate? Here's what students have to say:
"The block schedule is definitely one of my favorite things about the program. Focusing on one subject at a time really allows you to dive deep into the material." – Jonathan Lee, Roseman University ABSN Student
"I really like it [block curriculum] Instead of just getting lost and memorizing information. It's been more helpful with applying it during clinicals because I can actually answer questions that the nurses would ask me because I know the concepts." – Ashley Poppenwimer, Roseman University ABSN Graduate
Getting into Accelerated Nursing School: The Factors
The second most popular question for potential nursing students is – How hard is it to get into nursing school? The answer depends on the school and the program. There are many factors to look at when trying to find the right school that fits your needs.
Competition
One factor that impacts how hard it is to get into the nursing school is competition. Traditional ground BSN programs are going to have more competition because they have limited spots available for potential students. They usually require higher GPAs, and even that may not be enough to get accepted or avoid the wait list.
In order to meet the demand for nurses, accelerated BSN programs, like the one offered at Roseman University, offer multiple start dates each year so there are more seats available for potential nursing students.
Wait List
Because most nursing programs have more students than available spots, it creates a waiting list. Students can sit on a wait list for years before beginning. So, if you are looking to get into a nursing school as soon as possible, you'll want to find an accelerated nursing program with multiple starts per year and no wait list, like Roseman University.
Roseman University's ABSN program has two campuses in Las Vegas, NV and Salt Lake City Utah. Both have 3 start dates each year, but, as of right now, only Salt Lake City's campus has no wait list. That means you can enroll now and earn a BSN in less than 18 months.
Standardized Tests
Before you can be accepted, most nursing schools require you to pass a basic academic skills test.  For Roseman University's ABSN program, you must take an exam called the Test of Essential Academic Skills (TEAS V). It's a multiple-choice assessment that measures a student's basic knowledge in reading, science, math and English, through 150 scored questions and 20 non-scored questions.
How difficult is it to pass the TEAS? Michael Makkonen, site director of Roseman University's ABSN programs says "The exam definitely requires some preparation," he says. "I usually recommend at least 2-4 weeks of study time before taking the exam. It's also important that students have taken at least the Human Anatomy and Human Physiology coursework. It's no more difficult than any other standardized exam, but you must put in the work into studying".
If students are nervous about the exam, there are many free prep guides online for the TEAS that allow them to determine just how ready they are to take the test.
Prerequisites
Before you can be accepted into Roseman University's accelerated nursing program, you must successfully complete the required prerequisite courses. The amount of coursework that needs to be completed depends on student's former education. Prerequisite courses at Roseman University for the ABSN program include biology, microbiology and anatomy courses.
Challenges of Getting In
Once a student is accepted then there are new challenges to think about that can determine how successful one can be in nursing school. The most common challenge? Time management.
Roseman University's ABSN program combines online coursework with hands-on labs and clinical rotations. That means it's up to you to stay on top of deadlines. Many people ask if they can hold a full-time job while going through the nursing program. It's possible but not recommended. Students need to really focus as the coursework is intense, especially with the single-focus learning model block curriculum provides.
Online courses allow you some flexibility in terms of what time of day you study, but it takes a lot of self-discipline. "You have to really be self-motivated and know yourself and time manage," says Jonathan Lee, Roseman University ABSN student. "There's a lot of material to go through, there's a lot of reading for the program."
Preparing for the NCLEX
Once a student graduates from nursing school, there is one more step before they can become a practicing RN: pass the NCLEX-RN.
How difficult is the NCLEX-RN? It's not easy, but successful nursing programs, like Roseman University's ABSN program, make sure the curriculum is designed to guide and prepare students to sit for the exam.
"At Roseman University, we use preparation assessment tools called ATI throughout the curriculum and students are regularly tested on their nursing skills after clinical rotations," says Makkonen. "The final week of the program is spent going over each portion of the NCLEX exam and students take a 'comprehensive predictor' which assesses how well a student will do on their NCLEX exam."
Roseman University's ABSN program must do it well, because its first-time NCLEX pass rates are consistently above the national average.
Is It All Worth It?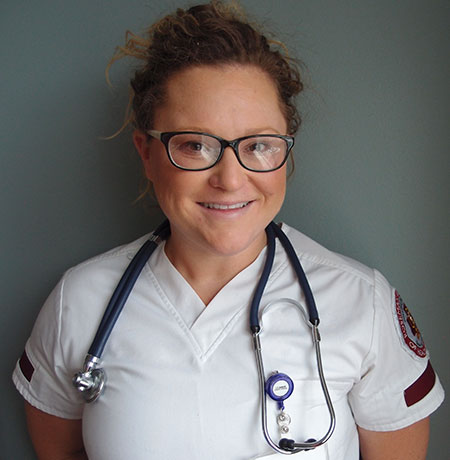 So is all this hard work worth it? "Any student attending a nursing school knows why it's worth it," says Makkonen. And at Roseman University's ABSN program, students definitely are shy about sharing just how 'worth it" the program is for potential students:
"If you really want to be a nurse the program is worth it. One ER nurse was talking to the Roseman students that came through the ABSN program and she said that she would let any of us be her nurse.  They trained us well." – Shaun Rose, Roseman University ABSN graduate.
"Roseman creates amazing nurses. My mom's a nurse and she has two nurses from Roseman and she says they're great. We're going to be really well-prepared nurses, which is great. – Lacy VerSteeg, Roseman University ABSN student
"Roseman prepares you well. So just do it." – Michael Stevens, Roseman University ABSN Student
If you're ready to "just do it" and become a nurse, contact an admissions advisor at Roseman University for more information about the Accelerated BSN Program.