You know you want to change careers and make a difference in the community helping others. What you don't know is how to become an RN to make that happen.
One of the quickest ways is to enroll in the Roseman University Accelerated Bachelor of Science in Nursing (ABSN) program. It allows qualified students to leverage their previous non-nursing education toward earning a nursing degree in as few as 18 months. Below, we'll outline the process of how to become an RN through Roseman's ABSN program step-by-step.
1. Speak with an Admissions Advisor
The first step is contacting one of our admissions advisors to verify your eligibility for the Roseman University ABSN program. He or she will review your academic history and determine if your college credits and GPA meet our admission requirements. To qualify for our program, you'll need to have at least 54 credits from an accredited post-secondary institution with a cumulative GPA of 2.75.
During this initial call, your admissions advisor will also want to get to know you and learn why you want to enroll in accelerated nursing school. It's designed to help you figure out if you're a good fit for our nursing program, so don't sweat it too much! For example, he or she may ask about your home life and support system during nursing school.
2. Complete Nursing School Prerequisites and Pre-Entry Exams
Once he or she determines that you meet the eligibility requirements for our program, your admissions advisor will discuss other program requirements with you. While you don't need a non-nursing bachelor's degree to apply, you must complete prerequisite courses and pre-admission testing before enrolling in our ABSN program.
Prerequisites
Your academic history determines the number of prerequisite courses required for you to begin in the Roseman ABSN program. Check with your admissions advisor to ensure your previous core nursing credits will transfer. Then, as long as you meet all the other admissions requirements, you can apply while working on your prerequisites. We also make it possible to "test out" of certain non-science based ABSN prerequisites, but you must meet the minimum test score requirements to receive credit.
Test of Essential Academic Skills (TEAS)
This pre-entry exam helps us gauge your reading, math, science, and English comprehension. You have up to three times in a calendar year to pass the TEAS, so take it seriously. Because the score requirement may change from year to year, ask your admissions advisor about the minimum score needed to enroll in our program.
International Student Requirements
You may have extra requirements if you're an international student. These may include:
Satisfactory completion of the Test of English as a Foreign Language (TOEFL), if applicable.
Independent evaluation of foreign (non-U.S.) coursework, if applicable.
3. Complete the Admissions Process
Once you complete the steps above, your admissions advisor will help you navigate the entire admissions process. That includes managing your transcripts, offering support as you complete prerequisites, and ensuring you meet deadlines.
Keep in mind that while our rolling admissions process provides a large application window, our ABSN programs can fill up quickly. Your admissions advisor can help you create an academic plan that targets your desired ABSN program start date in either January, May, or August.
4. Excel in Your Coursework and Labs
Once enrolled in our ABSN program, you can expect to complete our rigorous three-part hybrid curriculum in as few as 18 months, which includes online coursework. Even though this part of your nursing education is online, don't expect any less interaction — or lowered expectations — from your instructors. We break our full-time ABSN program into 15 content areas, or blocks; you must pass an assessment for each before advancing to the next one in the program.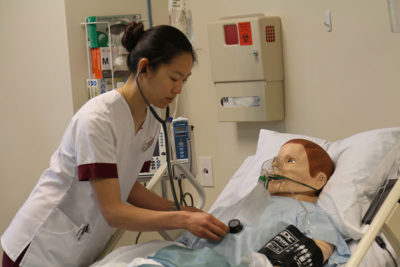 While you'll have the option of completing your nursing theory coursework via our e-Learning platform at any time — from anywhere — you'll also still have to meet instructors' deadlines and attend nursing skills and simulation labs at our program site. This is where you'll practice vital nursing skills and participate in mock clinical scenarios in a risk-free, realistic learning environment. For example, your simulation may involve helping a spouse or child with a broken bone and communicating with family members.
5. Network during Clinical Rotations
Both your theory coursework and lab experiences prepare you for one of the most important steps on your road to becoming an RN: clinical rotations. This part of your accelerated nursing school education affords you valuable hands-on experience with actual patients at some of the best healthcare facilities in the Las Vegas and Salt Lake City areas.
Clinicals also expose you to a variety of nursing specialties to help you decide what area of nursing best fits your long-term career goals. Not to mention, the clinical partnerships we've established also make for great networking opportunities. Through clinical practice, you become accustomed to the mission and protocols of each healthcare facility and have the chance to assist with and network with some of the best medical teams in Las Vegas and Salt Lake City.
6. Pass the NCLEX
Once you complete the Roseman ABSN program, you must pass the National Council Licensure Exam (NCLEX-RN) to become an RN. To qualify to take the exam, you must first apply for your license, which you do with the board of nursing in your state. Each state has different criteria for eligibility, so ensure you meet these first.
If you're stressed about this exam, remember the education you received through our ABSN program has prepared you well. Part of that includes the final block of our program, NURS 408 Senior Seminar. This block concludes in a final assessment designed to help you determine your likelihood of passing the NCLEX. If you put in the effort during this block and throughout the program, your odds of passing are high: Nearly 90 percent of Roseman University nursing school grads pass the NCLEX on their first try.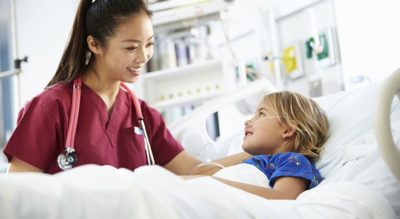 Your Nursing Future Awaits
Now that you know more about how to become an RN through Roseman University's ABSN program, what are you waiting for? We'll ensure you're prepared and have all the resources you need to succeed every step of the way. It all starts when you reach out to an admissions advisor — contact us today!