When it comes to being a great candidate for nursing school, many students disqualify themselves because their average GPA for nursing school doesn't quite meet the school's minimum requirements. What they don't realize is that they can use ABSN prerequisite courses to improve their GPA to make themselves better nursing school candidates.
Why Prerequisites Are So Important
It might feel like it, but prerequisites aren't just formalities. They are courses that are designed to qualify you for nursing school and position you to become a successful nursing student. The information you're required to learn is essential, not just something you have to get past before you get into school.
However, knowing that prerequisites are good for you doesn't make them any more fun. But if you're a student with a borderline GPA, prereqs are your best friend because you can use them to improve your average GPA for nursing school – and improve your chances of getting into nursing school with a lower GPA.
The Numbers: GPA & Prerequisite Requirements
For admittance to our ABSN program, Roseman requires a minimum of a 2.75 GPA on a 4.0 scale. For candidates who have a bachelor's degree, Roseman looks at your last 60 hours of courses to configure your GPA. For those of you who haven't gotten a bachelor's degree, you need to complete 60 hours of college coursework to be considered for admittance. (Without a bachelor's degree, the grades for those 60 hours are used to compute your GPA.)
Are Roseman's GPA requirements cut and dry? Well, yes and no. There's no moving the minimum number. That 2.75 requirement is not going away. But if your GPA for nursing school is close, there's hope. Turn to your prereqs.
How Prereqs Can Improve Your Average GPA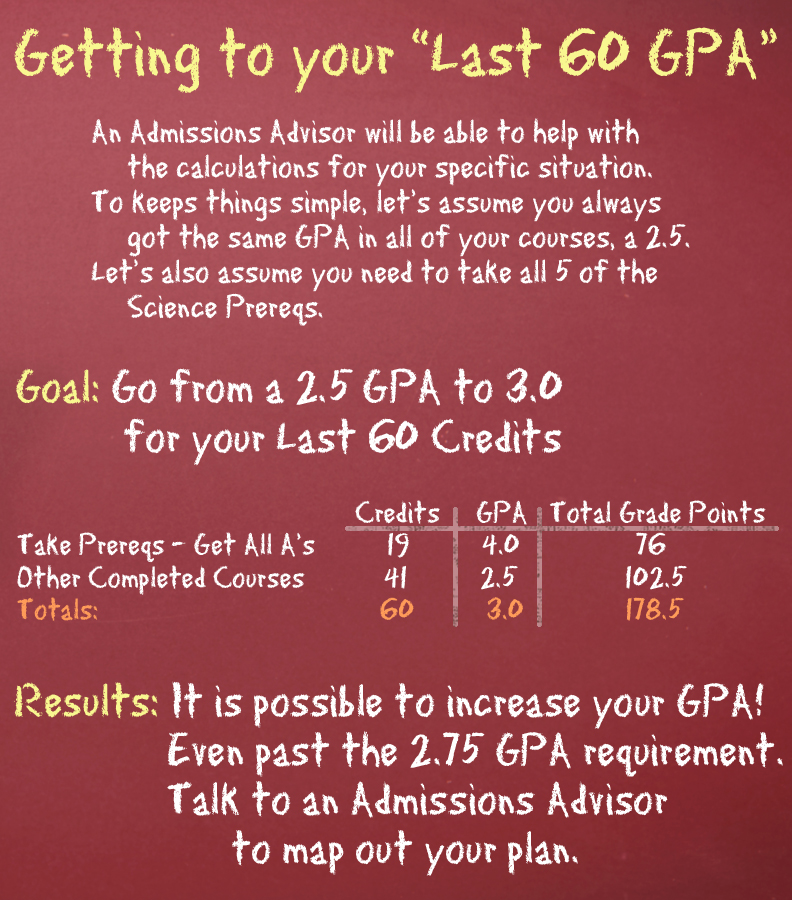 We all know that student who cried when she got her first A- on an exam. But we also know many more students who cried because of a D they got in an English Literature class one semester. One poor grade like that can really drag down your GPA – and unfortunately, it takes more than one good grade to bring it back up.
The good news is, you have a whole list of grade-boosting opportunities with your nursing school prereqs. If your GPA is a 2.5, but you're trying to exceed the 2.75 minimum, don't panic. Completing 18 hours of prerequisites with an A in each course can possibly bring your GPA up to a 3.0.
Of course, going from a 2.5 to a 3.0 is not typical. That's a huge GPA jump that doesn't happen often – and most students don't need that dramatic of a jump. For example, if you're a student with a 2.7 GPA, raising it to a 3.0 with prereqs is certainly feasible, and would better your chances of getting into the nursing program. Exceeding the minimum is important. While Roseman's minimum GPA is 2.75, shoot higher, even if it's for a 2.8. Use your prereqs to maximize the power of your transcripts.
Go For the A, Every Single Class
Just so that we're completely clear: Simply passing prerequisite classes is not enough. If schools have more applications than seats, the students who just hit the minimum aren't going to make the cut. Sure, Roseman requires at least C in each prereq – but it's the minimum. Prerequisites are an important indicator of what kind of nursing student you will be – do the maximum and get yourself noticed (in a good way!).
Related: How to Change Your Major to Nursing Without Adding 4 Years
Classes That Cannot Factor Into Your GPA
Another way to boost your GPA is by taking and scoring high grades in non-science related courses. However, you have to be careful. There are certain classes that cannot factor into your GPA. This coursework includes:
Sports, physical fitness, band, and dance training
Occupational training (including technical or certificate programs)
Developmental or remedial courses
Courses that were credit-by-examination
If you plan to take non-science related courses to give your GPA a better shot, talk to an Admissions Advisor first so that you can make sure you're taking courses that count. You want to ensure that your work pays off!
Contact An Admissions Advisor About Nursing School Prerequisites
So, you decided to apply for an ABSN, and you're all excited to get started – then you see the list of prerequisites. Immediately, you start thinking of how many semesters they'll take to complete. But again, don't panic. Prerequisite classes can be taken in weeks, not semesters. They can also be completed online.
Also, students can take prerequisite classes at any school that offers them – so it could be potentially confusing and expensive if you don't have guidance. Talk to your Admissions Advisor about the most efficient avenues to take with your prereqs. Not only will she help you figure out what you need to take and when you can take it, she knows GPA calculations inside and out and can help you get a real look at your GPA's possibilities.
(Note: If you are currently working toward a bachelor's degree in a non-nursing field, contact an Admissions Advisor for advice on working your prerequisites into your next semester's schedule.)