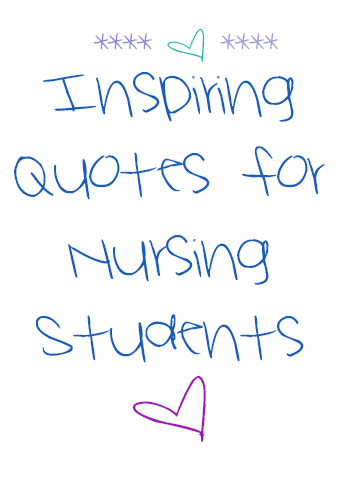 Going back to school for nursing is rewarding, but it's no cake walk. There are bound to be moments when you're feeling scattered and worn down. When that happens, pull up these quotes to lift your spirits and regain your motivation:
"If you wait to do everything until you're sure it's right, you'll probably never do much of anything."
– Win Borden
"We may encounter many defeats but we must not be defeated."
– Maya Angelou
"Best is good. Better is best."
– Lisa Grunwald
"The test of a vocation is the love of the drudgery it involves."
– Logan Pearsall Smith
"Knowing is not enough; we must apply. Willing is not enough; we must do."
– Goethe
"If we're growing, we're always going to be out of our comfort zone."
– John Maxwell
"The key to change… is to let go of fear."
– Rosanne Cash
"It's okay to learn from every experience, and it's okay to make mistakes."
– Louise Hay
"There is only one time that is important—Now! It is the most important time because it is the only time when we have any power."
– Leo Tolstoy
"Motivation is what gets you started. Habit is what keeps you going."
– Jim Rohn
"The great thing in this world is not so much where we stand as in what direction we are moving."
– Oliver Wendell Holmes
"The only real mistake is the one from which we learn nothing."
– John Powell
"Your vision of where or what you want to be is the greatest asset you have. Without having a goal it's difficult to score."
– Paul Arden
"Every accomplishment starts with the decision to try."
– Unknown
What do you want to accomplish as a nurse? Contact us today to learn how our Utah accelerated nursing program can get you on the road to nursing in 16 months.