An accelerated nursing school is an excellent option for those who want to transition into the nursing profession as soon as possible, especially if you complete your education through Roseman University's ABSN program. If you have at least 54 credits from an accredited post-secondary institution, you could be eligible for our program and earn a BSN in less than 18 months.
Earning your BSN involves dedication and a significant time commitment in a concentrated timeframe, leaving you to wonder: Is an accelerated nursing program worth it? We say it is if you enroll in Roseman University's ABSN program because:
1. You won't have to wait long to get started.
Mary, ABSN Class of 2016, applied to other programs in California and found long waitlist periods to be the norm there. That's why the fact that Roseman's campuses in Henderson, Nevada, and South Jordan, Utah, offer three start dates per year — in February, July, and October — appealed to her so much.
"(Some schools in California) had a lot more waiting times and other things you had to jump through," she says. "Roseman was available and ready to go when I needed it, so it worked out awesome."
She also valued that she could earn her BSN in less than 18 months — a timeline she struggled to come across in other schools she researched. Plus, Roseman accepts students on a rolling admissions schedule, giving prospective students like Mary even more control over when they want to start their nursing education.
2. You can learn from anywhere (but you still have deadlines).
Roseman's ABSN program utilizes a three-part hybrid curriculum: online theory courses, onsite skills and simulation labs, and clinicals at top area healthcare facilities. Many of our students say the online portion of our curriculum adds a certain level of autonomy in learning the foundation of their nursing education at any time of the day or night. That's right — as long as you meet your assignment deadlines, you can engage with course material at your own pace.
"Even though we did have our assigned times to come into the skills labs to do work, a lot of the program was watching lectures at home in my kitchen or going to a coffee shop at 8 a.m. You could study when you first wake up, or you could do it at midnight," says Samantha, ABSN Class of 2016.
3. You'll only take one course at a time.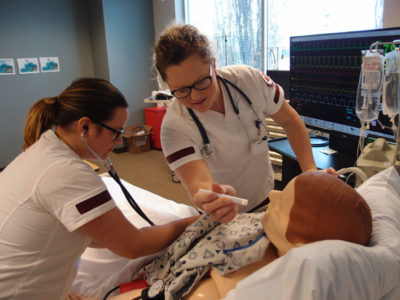 Instead of requiring students to take a full course load during a semester, the Roseman ABSN program groups its courses into 15 blocks that range anywhere from approximately two to eight weeks, depending on the topic, nursing labs, and clinical rotations involved. With this learning format, students benefit from focusing on and mastering one subject at a time.
"The block curriculum is a cool way to learn because you only have to deal with one thing at a time; then your clinical coincides with that," Mary says. "In other programs, you could be thrown into multiple clinicals all at once. It can get kind of chaotic thinking about all those subjects all at the same time."
Another unique feature of our learning format is that each block doesn't follow a traditional grading system; instead, instructors assess students frequently. Students must achieve a minimum score of 90% on exams to "pass." Maintaining such a rigorous standard will only help you stand out from other nursing students when it comes time to search for a job.
4. You experience real-world clinical shifts.
Perhaps no portion of your accelerated nursing school education prepares you more for the ins and outs of the profession than clinical rotations. Beginning in block 3 of 15, as a Roseman ABSN student, you can expect to complete either three 12-hour shifts or five 8-hour shifts per week in two- to four-week stints — giving you a realistic sense of a nurse's work schedule.
Working alongside an experienced nurse in an actual healthcare setting, you'll care for patients in nursing practice areas ranging from adult health to pediatrics. To help you maximize and focus on your clinical experience, you can expect to have no online or lab coursework assignments during these rotations.
"You get to see the whole spectrum of a nurse's shift. You learn how to be pretty efficient and how to use your time wisely," Mary says. "You need to be in the real-life situation to know if you can do it."
5. You'll have support from faculty and staff the entire time.
Roseman's compressed curriculum format allows you to earn your BSN in less than 18 months. However, even though you complete your nursing education on an accelerated timeframe, you are still learning everything you would in a traditional nursing program format. That means you have to stay disciplined and dedicated to the program to be successful.
The good news is you won't be going through nursing school alone. Once accepted into our program, you'll have access to an academic success coach, who can help you strategize the best way for you to meet your academic and professional goals while maintaining a healthy life balance.
Not to mention our highly experienced instructors are always eager to answer your questions via our online platform or if you prefer a face-to-face discussion, regular office hours on campus.
"The faculty here really care about being nurses and want their students to succeed," Mary says. "In general, I've found all the professors are here for your best interests. They take extra time out if you need it."
6. Once you graduate, you'll have opportunities for advancement.
You're sold on the idea of accelerated nursing education, but what makes earning a BSN within a compressed timeframe worth it?
Earning a BSN not only sets you apart from other applicants with ADN or LPN certification — it provides job security as healthcare requirements become more demanding. This is especially true as more and more healthcare employers opt to hire only baccalaureate-educated nurses.
Additionally, a BSN opens a large window of opportunity in a high-demand profession. As a Roseman ABSN student, you'll have the opportunity to practice in diverse inpatient and outpatient settings in a wide range of specialties. As a result, the highly focused education you receive here sets the foundation for you to pursue a graduate degree and nursing specialty should you choose to do so in the future.
"I chose to pursue a BSN because it offers so many opportunities for advanced degrees, which is great because I want to become a nurse midwife eventually," Samantha says.
Is an accelerated nursing program worth it?
If you're dedicated and motivated to enter a noble profession caring for others as soon as possible, an accelerated nursing program is definitely worth it.
While it requires hard work and perseverance to succeed, at the end of our 18-month ABSN program, you'll feel more than prepared to enter the field a competent nurse.
Ready to fast-track your nursing future? Contact one of our dedicated admissions advisors to get started.