Choosing to become a nurse is a big decision. Not only because it means you are changing career paths, but because being a quality nurse takes a lot of hard work. But before you can even start thinking about where you can earn your BSN and what nursing school is the best fit for you, you need to ask yourself – Is nursing right for you?
Step one: Self-assessment
Before you ask yourself if you have what it takes to be a nurse, let's find out if you possess the most essential traits needed to become an excellent caretaker.
Are you a good communicator?
Communication is key as a nurse. You work with patients, doctors, and family members, so you must be able to communicate clearly, accurately and compassionately when assessing conditions and sharing medical information.
Are you detail-oriented?
Nurses have to deal with very specific medical information, so every detail matters. Doctors depend on you to be focused and careful when giving medication and caring for patients. There is no room for mistakes.
Are you a good listener?
In order to assess your patients accurately, you must be a good listener. You must be able to listen to patients' needs to make sure they are getting the care they need.
Do you remain calm in stressful situations?
As a nurse, you have to deal with many difficult situations and personalities. No matter what, you must always put your frustrations aside and provide the best care possible for your patients.
Are you compassionate?
Compassion is key to nursing as it allows you to connect with patients on an emotional level. Having empathy goes a long way with patients and their families and is why nurses play such a vital role in patient care.
If these are traits you have, you're ready to take the next step in finding the right accelerated nursing school.
Step Two: Finding the Right Accelerated Nursing School
You have the qualities a nurse needs to possess, but you still wonder if nursing is right for you. Don't fear, because there's another step you can take to help you figure it all out – learning about nursing programs and finding the right one that fits your needs.
If you are searching for a quality program that's respected by healthcare leaders across the country, you may want to look into Roseman University's Accelerated Bachelor of Science in Nursing (ABSN) program. Roseman University offers their program in two locations: Henderson, Nevada (near Las Vegas) and South Jordan, Utah (near Salt Lake City).
Roseman University's ABSN program combines online coursework with hands-on labs and clinical experience. But what it's most known for is its mastery learning model that includes a block curriculum.
Mastery Learning Model
Roseman University is dedicated to providing an engaging and supportive academic environment so you can reach a high level of achievement. Rather than fill your mind with facts, instructors focus on how well you learn, apply and master the curriculum. And instead of grading on a curve, Roseman University uses a fixed set of predetermined learning standards to measure your level of understanding.
Six-Points of Mastery Learning:
Block Curriculum. You focus on one block of nursing content at a time, allowing you to learn, apply and master the material before proceeding to the next area of study.
Active and Collaborative Learning. Roseman University uses a variety of educational activities to not only accommodate different learning styles, but also help reinforce nursing concepts.
Competency-based Education. Criterion-referenced assessment tools are used to measure your nursing competency, requiring a minimum score of 90% in every course.
Assessment Learning. Roseman University evaluates your nursing comprehension every few weeks in an effort to detect and correct areas of misunderstanding as soon as possible.
Early Experiential Learning. You will start to apply your classroom knowledge in actual healthcare settings during the first few months of the program.
Classroom as Teacher. A circular classroom layout encourages student participation, ensuring everyone has a seat within close proximity of the instructor.
This mastery learning is what sets Roseman University's accelerated nursing students apart.
"It's a unique type of nursing education," says Susan Watson, Dean of the ABSN campus in South Jordan, Utah. "We want to make sure students are obtaining the highest quality healthcare education possible by immersing them in the content so they can master it and move to next level of complexity."
Student Outcomes
Roseman University's mastery learning model is essential to the success of accelerated nursing students and was designed to help accelerated nursing students reach their fullest potential.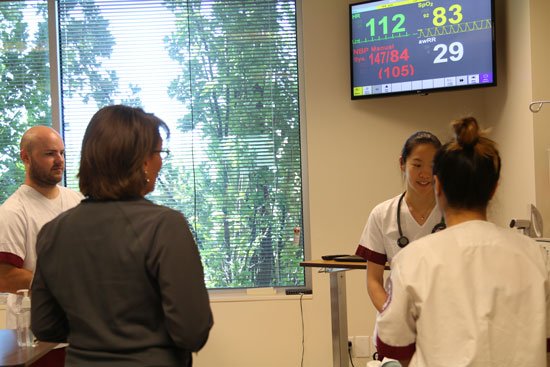 As the Dean of Roseman University's College of Nursing, Dr. Brian Oxhorn says it's his role to make sure his faculty and students have the potential to perform at their highest level. "Our faculty is very dedicated to our student success," he says. "Our primary philosophy is we are only successful when our students are successful."
That dedication to student success makes Roseman University students ideal nursing candidates. And that all begins during clinical rotations.
"About 50% of the program is clinical settings – 12 hours each time – so we are really preparing our accelerated nursing students for what it's like to be a nurse," says Erik Dillon, Director of Admissions & Enrollment for Roseman University's College of Nursing. "It's what separates our students from the rest and when our students graduate, those clinical agencies remember them and want to hire them."
Step Three: Get Started
The third step in figuring out if nursing is right for you is to just jump in and make the call to find out more about what is expected of you, not only during accelerated nursing school, but as a practicing registered nurse.
"Nursing is difficult, and a lot of students who are thinking of becoming a nurse need to be aware of how much they will be required to do and how hard they need to work," says Shanda Clark, Assistant Professor of Nursing for Roseman University's ABSN program. "For school, that means for the next 18 months there won't be parties and you'll have to say no to some family functions because in the end you will be in charge of peoples' lives and the decisions they make could affect a life and a family."
But, she adds that once you go through the ABSN program, you will be able to change lives in a rewarding field.
Are you ready to begin the journey of becoming a nurse? Contact us today and find out if the Roseman University Accelerated BSN program is the answer you have been searching for.