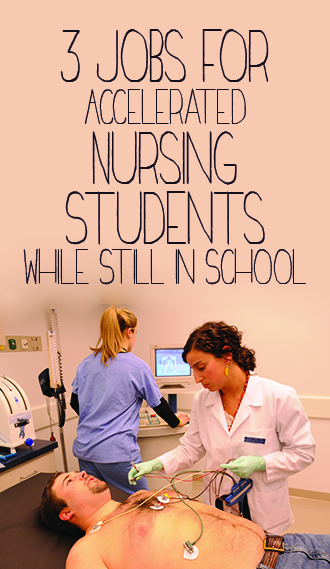 When researching Roseman's 16-month Accelerated Bachelor of Science in Nursing (ABSN) Program in Las Vegas, many prospective students ask about the ability to work while in school. If you're just beginning to explore this issue, you'll want to read our blog post on questions you should ask yourself about working in an accelerated nursing program to understand the various factors involved. Most second-degree nursing students at Roseman don't work while they're completing their degree. However, if you've done your soul-searching and decided that you do need to work, here are some options for you to consider.
(Please note that job requirements and working conditions vary by employer. As a result, Roseman University is not able to endorse a particular line of work or its compatibility with our program.)
1. Nursing aide.
If you prefer to work in a healthcare environment while you're in nursing school, think about becoming a nursing aide. This position is known under a variety of different names including patient care technician, nursing assistant and attendant, and while there are slight nuances in responsibility depending on your training and where you work, the core job function is the same: to provide basic care services for patients in hospitals and healthcare facilities. Common tasks include helping people eat, bath, dress and use the bathroom, turning, repositioning and transferring patients between beds and wheelchairs, documenting health concerns and measuring vital signs.
To become a nursing aide, you'll need to complete a post-secondary certificate or award, which involves learning basic nursing and clinical skills. The Bureau of Labor Statistics cites $24,010 as the median annual wage for this position as of May 2010. Depending on your personal situation, a job as a nursing aide may offer the right mix of steady income and flexible hours to keep you sufficiently employed while in school. It also offers another way to supplement your nursing classes with hands-on patient care experience.
2. Home health aide.
Another healthcare position for your consideration is home health aide. In this role, you would care for people in their own homes or for residents at a long-term care facility. Some responsibilities are similar to those of a nursing aide, such as providing assistance with eating, bathing and dressing. Additional tasks include light housekeeping, arranging for transportation for medical treatment, grocery shopping and meal preparation.
The pay for this role is less than that of a nursing aide – the average median wage is $20,560 as of May 2010. However, in most instances you can be trained on the job, and you're still providing a valuable service. For some patients, access to a home health aide may be the only reason they're able to stay in their homes.
3. Consultant/freelancer.
Offering services in a freelance capacity can be a smart way to use your current degree and experience as you transition into a nursing career. Talk to your current employer about any job functions you may be able to own or how you can help the company with your current list of clients or projects while you're in nursing school. Unless you secure a monthly retainer with one or more clients, your income may not be as dependable as a job with set hours, but the flexibility could be worth it. As a nursing student, your schedule will change constantly, so having the ability to complete work on your own schedule should be a high priority.
What's keeping you from going back to school to become a nurse? Call us at 877.885.8399 so we can address your concerns and get you started on the path to nursing.