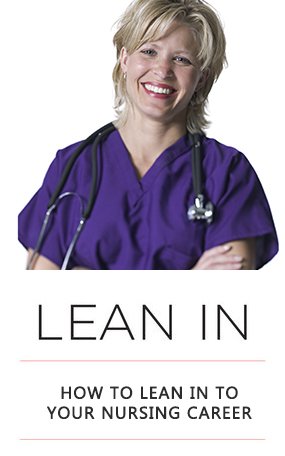 One of the most popular books of 2013 is "Lean In: Women, Work and the Will to Lead" by Sheryl Sandberg. The chief operating officer of Facebook, Sandberg has an important message that women and men can take to heart: create your own opportunities and achieve your full potential in what you love to do.
How can you use this advice to build a fulfilling career as a nurse? Here are three ways to lean in to your nursing career.
1. Own your dream.
In the first chapter of "Lean In," Sandberg asks, "What would you do if you weren't afraid?" This is an especially great question for people feeling stuck in their current roles but aren't sure how to start over.
There will always be a rational excuse to put off changing careers. If you're thinking about going to nursing school, it will often be challenging to balance coursework, lab practice and clinical experiences with your responsibilities at home. But the rewards gained from following your dream and working toward a career you love will be priceless.
2. Reach for opportunities.
"Opportunities are rarely offered; they're seized." This reflection from Sandberg is true in every industry, and nursing is no exception. When you're a nursing student, you have a golden opportunity to examine all facets of the profession and learn from experts in the field. Ask questions. Volunteer for more responsibility and help other nurses during your clinical shifts. Don't wait to be called on. Not only will you be seen as a leader in your class, you'll also be better prepared once you're working in the field as an RN.
3. Focus on done instead of perfect.
In the book, Sandberg discourages readers from setting unrealistic expectations in their personal and professional lives: "Aiming for perfection causes frustration at best and paralysis at worst." This is important advice for people going back to school. In Roseman's Accelerated Bachelor of Science in Nursing (ABSN) Program, students have an intense schedule for 16 months. During this time, it's important to keep your priorities simple. You need to be a good student, and you need to make time for loved ones, but you don't need to excel in every area of your life at the same time. Right now, give yourself permission to focus on building a brighter future.
Are you ready to lean in to your nursing career at Roseman University? Contact us today for more information.