If you're looking to earn a BSN degree in less than two years, an accelerated path may be a great option for you. While accelerated nursing programs are challenging, they allow you to graduate sooner so you can enter the workplace. In order to get started, you will need to know what to look for in an ABSN program.
With so many accelerated nursing programs out there, you want to make sure the program you choose is right for you. Do you wish to complete your accelerated nursing education online or in the classroom? Are you looking for flexibility or a strict schedule? These are some questions you must take into account as you search for the right accelerated nursing program.
If you're looking for an accredited, accessible program that provides you with a strong academic foundation, good clinical connections, and supportive staff and faculty, then Roseman University's Accelerated Bachelors of Science in Nursing (ABSN) program may be the perfect fit for you.
Why should you choose Roseman's ABSN program? Here are the top five reasons current students and graduates of the ABSN program chose to earn their BSN from Roseman University.
1. Credibility
While searching for the right ABSN program, perhaps you've run into a lot of information about various accreditations – but what does accreditation mean and why is it so important? According to Newsweek, choosing an accredited nursing program is extremely important because "it assures that the quality of teaching, student achievement, curricula, academic support, and other criteria meet certain standards of excellence and quality."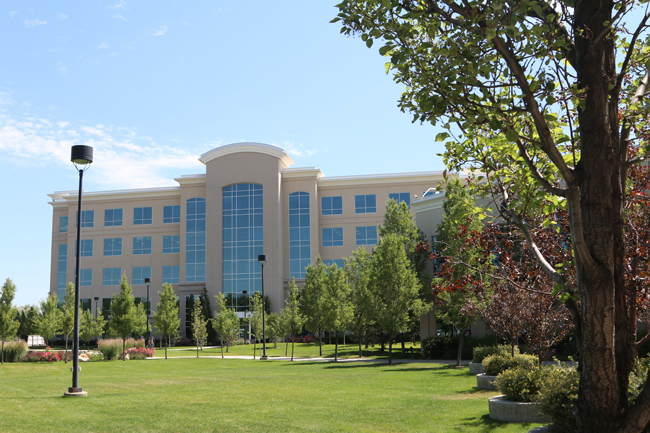 Roseman University has two ABSN locations: in Henderson, near Las Vegas, and in South Jordan, near Salt Lake City. Both are accredited by the Commission on Collegiate Nursing Education (CCNE) and meet the approval of each state's Board of Nursing.
On top of being accredited, nursing students at Roseman University have an outstanding track record within the healthcare communities they serve. "Roseman has a great reputation around here," says Liz, Accelerated BSN student. "We present ourselves well; the school has a standard of excellence."
As ABSN students at Roseman work diligently to complete the program, recruiters are quick to meet them as soon as they begin clinical rotations. "When you actually go into the clinicals there are recruiters at the hospitals and they'll come in and talk to you," says Malarie, Accelerated BSN student. They know that you come with this caliber of expertise through Roseman." "We've already been offered jobs and we're only halfway through the program," she says.
2. Accessibility
As the demand for registered nurses continues to rise, nursing programs that have seats available are becoming harder to find. This is due to a limited number of faculty members available to teach. "In California where I lived, the waitlist is forever," says Malarie. "There are thousands of people applying and nursing schools are taking 60, once a year," she says. "Roseman was taking a lot more."
With two program locations, and three start dates a year, aspiring nursing students at Roseman have more opportunities to start the program.
"I didn't want to be in school for another 4 years," says George, ABSN Graduate. "Roseman University was a great choice for me because it allowed me to enter the nursing profession quickly."
Also, through Roseman University's ABSN program, you will be able to dive into clinical rotations earlier than most nursing programs, during block three. Having the chance to interact and care for real-patients sooner will help you become a more confident nurse. This is an essential quality that sets Roseman University ABSN graduates apart. "Even though you're in school, faculty and staff empower you – they make you feel like you own it even though you're not there yet," says Malarie.
3. Strong Academic Foundation
Roseman is different from other ABSN programs because of its single-focus on healthcare education that allows students to master the curriculum. All ABSN students learn through a Six-Point Mastery Learning Model that includes:
Block Curriculum
Active and Collaborative Learning
Competency-based Education
Assessment Learning
Early Experiential Learning
Classroom as Teacher
One of the biggest assets for students is the block curriculum. Rather than semesters or quarters, Roseman's curriculum is arranged in blocks so students can learn, apply, and master one course at a time. Blocks can range anywhere from two to eight weeks, depending on the topic and each block will build upon the previous block. This is what makes our ABSN program comprehensive.
"Through our mastery model of learning, our students come out highly prepared, competent professionals ready to enter the workforce," says Dr. Brian C. Oxhorn, Dean, College of Nursing.
4. Good Clinical Connections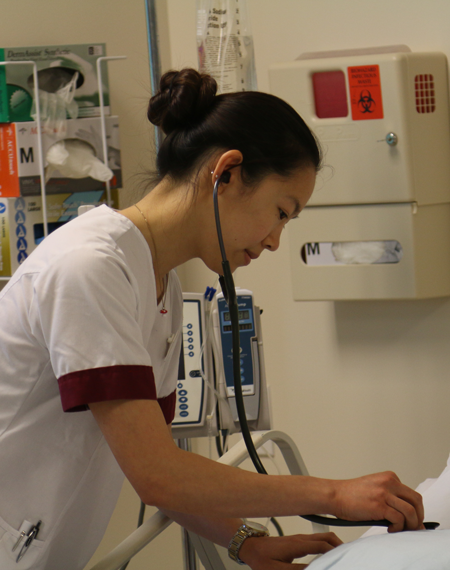 Accelerated BSN students at Roseman complete their clinical rotations within top healthcare institutions. This gives them the chance to make lasting connections with well-known leaders in healthcare. During clinical rotations, students practice in more than one setting which encourages them to choose a specialty in the future.
For example, if it's your goal to work in critical care, then clinical rotations at Roseman can provide you with hands-on experience in multiple types of settings, including:
Nursing Homes
Outpatient Facilities
Flight Units
Hospitals
This will give you an in-depth feel for the specialty, overall. Fear not – you will have the support of clinical instructors the whole way through. "They're not going to throw you into an ER on your first clinical rotation and say, 'good luck!'" says Malarie.
5. Supportive Staff and Faculty
The staff and faculty members at Roseman are one-of-a-kind. They have impressive resumes and strive to challenge you in the best ways possible. "The professors want you to succeed here, you're not just a seat that's going to be filled if you're gone," says Malarie. "They help you through it."
To keep you excited and engaged, staff and faculty will ask you challenging questions that will put your critical thinking skills to the test. On top of receiving one-on-one support at any time of the day, you will receive rational feedback that will help you fully understand the task you are learning at hand. "Our primary philosophy is 'we are only successful when our students are successful,'" says Dr. Brian C. Oxhorn, Dean, College of Nursing.
"If I'm going to go back to school fulltime and put all my eggs in one basket, I might as well go somewhere where I've got people to help me carry that basket," says Liz.
Move Forward with Confidence
Now that you know what to look for in an ABSN program, it's time to stop wishing and move forward with your nursing education. If you're ready to pursue a credible degree that will position you for lifelong nursing success, contact our admissions team today!