For those who don't have experience with online learning, the benefits of an accelerated nursing program can be hard to understand. After all, nursing is a hands-on profession; how do you learn and practice physical nursing skills when you're sitting in front of a computer?
Here are some misconceptions you might have encountered about accelerated nursing programs. The reality might surprise you.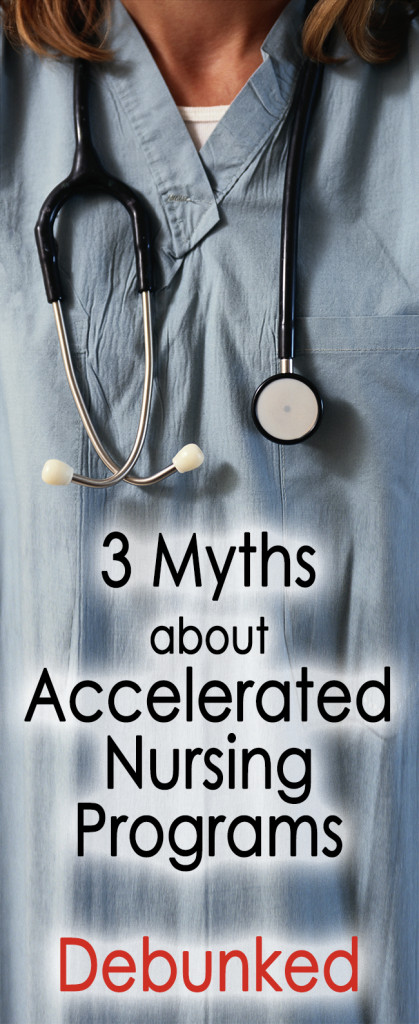 ABSN students don't receive the same quality of education as students in traditional baccalaureate programs.
Some people shy away from accelerated nursing programs because they think the curriculum is of lower quality than traditional programs. But if you enroll in an accredited nursing program like Roseman's, you receive the same education as our on-campus students. You study the same subjects, get the same hands-on clinical experience and receive the same diploma. You're just taking some of those classes online and completing the program in a shorter period of time. In this case, "accelerated" is simply a means to an end. It doesn't define your career as a professional nurse.
Accelerated nursing programs are easy.
Nothing could be further from the truth. If anything, the compressed time frame of Roseman's Accelerated Bachelor of Science in Nursing (ABSN) offers a new challenge for students who are completing the same degree requirements as students enrolled in campus-based programs.
Accelerated nursing students accomplish in 16 months what traditional students achieve in four years. They spend their time working through didactic (theory) classes online, practicing clinical skills in our simulation lab, working in Southern Nevada hospitals and healthcare facilities and studying for exams. And because our students are adult learners, they do all of this in addition to fulfilling their responsibilities at home.
Luckily, the upside is worth the sacrifice: Roseman's accelerated nursing students are qualified to enter the workforce faster.
Accelerated nursing programs don't include clinical practice.
At Roseman, we pride ourselves on preparing students to think like a nurse long before graduation day. This is due in large part to the amount of hands-on experience you receive. In the simulation lab, you learn and refine clinical skills in a safe but realistic environment, practicing on patient simulators and using the same kind of equipment found in hospitals and healthcare facilities. You get feedback and guidance from experienced faculty, and our curriculum includes a preceptor rotation where you work with licensed RNs to ease your transition from student to nurse.
If you're considering a career in nursing, Roseman's accelerated nursing program can prepare you to start working as an RN in just 16 months. Want to learn more? Contact us.