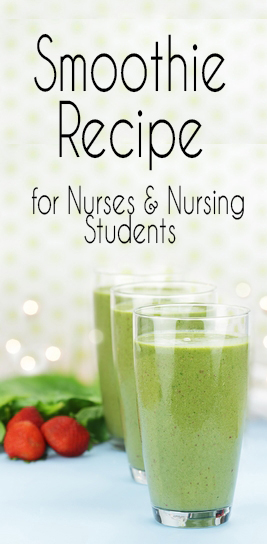 If you're a nursing student on the go, you don't always have time to prepare elaborate meals throughout the day – but you've still got to fuel up properly to stay energized for a busy day of studying, simulation lab practice and clinical rotations. Smoothies are an easy way to pack in a powerful punch of nutrients to start your day off right or carry you through an afternoon slump.
Try this smoothie for a quick breakfast or a mid-day pick-me-up:
1 cup milk (non-dairy, if desired)
½ cup Greek yogurt (non-dairy, if desired)
½ frozen banana
¼ avocado
1-2 handfuls fresh spinach
1 teaspoon raw honey
¼ teaspoon cinnamon
½ teaspoon or 1-inch cube of fresh ginger (optional – if you're in the mood for an extra kick)
1 tablespoon of dried coconut flakes (optional)
½ cup ice cubes
Combine all ingredients in a blender* and blend on high to desired consistency. Voila!
* For best results, place liquids in the blender first, followed by the rest of the ingredients. Save ice for last.
Optional Add-ins:
If you're looking for an added punch of protein or a thicker consistency, try adding your favorite protein powder or silken tofu. For an extra dose of healthy fats, toss in some chia, hemp or flax seeds or a tablespoon of almond butter. Need more fiber to get you moving in the morning? Psyllium husks will do the trick. And for some extra hydration and a touch of sweetness, go for coconut water.
Feel free to experiment with your favorite smoothie combos – just be sure to include proper portions of protein, carbs (fruit) and healthy fats – and some veggies if you can!
Give the recipe above a try – and then help us name it! Share your ideas for a nursing-themed smoothie name in the comment section below.
To learn more about earning a Bachelor of Science in Nursing (BSN) in 16 months from one of the best nursing schools in Las Vegas, call us at 877.885.8399.