Responding to the demand for more baccalaureate-educated nurses by 2020, there is a growing number of students applying to nursing schools. However, nursing programs' capacity to be able to accept a larger number of students is not growing as quickly, leading to a rise in the number of nursing schools with a waitlist. So if you're looking for a no waitlist nursing school in Utah, you might be getting frustrated.
Know that you're not alone. According to the American Association of Colleges of Nursing (AACN), more than 30,000 qualified applicants have been turned away from nursing programs every year since 2002.
There's still hope, though. Roseman University has expanded our nursing programs in Utah to now include an online, 16-month Accelerated BSN program in the Salt Lake Valley that does not have a waitlist.
Why Doesn't Roseman Have a Nursing School Waitlist?
Roseman University's accelerated nursing program in Utah has three start dates per year in the summer, fall, and spring. Since we are almost constantly enrolling new students throughout the year instead of just once per year, our ABSN program is able to avoid waitlists.
Waitlists are frustrating. Unless the nursing school you applied to is forthcoming about it, you probably don't know how long of a wait you have. Having unanswered questions about your future is an inconvenience many can't afford.
If you are currently stuck on a waitlist in Utah and don't know when you'll be able to start nursing school, you have two choices:
Roseman's next start date is August 3, 2015. If you're interested in learning more about the ABSN program in Utah, contact an admissions advisor today.
Does a Waitlist Mean Anything for the Program's Quality?
No. Waitlists occur when demand for a nursing program is more than the program's capacity- it doesn't necessarily mean anything about the program's quality. It could mean that the program is desirable because it has good accreditation, although a waitlist could also mean that the program was over marketed.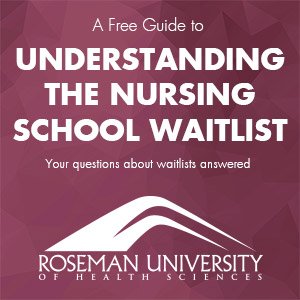 It is important to not let a waitlist determine where you go to nursing school.
Instead, focus on the curriculum, number of clinical hours, NCLEX pass rates, and other criteria that speak directly to the accelerated nursing program's quality.
If you are interested in learning more about nursing school waitlists, download our free guide, Understanding the Nursing School Waitlist.
Roseman's Accelerated Nursing Program in Utah
Roseman University has been offering nursing education in Utah since 2010. However, the online, 16-month accelerated nursing program in Utah is relatively new. The program has been expanded from a successful ground-based BSN program at our South Jordan, UT campus and our successful online Accelerated BSN program in Las Vegas. Because it is relatively new, you may have some questions about the Accelerated BSN program in Utah, and rightfully so. We'll do our best to answer these.
Is the Program Accredited?
Absolutely. Our accelerated nursing program in Utah is fully approved by the Northwest Commission on Colleges and Universities (NWCCU) and the Accreditation Commission for Education in Nursing (ACEN).
What is the Program's NCLEX Pass Rate?
Because Roseman has not graduated a class from the Accelerated BSN program in Utah, yet, we do not have a pass rate to share for this specific program. However, the exact same curriculum has been taught for our ABSN program in Las Vegas, which currently has a 91 percent pass rate. This is above the national average pass rate of 88 percent.
How Rigorous is the Curriculum?
Our ABSN program has a block curriculum. Students focus on one subject as a time until the content is mastered, which gives them an advantage in the job market. This is a core component of our Mastery Learning model.
Because only one course is taught at a time, Roseman instructors get creative with how information is presented. Learning is interactive and collaborative, not just listening to a lengthy lecture while taking notes. In this regard, our instructors are more facilitators than lecturers.
Upon graduation, Accelerated BSN program students will have completed 80 credit hours of nursing-focused coursework.
What are the Prerequisites for the ABSN Program?
Unlike many accelerated nursing program, our ABSN program in Utah does not require students to have a prior bachelor's degree in a non-nursing field. You could be eligible if you have completed some college coursework. The number of courses you will have need to complete prior to starting will depend on whether or not you already have a bachelor's degree.
If you're concerned that you may not meet the program requirements, you can review the list of ABSN prerequisites and talk to an admissions advisor.
What do Students Say about Roseman?
Sarah Coffman, a former Roseman University Accelerated BSN program student, talks below about the 16-month nursing program. She explains how the hands-on lab work helped her refine her nursing skills and how the block curriculum allowed her to focus on one subject at a time. She was able to truly master the subject matter and was able to pass her NCLEX-RN exam the first time she took it.
Today, she works in Las Vegas, NV as a registered nurse.
If you're ready to get started today on the path toward become a nurse without wasting time sitting on a nursing school waitlist, contact us.