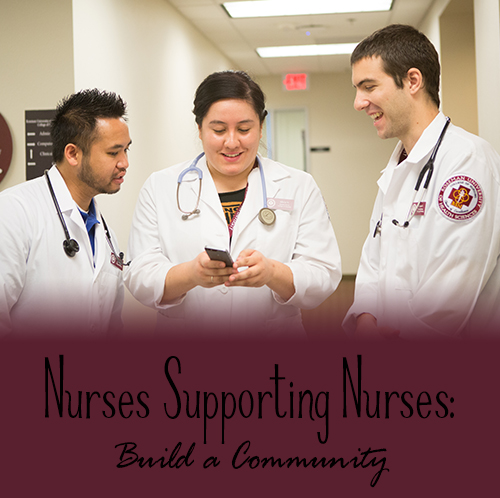 So you're thinking about becoming a nurse? That's an awesome, not to mention smart, career choice. Nurses are in demand, so your likelihood of finding a job after graduation is very high. And being a nurse is a rewarding way to make a difference. No matter what job setting you find yourself in (hospital, private practice, etc), you'll have a direct impact on your patients' lives. Nursing can give you a sense of job satisfaction like no other career.
The unfortunate reality that comes with being a nurse is that you can have stressful moments. Along with the incredible highs, you will probably also experience some lows. You might have long shifts, difficult patients, and/or peers who are also under stress and don't think about the effect of a quick remark. On top of that, you will always be learning as medicine evolves with newer technology and practices. For these situations, a support system will be invaluable to help you through it all.
Just like forming a study group to help you through an exam, build a community and surround yourself with other nurses who will help you throughout your nursing career. These people will be there for you when you need advice and remind you of the noble reason behind why you became a nurse in the first place: to make a difference in the lives of others.
Peers from Nursing School
The people you meet in nursing school are in the same situation you are. This is probably a career change for them as well and they are just as excited and nervous. Encouraging and helping each other throughout the program is a great way to start building your support system.
While Roseman's Accelerated Bachelor of Science in Nursing (ABSN) degree starts off with online classes, you will have an orientation day where everyone will be in the same location. Exchange contact information and stay in touch throughout the 16 month program.
Further on in the curriculum, Roseman University's ABSN program includes hands-on clinicals where you will work side-by-side your peers. Get to know the students in these classes. You're getting close to finishing your degree and are probably thinking about where you want to work. The people you meet at Roseman, or in any nursing program, can become life-long friends who are the foundation of your support system as you enter the workforce.
Professors Who Taught You to be a Nurse
Your professors from nursing school live this career every day. Don't forget they have more knowledge to share than just what is in the textbooks. They can offer connections when you're looking for a job, advice on your daily job functions and encouragement on those especially difficult days. If things get rough, they can help you remember why you became a nurse. Stay connected with your nursing professors after you graduate. They are a vital part of your nursing community.
Online Forum Communities
There are a lot of quality forums out there for nursing students and current nurses where you can interact with other people experiencing the exact same issues as you are. Allnurses.com is a great forum where you can read articles, post questions, and give mutual support and respect back to the other members. Some of these even let you post anonymously, in case you ever need advice about a patient. (Just be careful you protect the patient's privacy if you ever do this.) There are also several forums out there for more specific nursing fields, like pediatric or outpatient, especially on Facebook and LinkedIn.
Below are just a handful of organizations you can turn to for advice and support:
The decision you make to become a nurse is life changing. It's exciting. It's nerve racking. It's challenging. Having a support system made up of your peers and mentors in place will be invaluable throughout nursing school and your nursing career. If you're ready to meet fellow nursing students and start building your community, learn how you can enroll in Roseman University's accelerated nursing program today.