Nursing is an enticing career, defined by helping others, job security, and growing demand.
As an influential career alternative for teachers, many are noticing these qualities and are giving this profession a closer look at a second career. Nursing holds a similar skill set to teaching, from impacting lives to providing individuals feedback for development, nursing is an attractive career alternative for teachers everywhere.
Finding the Right Fit
Nursing and teaching share one rewarding goal: helping others. But how do you take the proper steps to get there from where you currently are? It is important to consider the following before transitioning into a nursing career.
Do Your Homework
Understanding if a career in nursing is the right fit for you is extremely important before applying to a nursing program. Research the day-to-day tasks of nurses and specific areas to specialize in. Speak to some current nurses and pick their brain – ask them to give you an unfiltered description of their job. As a teacher, you are used to researching a range of topics. Dive in, and have fun with this new and exciting learning experience.
Volunteer
Volunteering is a wonderful, hands-on way to understand if nursing is the right fit for you. Seek out your local hospital, where there are always areas to serve. Volunteers are heavily involved in the inner workings of numerous hospitals. You may even be able to shadow other RNs first hand.
Become a Nursing Assistant
The best way to visualize a nursing assistant would be an aide that you would have in your classroom. A great introduction to a nursing career includes working as a nursing assistant, or nurse's aide. As a nursing assistant, you will be given distinct tasks including:
Measuring patient's vital signs.
Physically helping patients move from one area to the next.
Assisting with daily tasks, such as bathing or dressing.
Being a positive influence to the nursing team, and patients.
The Similarities that Make Nursing a Great Career Alternative for Teachers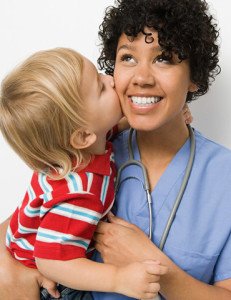 It takes a very special person to become a teacher or nurse. In many ways, teaching and nursing are very similar.
Both require tough qualifications and have placement components that must be passed

A teacher must hold a bachelor's degree in education or teaching certification, the completion of a teacher education program supervised teaching experience, and the completion of basic writing and math skills tests.
A nurse must hold a bachelor's degree or associate's degree and pass the National Council Licensure Examination (NCLEX-RN)

Both demand long hours
Both are difficult but rewarding
Both require on-going training
As a teacher, you are responsible for molding children's learning and development.
As a nurse, you are responsible for the health, wellness, and lives of individuals. You must have patience, the dedication to succeed, and an ongoing interest in education.
Being a teacher, you know very well that education is constantly evolving with innovative resources at your fingertips. The same goes with nursing; staying educated is crucial to keep current in the field.
You Could Become a Nurse Educator with a BSN
A nurse educator can be a current or former nurse that has transitioned into a faculty member at a nursing school. A nurse educator mentors students, serving as a role model and teacher to prospective nurses advancing through the program.
Nurse educators can teach in a variety of settings, such as a lecture hall, hospital, or a lab. The shortage of RNs in the US is due in part to a higher lack of nurse educators to train the next generation of nurses. As a nurse educator, you could help a future generation of nurses learn to help others giving you a greater impact on the world.
But you'll first need to earn your Bachelor of Science in Nursing degree. You can leverage your current degree or current college credits and pursue an accelerated nursing program.
Choosing an Accelerated BSN Program
In order to have a successful nursing career, deciding on the right Accelerated BSN program is vital. Determination, hard work, and understanding of learning styles will help you along the way. Today, multiple programs are available for all styles of learning, including online programs, enrolling in traditional collegiate plans of study, or a combination of both.
Roseman University's Accelerated BSN program is one of the top online ABSN programs in the country. The flexible online coursework format combined with the hours of in-hospital clinicals prepares students for a successful career in nursing after 16 months.
Speaking with an advisor will be extremely beneficial in determining which program best fits you. An advisor at Roseman University will be your best resource. They will walk you through the application process, answer specific questions, and provide you with tactical information you need before transitioning.
Nursing is an ideal career alternative for teachers. As an educator, you are already familiar with contrasting learning styles across the board, how to accommodate to specific styles, and carry them out. Your past or current profession gives you a step up from most aspiring nursing students.
Take this advancement into consideration by checking out the Accelerated BSN program that Roseman University has to offer!
Have questions? Speak to an admissions advisor today.