Nursing clinicals are arguably the most critical part of your Accelerated Bachelor of Science in Nursing (ABSN) education. Coupled with online classes and simulation labs, your nursing clinicals allow you to apply learned skills in a real-life setting under the guidance of nursing faculty.
As a student in Roseman University's Accelerated BSN program, nursing clinicals provide you with the tools and resources needed to have a rewarding and durable career as a registered nurse. They allow you to make lasting connections, learn different healthcare systems, perform the tasks of an RN, gain confidence and uphold a standard of excellence.
The time you spend wearing your Roseman scrubs will empower you to become a lifelong leader. To prove it, we've teamed up with a few Roseman University ABSN students to learn how their nursing clinicals have prepared them for successful outcomes.
You are making lasting connections.
Nursing clinicals are your time to shine as an accelerated nursing student. Your in-hospital experience is more than just passing the course; it's about making lasting connections for your future. That's why you should view clinicals as a long-term job interview.
"We've already been offered jobs, and we're not even halfway through the program," says Malarie Martin, Accelerated BSN student.
Clinical rotations will grant you the opportunity to explore different specialties within some of the best healthcare facilities in Las Vegas and Salt Lake City. They can last from one week to four weeks long, so it's up to you to use your time wisely and make connections where you find necessary. You can start by asking for help – this shows fellow nurses you have a willingness to learn.
In fact, registered nurses within our clinical partners speak very highly of accelerated nursing students at Roseman University. "As you're leaving the clinical, you hear fellow nurses say, 'wow, you guys are extremely mature and well prepared,'" Malarie says.
You are being exposed to different healthcare systems.
As you rotate from one clinical setting to the next, you will quickly recognize each hospital has its own specific system – from tracking time, to dosing, to charting. It's extremely important that you take the time to retain this information. Why? Because the clinical placement you work in could offer you a job before or after graduation.
"When you actually go into the clinicals there are recruiters at the hospitals and they'll come in and talk to you," Malarie says.
Imagine it's your first day at a new job and you already know the process for charting, how to request paid time off, who to go to with questions and what EMR (electronic medical record) system to use. This is what will set you apart from other nursing school graduates, so it's vital that you take clinical rotations seriously.
"Employers want our grads because they do so well and they know their stuff and they're willing to learn in the clinical setting," says Shanda Clark, assistant professor of nursing at Roseman University.
You are performing the tasks of a registered nurse.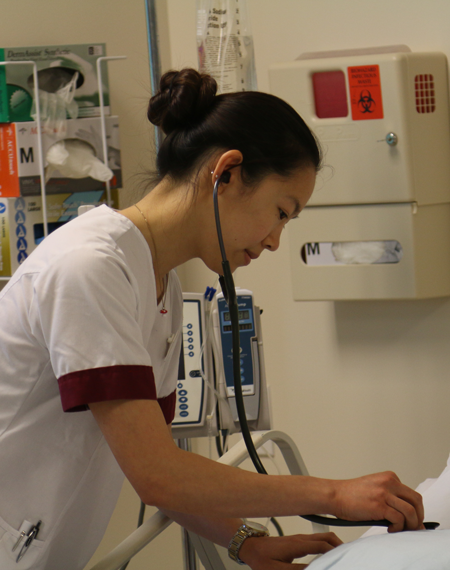 Often nursing students embarking on their first clinical rotation do not know what is expected of them. This is not the case for Accelerated BSN students at Roseman University – they are known for going above and beyond. They aren't afraid to ask their instructors' tough questions and volunteer to help when they can. Some shadow fellow nurses to get to know the ward routine, observe procedures and learn new methods.
"I'm here to work and to have a career," Malarie says. "I'm not seeing my family for the next 12 hours to be here, and I'm paying to be here. So, I'm going to learn – I'm here to make a difference."
Fellow nurses within our clinical partners consider accelerated nursing students as colleagues. They will often provide students with challenging tasks that will force them to think critically.
"We don't sit there and chart for these nurses," Malarie says. "We are in there giving IV's or passing medication. We are actually doing it."
You are gaining confidence.
The skills you master during clinical rotations will leave you feeling confident and prepared to take the NCLEX-RN license exam and enter the workforce. You'll also have a better understanding of what area of nursing best suits your personality and future career goals.
"When you go to clinicals, you're the nurse; you're working in the ER, your confidence level is through the roof and you just feel like a real nurse," Malarie says. "Even though you're in school, faculty and staff empower you – they make you feel like you own it even though you're not there yet."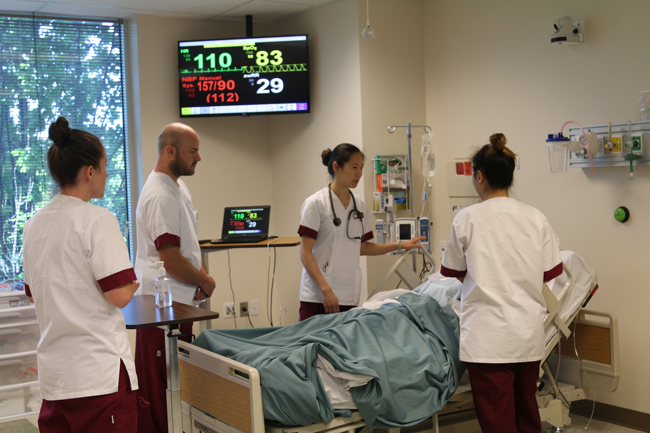 Clinicals will present various obstacles. You will have to adjust to a rigorous schedule and learn how to maximize your time. You will be working 12-hour shifts and will still be expected to keep up with your online coursework. However, learning how to overcome these challenges is what prepares you to become a confident and successful registered nurse.
You are upholding a standard of excellence.
A nursing degree from Roseman University holds a lot of value in healthcare. The College of Nursing at Roseman University continuously strives to provide students with a quality, innovative education that keeps pace with the ever-changing healthcare landscape.
"Roseman has a great reputation around here. We present ourselves well," says Liz Tree-Bariletto, Accelerated BSN student. "Our clinical professors set a standard and the school has a standard of excellence."
Upon walking into your first clinical, you may feel a little nervous. But once you see how thrilled the registered nurses are to have you there, you will forget about your nerves and become eager for what's to come. "The nurses who you work with know that you come with this caliber of expertise through Roseman," Malarie says.
Thanks to all the hands-on practice you've received in skills labs, you'll remember that you are a strong and successful Roseman University ABSN student and that you have what it takes to excel in clinical rotations. "As I walk into a hospital wearing my Roseman uniform, other nurses see that, they smile and say, 'You're from Roseman, we love you guys!'" says George Hanania, Accelerated BSN student.
Get Started
Nursing clinicals play a vital role in education at Roseman University. If you're ready to pursue a nursing degree that prepares you for a successful future, speak to an admission advisor today to find out how to get started.