Online learning has advanced a lot in recent years, but you still may be wondering if it really works. Can I really learn at home and still be able to parent my children and be there for my spouse?
Before committing to online learning and searching for online nursing degrees for non-nurses, here's what you need to know about learning online.
Online Learning is Growing in Popularity
As more businesses get in the online learning game, we're seeing a huge jump in the learning management system market (LMS). In 2013, LMS was worth a reported $2.55 billion and is expected to reach $4 billion by the end of 2015 and more than $7 billion by 2018.
What does this mean for you? More business and companies are recognizing the value that online learning provides. Online learning isn't going anywhere, and it's becoming a tool to educate work forces. In 2014, an estimated eight percent of businesses were using online courses in their corporate training efforts and an additional seven percent of big businesses are experimenting with online coursework and learning.
What about online learning and education? Even Ivy league schools are getting into the online learning space.
Cornell University recently announced the launch of an online business education program. Partnered with Fortune, published by Time Inc., the program consists of six courses and will cover topics like strategic positioning in markets and mergers and acquisitions strategy. Following completion, online students will receive a certificate in business strategy from Cornell University.
Benefits of Online Nursing Degrees for Non-Nurses
You now know that online learning is here to stay. You also know that Roseman University's accelerated online nursing program is different and is committed to students becoming the best nurses they can be.
You may be wondering, "Can I really learn online?" The answer is yes! Here are just a few of the many reasons why online learning is great – especially for those with a family or a busy lifestyle.
Unique Classroom
If you miss a class in a traditional program due to personal illness or family conflict, you miss out on that lecture and are dependent upon classmates for notes and more. With online learning, you never miss a lesson. Not understanding the material? You can redo a module as many times as you need.
Minimal Disruption
Unlike traditional classrooms, online learning allows you to learn on your own time. No driving to class, no finding a babysitter or relative to watch kids. With online learning, you can put your kids to bed and then go to school from the comfort of your kitchen table or couch. As long as you meet the deadlines established by your professors, you have the freedom to learn from a coffee shop, your home, an airport, anywhere.
Hands-on Learning
We take what you've learned online and apply it to nursing. Roseman University's Accelerated BSN program combines online coursework with hands-on, in-hospital training to give students a complete nursing education.
In simulation labs our students work on medical manikins. These manikins mimic real illnesses and disease and allow the students to learn in a safe environment under the careful watch of a lab instructor. Our students then begin clinical rotations where they work with real patients and learn more about working environments and teams.
Our unique online learning style and hands-on approach is unlike any other online nursing degree for non-nurses you've seen before.
The Roseman Advantage
Pursuing online nursing degrees for non-nurses is more than just memorizing facts and figures.
At Roseman University, we not only want you to learn how to be a nurse, but we also want you to be completely confident in your nursing skills. So how do our accelerated nursing school graduates become competent and highly skilled nurses? We use a learning system not found in many other nursing programs called the Mastery Learning Model.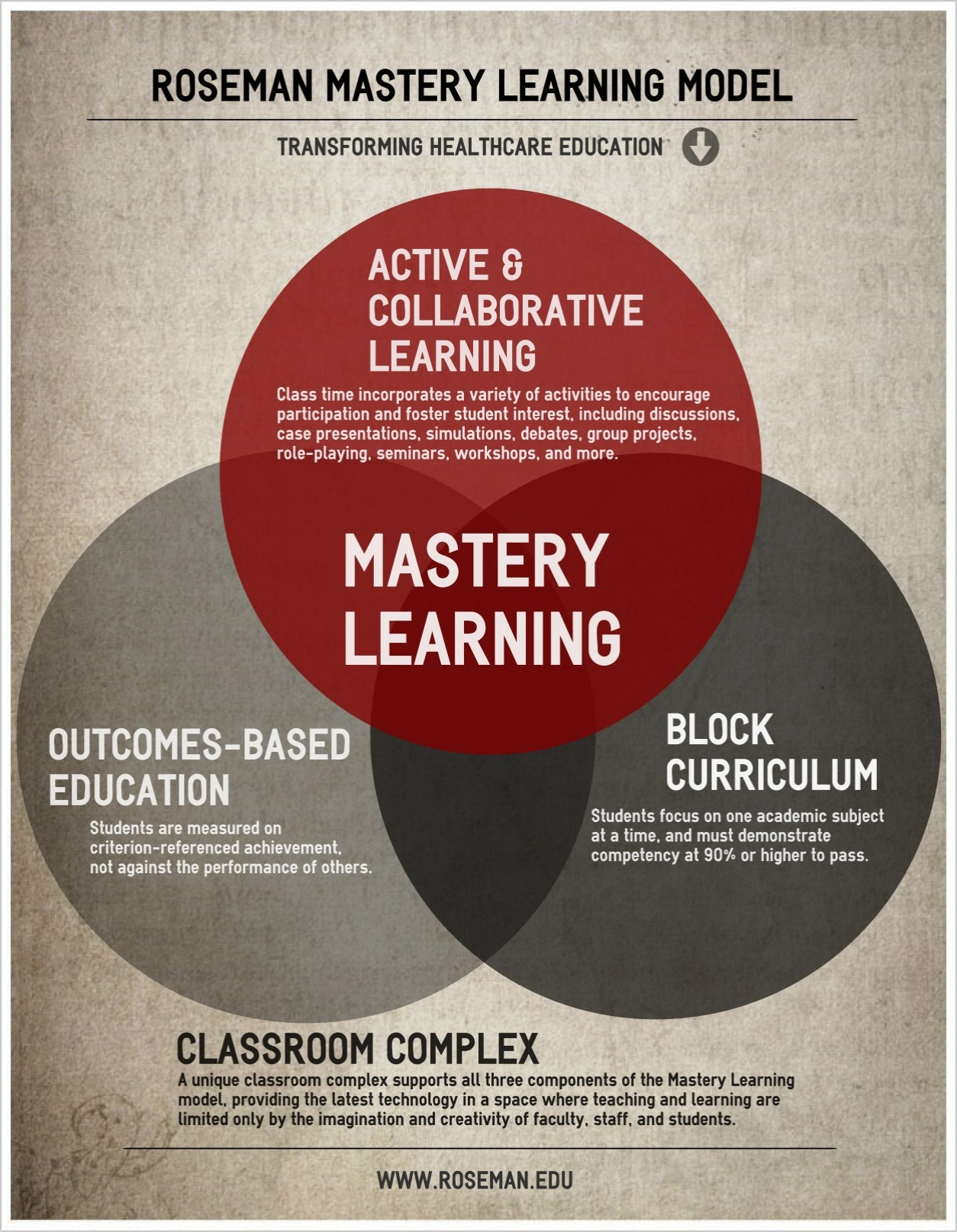 Mastery Learning at Roseman is comprised of three main components:
1. Block Curriculum
Unlike traditional semester-based education models that force students to divide their attention across different classes, block curriculum allows students to focus. Students take one class at a time and thus are able to have more contact with their professors, lab instructors and fellow classmates.
Block learning also creates a more focused education for our students. Instead of rushing through various coursework, students are given the time and tools to really master material.
2. Outcomes-Based Education
In order to pass a class at Roseman, students must earn a 90 percent. Does that sound terrifying to you? It's not, we promise!
Roseman's outcomes-based education assesses students through three phases: individual exam, team exam, and challenge. Students start by completing their individual exam. Following completion, the whole class comes together and works on the same exam in teams. Students are able to discuss questions and help one another reach conclusions. Once a faculty member has scored the exam, the exams are handed back to the class teams and students are able to use notes, textbooks, and other material to provide evidence-based reasons to support their answers.
This unique examination process teaches our students that there are multiple ways to address a single issue and in many cases collaborating with peers, or in the nursing world their fellow nurses, leads to additional answers and discovery.
3. Active & Collaborative Learning
In a traditional online nursing degree program, students will sit and listen to lecture from a professor. Roseman's approach is dynamic and involves online simulations, group discussions, hands-on practice, learning on simulation manikins, working with real patients, and more. Our faculty functions more as facilitators than as lecturers.
Why Nursing?
We are currently in the middle of a national nursing shortage crisis. Nurses are retiring and there aren't enough new nurses to fill the vacancies. In addition, one of the largest generations, the Baby Boomers, are retiring and getting older and in need of care. In short, there is a huge need for nurses.
The Bureau of Labor Statistics predicts that nearly 600,000 new nursing jobs will be available by 2018, making nursing one of the fastest growing occupations in the country. Roseman University's accelerated nursing program provides students with the tools they need to become a well-rounded nurse, and it only takes 16 months!
Are you interested in becoming a nurse but nervous about online learning? Check out our online learning demo today!