Las Vegas is known as one of the greatest tourist destinations in the world, bringing millions of thrill-seeking visitors to enjoy its many lights, sounds, and flavors. And right down the road in Henderson, Nevada, Roseman University is taking advantage of this high patient diversity and using it to graduate highly skilled BSN-educated nurses in less than a year and a half in our accelerated nursing program. Patient diversity is just one of the reasons the Las Vegas area helps our students get a leg up on nursing students from other areas of the country.
In less than 18 months, qualified students can earn their Bachelor of Science in Nursing degree and start making amazing changes in their lives and careers. Roseman University's ASBN program situated just outside of Las Vegas in Henderson can help you get there, and there are plenty more reasons to choose Roseman's outstanding Las Vegas-area program.
Henderson: Built for the Challenges of Nursing School
Las Vegas may be known as a tourist town filtering visitors through their endless rows of slot machines and winding buffets, but people often forget that all those restaurants, hotels and attractions require staff to run and manage them. And when you work in one of the loudest, brightest, people-packed places on earth, you probably want to relax in a quiet spot close to your work.
This is why Roseman University chose Henderson as its Nevada headquarters, just as thousands of permanent residents choose the quiet accessibility of the Vegas suburb. We know that our students come to Roseman to become great nurses and start new lives, and we wanted our students to have the accessibility and resources of being near a city like Las Vegas, but removed far enough so that our students can focus on academic excellence.
Because we make the most of our learning model that blends online coursework with simulation labs and clinical rotations, we highly recommend that all of our students create a habit of spending a consistent amount of time on coursework and reviewing every day.
The online portion of your education will work like puzzle pieces to ground and contextualize your theoretical lessons in real-world nursing practice. It's essential that you create or find your own peaceful place to review the lessons you learn both before and after practicing your skills in clinicals and labs. Our program is woven together into an immersive learning experience, and you will be unable to get ahead if you're not putting in just as much time and effort into your online learning as your clinicals and sim labs.
Much More to Vegas than Nightlife
The rigors of Roseman's ABSN program will also require you to create healthy habits of self-care and relaxation, of which there are plenty in the Vegas area. The sprawling desert scenery just outside the city is an excellent spot for anyone who loves the outdoors, whether for running or mountain biking or hiking. While you may think of the desert heat as scorching, the lack of humidity means the air merely feels warm and light. The consistently great weather means you can always take a quick jog or walk around the block, which is the simplest way to lower your stress hormones and focus better on your work.
The Las Vegas area is a top destination for a huge variety of alternative sports, from rock climbing and cliff diving to land sailing on the flat, dry lakebeds in the desert. One activity that brings tourists in droves is scrambling up the red and orange striped formations of Red Rock Canyon, and even if you're not a hardcore bouldering enthusiast, the breathtaking combinations of blue sky and fire-toned earth make it a must-see for new residents.
A great resource for finding healthy activities to clear the mental clutter after a long stretch of clinicals or a big test is to look for active, family-friendly recommendations. It may open up a whole new side of Las Vegas for you, and we encourage our students to keep at the forefront of their mind that they have come to Roseman and the Las Vegas area to succeed in their ABSN program and become the standout nurse you want to be.
Patient Diversity in Henderson
Along with a diverse local population of permanent residents, the incredible yearly influx of tourists means you will get an opportunity to treat a huge variety of patients, getting one of the most diverse experiences in student nursing.
Your clinical rotations will take you into a variety of care scenarios, from long-term inpatient care to mental and behavioral health to the Intensive Care Unit, as well as many others. We want you to be exposed to as many different care procedures as you possibly can, as earning your BSN is your passport to the greatest variety of nursing opportunities. Roseman's clinical partnerships also ensure that you see the full diversity of the most common avenues of employment for nurses with their BSN degree.
Thanks to the tourism popularity of the area, you will be exposed to the healthcare needs of different age groups and demographics all the time. And your patients, eager to return to the fun of Las Vegas, will be highly motivated to get out of bed, stay up on their care plan, and get back to enjoying life.
Clinical Partnerships at Roseman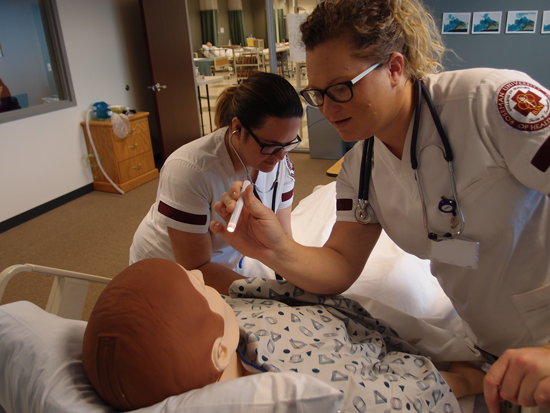 Roseman's strong clinical partnerships ensure that you are consistently exposed to diverse patients, and during that process, you will have the opportunity to make a positive impression on a future employer when you find a rotation that suits you. Roseman University wants our students to get the most exposure to real-world scenarios as you can, so we have partnered with a number of local care facilities and take pride in the number of rotations our ABSN students participate in.
Thanks to a long and established history of graduating the most qualified healthcare professionals, Roseman's clinical partners are understanding about taking the time to slow down and teach our nursing students whenever they can. Our clinical partners also carry a great respect for our students, and consider them valuable additions to their teams. The nurses who enter the job market following successful earning of their RN license will have taken advantage of the opportunity to both learn and network during their clinicals.
Why Roseman
Choosing Roseman University's ABSN program in Henderson is not just about becoming a BSN-holding nurse in less than 18 months. It's a rich collection of opportunities, both with the rigorous, immersive nature of our blended learning model and the numerous opportunities clinical rotations afford you in the unique patient ecosystem of the Las Vegas area. If you have the grades, the drive, and the discipline to take on Roseman's unique ABSN challenge, there is no better place to start your new life than Henderson, Nevada.
Contact an admissions advisor today to find out how to begin.