Roseman's ABSN program educates nurses for today and the future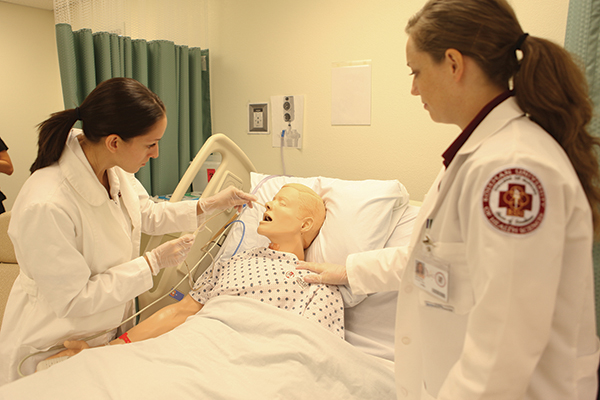 As published in the current issue of "Las Vegas Woman" magazine.
By Debbie Hall
One career that will continue to have a growing demand is nursing, and Roseman University of Health Sciences offers nursing programs to fill that need. Roseman is regionally accredited in Nevada by the Northwest Commission on Colleges and Universities and licensed to operate in the State of Nevada by the Nevada Commission on Postsecondary Education.
According to HealthAffairs.org in an article titled, The Recent Surge in Nurse Employment: Causes and Implications, by Peter I. Buerhaus, the U.S. is facing a critical nursing shortage. "Our projections indicate a shortfall of RNs developing around 2018 and growing to about 260,000 by 2025. The magnitude of the 2025 deficit would still be more than twice as large as any nurse shortage experienced since the introduction of Medicare and Medicaid in the mid-1960s."
Forward-thinking Roseman offers the Accelerated Bachelor of Science in Nursing (ABSN) Program for college graduates seeking a new career in health care.
"Roseman University's ABSN program is a wonderful opportunity for those who are looking for a career change and for college graduates who have experienced a change of heart over their first degree. Regardless of how you've come to consider nursing as a career choice, if you have a bachelor's degree, our accelerated nursing program could be a great fit for you," explained Dr. Mable Smith, RN, JD, PhD, dean and professor for Roseman's College of Nursing.
The education offered by Roseman is designed for today's student to complete the program and enter the work force in 16 months. The accelerated nursing program is based on a hybrid learning model including didactic (theory) coursework primarily online, hands-on skills practice in the campus simulation lab and clinical experiences in healthcare facilities throughout Southern Nevada.
The ABSN site in Las Vegas features a simulation lab where students learn and refine a wide range of nursing skills, from basic fundamentals to sophisticated critical thinking. In the simulation lab, students learn from faculty and practice with peers, using the same or similar equipment and supplies found in healthcare facilities.
Students apply their theoretical knowledge and competencies in onsite clinical experiences that offer students a real-world view of nursing before graduation. The curriculum includes a preceptor rotation that allows students to work with registered nurses to facilitate the transition from nursing student to entry-level professional nurse.
Graduates are eligible to take the National Council Licensure Examination for Registered Nurses (NCLEX-RN). Passing the NCLEX exam is required to receive an RN license and assume entry-level RN positions.
The ABSN program is a second-degree program; students must have a bachelor's degree from an accredited institution in order to be accepted, though their existing degree need not be related to nursing.
The Bureau of Labor Statistics reports that the 2010 median pay for nurses was $64,690 per year and that employment of registered nurses is expected to grow 26 percent from 2010 to 2020, faster than the average for all occupations.
According to the study, Improving Patient Safety: The Link between Nursing and Quality of Care, there is a connection between baccalaureate-educated nurses and quality of patient care. "Every 10 percent increase in the proportion of a hospital's nurses holding a bachelor's degree or higher is associated with a 5 percent decline in mortality and failure to rescue following common surgical procedures."
Many hospitals are now requiring nurses to have a bachelor's degree as a minimum requirement of employment. This is especially true of hospitals holding a Magnet® designation, which recognizes healthcare organizations for quality patient care, nursing excellence and innovations in professional nursing practice.
However, nursing employment isn't limited to hospitals. Nurses are in demand in a variety of environments both in and outside of health care, including physicians' offices, home health care, long-term care facilities, research roles and school systems, among many others. For nurses who pursue advanced degrees, additional opportunities are available.
The Roseman College of Nursing admitted its first traditional BSN class in April 2006, after statistical data revealed the need for a baccalaureate nursing program in Nevada. The ABSN program was started by the Roseman College of Nursing in 2010.
Roseman follows a block curriculum instead of a traditional quarter or semester format. This means that students take one block at a time, focus intensely on a specific content area and master the content before proceeding to the next block.
The ABSN program has three start dates to accommodate incoming students: July, October and February. To arrange a tour, or for more information on the ABSN or other nursing programs offered, visit roseman2021.wpengine.com.