Choosing the right nursing program is a crucial component in having a successful nursing career. Although you will be responsible for learning all of the necessary material to earn your nursing degree and pass the NCLEX-RN, your nursing program is responsible for fostering a successful academic environment.
Today, our guest blogger shares her advice on finding the best nursing program that fits into your life.
Today, hundreds of nursing programs are available. Prospective students can enroll in traditional collegiate plans of study or online, or choose a combination of online and on-campus coursework. Choosing the right nursing program for you will take some careful consideration.
Personal Inventory
When deciding what is best, you may want to create a personal inventory. How self-disciplined are you? In a traditional program, classroom time is already set up, whereas an online program requires the student to set aside a time and place several times each week to learn.
If you chose to enroll in an online-only program for nursing school, you will need an immense amount of self-discipline. Although Roseman's accelerated nursing program requires students to meet specific deadlines and participate in online-based discussion, you still hold yourself accountable for your learning. No one will be there to force you to log in to read the material. If you require a little prompting, it may be better to partake in a traditional, on-campus program.
There is no shame in needing the classroom setting to reinforce reading material.
Convenience and Camaraderie
Next, let's talk about convenience. My current graduate program is online-based. I can study and do homework from the comfort of my couch or bed. During those cold, snowy winter months, it is nice to not have to battle traffic to go to campus. If the convenience of being able to learn virtually anywhere with Internet access is appealing an online program may be for you.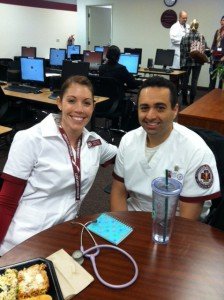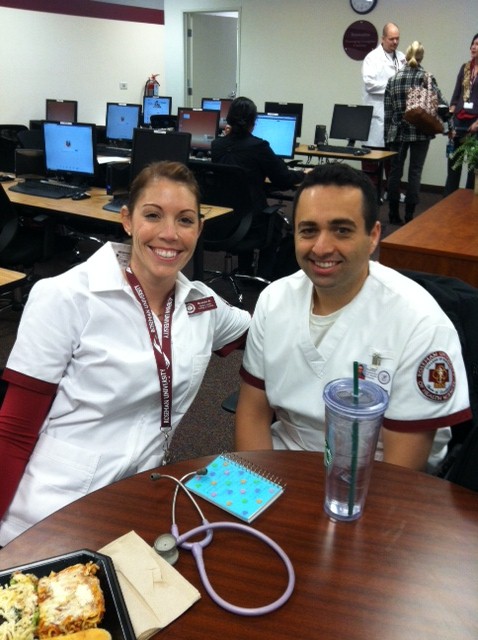 On the other hand, if total camaraderie is important, you may want to lean towards a traditional, on-campus program. I am a year into my online program and rarely remember my classmates' names, let alone anything about them. Furthermore, study groups are bountiful and very helpful with traditional, on-campus programs. I am not saying you cannot make lasting relationship with classmates in online programs.
Roseman's cohort program has students moving through their entire program with the same classmates. You can engage them on virtual discussions, meet up for study sessions, and help one another when you are in the simulation labs.
However, it definitely takes more time and commitment to develop your relationships with your classmates. Don't let this stop you though- you can develop a great professional network before you even graduate from your nursing program.
Learning Style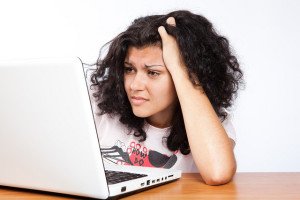 Furthermore, if you are a verbal learner, being in a classroom setting and hearing your classmates' questions and professors' lecture can be invaluable. Some online programs do post verbal lectures, which are helpful, but you may still miss out on the togetherness generated from your classmates' physical presence. You can still participate in virtual discussions and you will work with your lab instructors and classmates during skills lab hours.
Overall, it is important to ask what type of learning tools will be utilized in the online setting. Do professors simply post PowerPoint lectures and required reading materials? Or are online study groups held and visual, verbal lectures posted?
You will want a program that keeps you engaged, whether it's online or traditional.
Classroom Size
Next it is important to take a look at what one expects from their program. If you want your professors to know you on a first name basis, a smaller, more intimate program may be best. Some large universities may have lectures halls with hundreds of students enrolled in each course.
For some this is appealing, and for others a smaller, more intimate setting is desired. Be sure to ask about classroom size if it's important in your decision-making process.
Program Cost
Keep in mind cost. If cost is of no object to you, then this section is obviously not for you. If you are cost-considerate, be sure to look at how much it will cost to complete the program, if grants and scholarships are available, and how to obtain student aid if needed.
NCLEX-RN Pass Rates and Accreditations
Probably the most important is NCLEX pass rates and accreditation. Keep in mind you may be trying to get into a program, but that also means you are a client of that university or college. Don't be afraid to ask what percentage of students passed the NCLEX each semester. Wanting a program with a 100 percent pass rate or close to it is not absurd or out of the question.
After all, who wants to spend thousands of dollars on a nursing program if the program doesn't prepare you to practice as an RN and pass boards? Having a high pass rate is the best indicator of whether or not a program adequately prepared its students. Other important questions to ask include: How many students from their program went on to get RN jobs? What do they do to help students obtain jobs after graduating?
Roseman's own NCLEX-RN pass rate is high at 91 percent.
Also of extreme importance is the college or university's accrediting agency. How long has the program been accredited and when is the current accreditation up for renewal? The two accrediting agencies in the US are the National League for Nursing Accreditation Commission (NLNAC) or the Commission on Collegiate Nursing Education (CCNE). A program may be accredited by one or both agencies.
Clinical Rotations
Finally, ask where clinical rotation sites are located. Some programs may require one to organize his/her own clinical hours, whereas others already have contracts in place with local hospitals. Having a good clinical experience is key, and one will want to see and learn as much as they can during this valuable experience.
While this list is not all encompassing, I hope it helps future nursing students generate a list of what is personally important to each one of them when selecting the best nursing program.
Want to learn what you can expect from Roseman's Accelerated BSN program? Check out our Roadmap to Success or contact an admissions advisor today.