From Veteran to Nurse — Answering the Call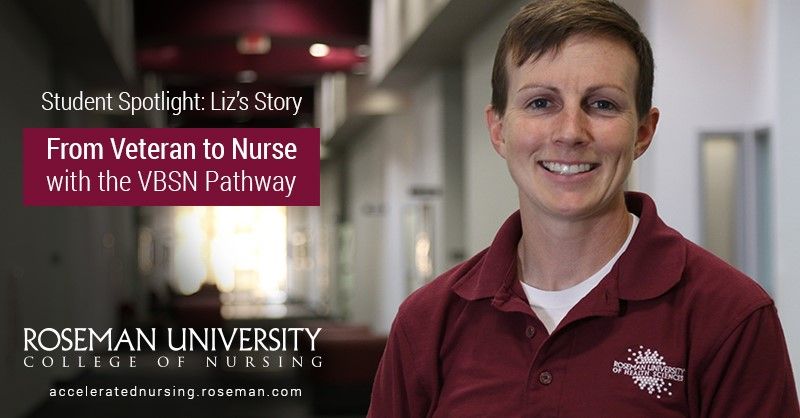 When Liz joined the U.S. Navy, it was because she felt the call to be there.
"I realized that I have a passion for service," she says, reflecting on her time in the Navy. "That was part of the reason why I went into the United States Navy."
Five years later, as she was getting out of the Navy, Liz would again feel a call to service, though it would be another few years before she made the transition from veteran to nurse.
"I had thought about nursing when I was getting out of the Navy, but I just wasn't in a place to go back to school full time, and I just wasn't ready," Liz explains. "So it kind of nagged at me for a while."
Instead, Liz went to work on an oil-drilling rig. And while she says she enjoyed the job and the flexibility of working two weeks on, two weeks off, she adds, "But I didn't have that same sense of purpose."
Eventually, she would take a job working in the oil fields of Colorado, but it wouldn't last. A steep decline in oil prices meant Liz was out of a job — something she had been anticipating.
If ever there was a time to go back to school to pursue her career in nursing, this was it.
Finding the Right Nursing Program
One of the first nursing programs Liz came across was at Roseman University — almost immediately, she felt drawn to the Accelerated Bachelor of Science in Nursing (ABSN) program. Currently out of work and having previously earned a bachelor's degree in English from the U.S. Naval Academy, Liz had no appetite for a four-year degree program — so the idea of earning her BSN in as few as 18 months held a special appeal.
In addition to the accelerated pace of the ABSN program, she was intrigued by the block curriculum model and liked that she could start the program sooner than any other she was finding.
Two States, Two Campuses
Unlike many Accelerated BSN programs, Roseman has two campus locations — one in Henderson, Nevada, just outside Las Vegas, and one in South Jordan, Utah, a short distance from Salt Lake City. While students complete the didactic portion of the program via online courses, skills and simulation labs take place on-campus, with clinical placements at area healthcare providers.
Initially, Liz was hoping to study at the Utah campus. At the time, she was living in Colorado, where she had become very involved in outdoor activities: camping, hiking, mountain biking, and skiing and snowboarding 30 to 40 days out of the snow season … she even ran her first Ironman triathlon. So a move to the Salt Lake City area, with its nearby mountains and forests providing ample outdoor and winter sports opportunities, appealed to her greatly.
But that changed when she learned about a then-new program, the Veteran to BSN (VBSN) pathway, offered exclusively at Roseman's Nevada campus.
"Sometimes you just need to be able to identify with somebody," Liz says. "Just being able to share a common experience with somebody is really powerful."
The VBSN Pathway at Roseman's Henderson Campus
Counting veterans among the Roseman nursing school staff, we understand firsthand that the transition from military life to civilian life isn't always easy. It was with this in mind that we became one of the first higher education institutions in the country to offer a special pathway for veterans seeking a BSN degree.
The VBSN pathway offers former U.S. Armed Forces personnel seeking to make the transition from veteran to nurse:
Credit transfers for applicable humanities and electives courses taken while in the military
Test-out options for earning credit for relevant military medical experience
Military support, including VBSN admissions advisors, dedicated faculty mentors with past military experience, dedicated student services assistants, and a VBSN project director to help ensure veteran students succeed in the program
For Liz, the VBSN pathway offered exactly the kind of support she was seeking.
"Just having one or two people dedicated to the VBSN, the veterans, in the nursing office, makes a huge difference," Liz explains. "Just knowing that they're there, being able to identify with us, understanding our experiences makes a huge difference."
But it also meant a change of plans … or a change of scenery, anyway.
When Liz first spoke to an admissions advisor in July 2015, the VBSN pathway didn't yet exist, so she hadn't given much thought to the Henderson campus, as Utah was her preference. But then she hesitated — she was concerned about her finances and wasn't sure she was ready.
Jessica, her admissions advisor, understood her concerns, and told Liz to give her a call if she changed her mind. Months later — after crunching the numbers and talking to her future wife — Liz read about Roseman's then-new VBSN pathway.
If there was any doubt about what school she wanted to attend before, she was now sure Roseman was the place for her. So she called Jessica.
"Instantaneously, there was communication," Liz says. "And the big thing I felt going through the admissions process was that I was an individual. I was a person and not just a number … not just a dollar sign."
This was evident when she learned from Jessica that the VBSN pathway is available exclusively at the Nevada campus — something she hadn't realized when she first found out about the program. Right away, Jessica gave her the number to the Henderson campus and to the director there. Liz was impressed.
"I'm sure they have some metric that they [admissions advisors] get measured by," she explains. "But it's clear to me that that metric didn't take precedence over the needs of the student."
Once she talked to one of the directors of the VBSN program, she knew Roseman was the school for her. Not long after, she was accepted into the program. Finally, her long-delayed journey from veteran to nurse had begun.
Relocating to the Las Vegas Area
For Liz, who lives in an RV with her wife and dog, the process of relocation was a bit different from that of most Roseman students. Rather than looking for an apartment complex, they found an RV park in nearby Boulder, Nevada.
As for living near Las Vegas, Liz admits that it's probably not where she's going to land for the rest of her life. However, she says it is a neat experience short-term because of how much there is to do, citing concerts, comedy and other shows, and a lot of great food. And while there are certainly fewer prospects for winter sports, she's quick to mention the many great opportunities for outdoor recreation nearby: the Grand Canyon, Death Valley, Red Rock Canyon, and the many state and national parks in southern Utah.
As she says, "Take advantage of what's around and make it an experience."
The Roseman ABSN Experience
 "I would absolutely recommend the Roseman ABSN program," she says, adding, "And I would also recommend the VBSN pathway."
Now well into the ABSN program, Liz has nothing but praise for the Roseman experience.
She also really enjoys the online learning component, which says a lot coming from her — prior to attending Roseman, Liz's e-learning experiences were of uninvolved instructors and poorly designed courses, a stark contrast to Roseman's highly interactive online courses.
"I was a little apprehensive about coming into Roseman and the online world, but what I think is very different about Roseman is there is a lot more emphasis and direction," she says. "And the professors — even if they're not teaching the class that you're in — are more than happy to sit down and help you through stuff if you're struggling or have a question."
From the dedication of the faculty and staff, and the quality of the online courses, to the high-tech skills and simulation labs, and clinical placements, it's clear to Liz that Roseman sets the bar high.
"We really do hold ourselves to a high standard here, and that sets a tone," she says. "And I think that's why the hospitals around here love Roseman students."
Seeking a Life of Purpose
As graduation day inches closer, and Liz reflects on her decision to finally pursue a career in nursing, it's clear she's found her calling.
"It makes sense for me as an individual to be in this profession," Liz says. "It's something I can absolutely do for the rest of my life and be satisfied and have a purpose and feel good about it."
Is a career in nursing your path to a life of purpose? Contact us today to find out if the Roseman University Accelerated BSN program is right for you.