If you recently decided you want to transition into nursing but don't want to start over again on your education, great news! Accelerated nursing programs make it possible for students like you who have a non-nursing bachelor's degree or existing college credits to fast-track your goal.
What is an accelerated nursing program? Like the name implies, accelerated nursing programs, often called Accelerated Bachelor of Science in Nursing (ABSN) programs, like the Roseman University accelerated BSN program allow you to apply your non-nursing college experience toward a BSN in less than 18 months.
Now that you know what an accelerated nursing program is, let's explore how such a program works and why it may be a great option for you to consider.
How is an Accelerated Nursing Program Different from a Traditional BSN Program?
Compared with a four-year traditional program, the Roseman University accelerated BSN program takes 18 months to complete. Although you earn a BSN in a shorter timeframe through an ABSN program such as the one Roseman University offers, you still learn as much as you would in a traditional program. You also qualify to sit for the National Council Licensure Exam (NCLEX-RN), the nationwide nursing licensure exam, once you graduate. 
While we still cover all the same course material as most ABSN programs, Roseman's ABSN program has a uniquely formatted course calendar and learning model. Unlike traditional BSN and ABSN programs, the Roseman ABSN program's three-part blended learning format combines online and hands-on learning:
Online Learning: Our dynamic e-Learning platform featuring interactive content brings a lot more flexibility and convenience to the learning process while upholding the same standards and expectations as classroom-based education. The difference is it allows students to engage with the coursework material at their own pace as long as they meet the deadlines set forth by instructors.
Hands-on Nursing Skills and Simulation Labs: Providing hands-on experience at one of our ABSN campuses in Henderson, Nevada, or South Jordan, Utah, skills and simulation labs put nursing theory into practice. These labs allow you to practice your skills under the guidance of faculty in a safe, controlled environment.
Clinical Rotations: During clinical rotations, you'll combine your lab and online learning experience to care for real patients at top healthcare facilities near Las Vegas or Salt Lake City. Rotations occur in stints of two to four weeks and comprise either three 12-hour days or five 8-hour days.
What are the Benefits?
If you already have some existing college credits or a non-nursing bachelor's degree, the primary benefits of an ABSN program like Roseman's include speed, access and focused learning opportunities.
Speed
Because qualified students must have 54 prior college credits with a cumulative GPA of 2.75 or a non-nursing bachelor's degree with a 2.75 on the last 60 credit hours attempted, they can transfer credits for general education courses and dive right into their nursing courses. Then, after finishing the ABSN prerequisites and the Test of Essential Academic Skills (TEAS), they can complete our accelerated nursing program in less than 18 months.
Access
While many programs only offer one start per year at one campus location, Roseman University's ABSN program offers three start dates per year — in February, July, and October — at our two campus locations in Henderson, Nevada, and South Jordan, Utah.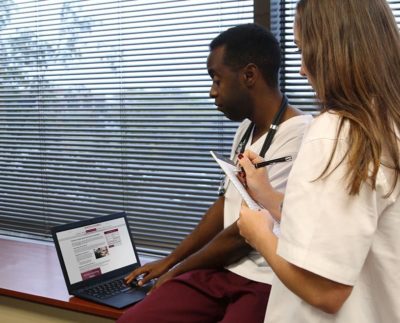 Focused Learning
The Roseman University ABSN program's course schedule is set up a little differently than most other nursing programs, much to the benefit of accelerated nursing students. The Roseman ABSN curriculum is divided into 15 learning "blocks," which allow you to learn, apply, and master one nursing topic at a time. Many of our students say this course structure allows them to better focus on each subject and gain a better understanding of the material.
Who is the Ideal Candidate?
As you can see, choosing an ABSN program to earn your BSN certainly comes with its own unique set of benefits. However, now you need to ask yourself if it's the right program for you. While we review each applicant on a case-by-case basis, many successful ABSN students have similar traits. In general, they include:
Independent Critical Thinkers
The ideal candidate for an accelerated BSN program is eager to excel and reach his or her career goals as efficiently as possible. Being self-motivated, able to think on your feet and adapt quickly in new situations will not only go a long way toward making you a successful ABSN student, but registered nurse as well.
Non-Nursing Students and Career Changers
Students enrolled in our program hail from a wide variety of backgrounds. Some are marketing professionals or fine arts majors, while others desire a transition from within the healthcare profession or want to expand upon their existing healthcare education and want to pursue a BSN. No matter your prior career or field of study, research suggests your experiences and prior learning will enrich your future nursing career.  As long as you meet our admissions requirements, you may qualify for our program.
Organized
Just because it's an accelerated program doesn't mean you won't be covering the same amount of material as you would in a traditional BSN program. You'll be packing a full-time BSN curriculum into an accelerated timeframe, so it helps to stay organized and on top of deadlines to keep pace and excel in the program.
Dedicated
Many in the program have compared our program to a full-time job. The Roseman ABSN program is full-time, and for that reason we generally recommend committing 60+ hours to study each week and not holding a full-time job while in the program.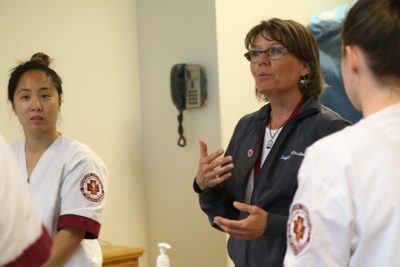 What Happens After Graduation?
Once you graduate from the Roseman ABSN program, you qualify to sit for the NCLEX-RN to receive nurse licensure. You must pass this exam to become a licensed nurse. However, with the stellar nursing education you receive as an ABSN student throughout our program and the tools provided to you along the way, we set you up for success for the NCLEX and the rest of your nursing career. In fact, nearly 90 percent of Roseman University nursing school grads pass the NCLEX on their first try.
Graduating from an ABSN program is also a major boon to your career. Research even suggests that healthcare employees highly value graduates of ABSN programs because they have strong clinical skills and are quick learners.
Roseman ABSN graduates are no exception. Healthcare employers consistently report Roseman ABSN alumni to bring with them to the job a strong work ethic, high level of professionalism and a solid base of clinical knowledge.
Are you ready to see if you have what it takes to become a Roseman ABSN student whom potential employers respect? Contact an admissions representative to begin your journey today.