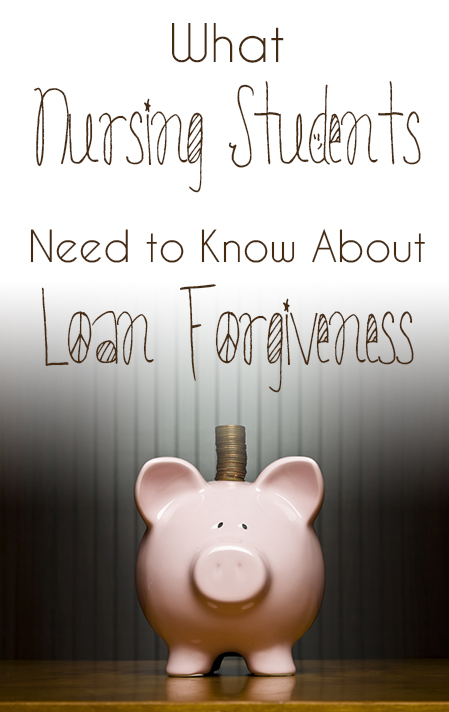 This is a guest post by Patrick Slattery.
Over the summer, CBS Moneywatch published a news article about the underutilization of student loan forgiveness programs with a special focus on those employed in public service – including nurses. There are a variety of loan forgiveness programs that can alleviate some or all of the debt you incur as a nursing student. But how do these programs work? What are the pros and cons? How do you know if you qualify?
Keep reading to get important information about loan forgiveness so you can find a program that best meets your needs.
Defining Loan Forgiveness
The U.S. Department of Education defines loan forgiveness as the release of a borrower's obligation to repay all or part of a student loan (principal and interest). Under certain circumstances, student loans can be forgiven, canceled or discharged so long as certain criteria are met, including:
Volunteering with an organization that offers loan forgiveness
Providing medical services in underserved areas
Serving in the military
Most often, qualifying institutions are non-profit entities that use loan forgiveness to recruit skilled workers in areas where healthcare services are needed most. Circumstances that do not qualify you for loan forgiveness include leaving school before you've completed your degree, experiencing difficulty finding a job or having an unsatisfactory educational experience.
To learn more, visit the Department of Education's website.
Determining Your Eligibility
Qualifying for a loan forgiveness program is largely dependent upon where you choose to work and the type of loans you have. When researching programs, review the eligibility requirements carefully to make sure you qualify.

For example, once you're a practicing nurse, you would be wise to explore the Public Service Loan Forgiveness Program offered by the Department of Education, which forgives the remaining balance of your federal Direct Loan after 120 qualifying payments have been posted to your account while also working full time for a qualifying public service employer. However, federal Family Education Loans and federal Perkins Loan are not eligible for this program, even if you have a similar work profile and payment history.
Evaluating Your Goals for Your Nursing Career
A common condition of loan forgiveness programs is the requirement to work in a predetermined healthcare environment or geographic area for a certain period of time. Therefore, if eliminating some or all of your nursing school debt is important to you, it may help to be open-minded about the shape of your career, at least in the beginning.
For example, the U.S. Department of Health and Human Services offers the Nurse Corps Loan Repayment Program, which pays off 60 percent of your unpaid nursing school loans in just two years and an additional 25 percent of the original balance for an optional third year. In return, you would spend those years working at a designated critical shortage facility anywhere in the country. You can also investigate programs that aren't nursing specific. As a member of AmeriCorps, you would serve for 12 months and receive up to $7,400 in stipends plus $4,725 to be applied towards your loan.
The multitude of workplace options combined with the short commitment window might make programs like Nurse Corps and AmeriCorps more appealing than the public service program mentioned above, which requires you to work for ten years at a qualifying institution and make 120 payments on your loan. However, the longer commitment is offset by the total forgiveness of your loan balance.
There are a number of ways you can fulfill the service obligation in a loan forgiveness program, so don't resign yourself to spending two or more years in a workplace setting you don't enjoy. The right program is out there. You just have to find it!
For more information about earning a BSN at one of the best nursing schools in Las Vegas, contact us by calling 877.885.8399. To learn more about Roseman University's admissions process, download our ABSN roadmap for free.