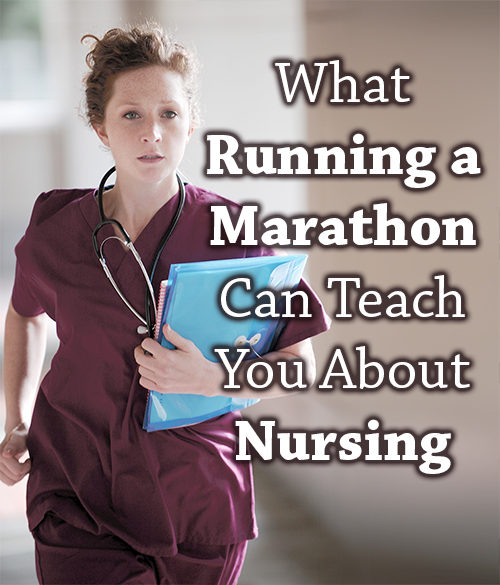 If you're going to school to become a nurse or even just thinking about nursing school, you probably don't plan to run a marathon anytime soon. But there's a wealth of advice for long-distance runners that also rings true for nurses and nursing students. Here are a few things that running a marathon can teach you about nursing and nursing school:
Plans are worthless, but planning is everything.
This quote from Dwight D. Eisenhower is meaningful for runners and nursing students alike. If you're tackling a big race, you need to schedule your runs and gradually increase mileage over time. Every run might not work out as planned, but at least you have a course to follow.
Likewise, if you're an accelerated nursing student, you can't manage online courses, skills lab sessions and clinical experiences without having a game plan for how you'll balance school with other life responsibilities. At the beginning of each week, decide when and where you'll study, what your commuting days will look like and what your priorities are for the next seven days. You may not stick to your schedule 100%, but at least you'll have a strategy for how to spend your time.
Fuel up.
Runners can cover two or three miles without a drink of water, but the longer the run, the more important it is to "carb up" and stay hydrated. The same is true for nursing students and RNs. You might be able to survive an eight-hour clinical shift on five hours of sleep and a can of soda, but sustaining this routine long term will jeopardize your physical and emotional health. Get enough sleep. Eat healthy meals. Move your body every day.
Remember the advice that flight attendants give passengers during safety presentations: "Put on your oxygen mask first before helping others." You can't be a great caretaker if you don't take care of yourself.
Endurance is key.
When you're running a marathon for the first time, your pace at mile six may not hold to mile twenty-six. That's okay. The goal is simply to finish the race, knowing your performance will ebb and flow and that some stretches will be easier than others. Going through nursing school will be much the same way. Semesters with a more intense clinical schedule may be more challenging than others, and you may underperform in other areas of your life such as housework, volunteering, etc. Accept that you have limitations during this point in your life and don't try to be a superhero. You'll have the chance to play that role soon enough for your patients once you're working as an RN.
One way to maintain your endurance is to build a great support system. We'll give you tips on how to do that in an upcoming post.
If you're interested in becoming a nurse through out 16-month nursing program in Las Vegas, call us at 877.885.8399 or click here to request information.