If you've discovered that you have a calling to become a nurse, congratulations! Nursing is a rewarding, challenging, dynamic career that lets you make a real impact on people's lives and gives you a high level of job security.
As you start looking into nursing schools, you'll find that not all routes to becoming an RN are the same. First, you'll need to decide if a traditional program or an accelerated program is the best choice for you. If you'd like an accelerated path to becoming a licensed RN, an accelerated BSN (bachelor of science in nursing) program is a good bet. But even once that decision is made, it can be difficult to know exactly what to look for in an ABSN program.
No matter what your academic background is prior to nursing school, it's important to find a high-quality, comprehensive program that will fully prepare you for a career in nursing. It should include both the theory courses and the hands-on practice you'll need for success. Below are some excellent questions to ask during your ABSN program research process that can also be used as a checklist to compare your options.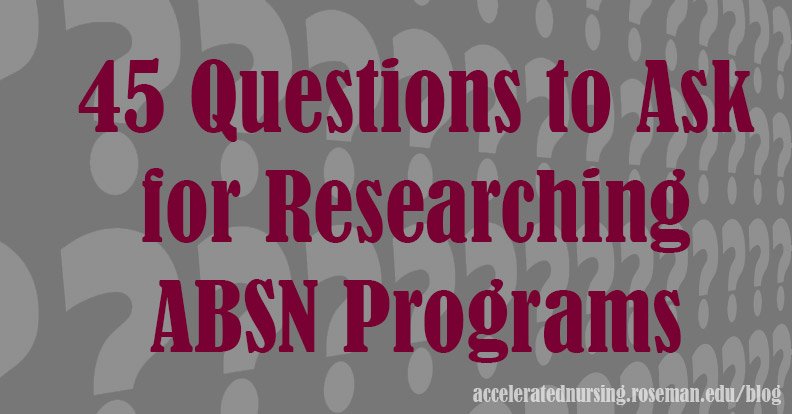 What to Look for in an ABSN Program Learning Format
You'll want to fully understand how you'll learn before deciding where you'll learn. Most nursing programs, including accelerated programs, include theory courses (also called didactic courses), lab courses (usually in a simulation lab using special medical manikins), and clinical rotations (in real healthcare facilities, working with actual patients). Be sure and ask questions about all the different types of learning to get a full picture of the program.
General Questions
How long does it take to complete the program? How much of that time will be spent completing pre-requisites?
Is the program accredited? By which accrediting bodies?
What's the first-time NCLEX pass rate for graduates of the program? (The NCLEX-RN is the licensure examination required in order to become an RN. Many schools are measured by the pass rate of their first-time test takers.)
Are any of the courses online? Which ones?
If there are online courses, what learning platform or software will I have to use? Is there IT support or training for that? What equipment will I need?
What kind of faculty support is offered?
How do I engage with instructors and classmates in online courses?
How much time will I need to spend on campus or in an in-person class setting?
Will I be able to work while I'm doing the program?
What is the student-to-faculty ratio? Is it different for online courses vs. labs or in-person courses?
Are tutoring resources or other student support services available?
What is the job placement rate for recent graduates like?
Questions about Lab Work
Are there simulation labs? What types of skills do students learn in the lab?
What equipment will I need?
Do labs take place concurrently with the regular coursework? How often do they happen?
How far into the program before lab courses begin?
How are labs evaluated?
Will I be working in a group in the lab, on my own, or both?
Clinical Rotations Questions
Am I responsible for finding my own clinical placements, or does the program do that?
What kinds of things will I be doing in my clinicals? What are the different types of rotations required?
In which hospitals or healthcare organizations does the program place students for their clinicals?
Will I go to one location throughout the entire program, or to a variety of different locations?
What is the student-to-nurse-instructor ratio for clinical rotations?
Will I be working in groups with other students?
How far into the program before clinical rotations begin—which semester?
How much one-on-one patient care is involved in a clinical rotation?
How is clinical experience evaluated?
How many hours of clinical rotations will I need to complete prior to graduation?
What to Ask about the Admissions Requirements and Application Process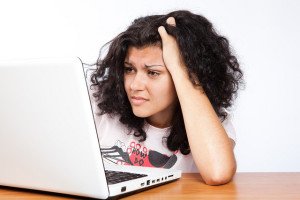 Admissions requirements can be tough to understand, especially for an accelerated nursing program where you'll likely be leveraging your past education or course credits. A few programs, like Roseman University's accelerated BSN program, assign you a personal admissions advisor to help you navigate all those complexities and to make sure you're set up to succeed. Questions to ask about the admissions process include:
Are there set admission dates, or does the program have rolling (continuous) admissions?
Is there typically a nursing school waitlist for the program? If so, how long is it?
What are the basic requirements for the program? (e.g., GPA , past credit hours and types of courses taken, entrance exam or standardized tests)
What are the ABSN prerequisites that need to be completed before being considered for admission? Is there an "expiration date" for prerequisites?
Where do students typically complete their prerequisites? When should I take them? Is there a recommended order?
How do I find out if my past credits will transfer?
Do you have any corequisites (classes taken during the program in addition to nursing classes)? Can I take those beforehand if I want to?
Do I have to take the TEAS exam as part of the admissions process? If so, what is the minimum passing score?
What are the elements that make up the application?
What are all the critical application due dates?
When/how do students find out if they're accepted?
Once I'm accepted, are there any events or meetings I need to attend before classes start?
Financial Aid Questions to Ask
Paying for nursing school is usually among students' top concerns and is a topic that merits its own thorough research. Your number-one resource in this area is the school's financial aid office, but if you're working with an admissions advisor, that individual can also help point you in the right direction. At a minimum, you'll want to find out:
What is the total cost of the program, including tuition, books, fees, equipment, technology, uniforms or any other costs?
Does the university offer financial aid? If so, what percentage of ABSN students receive aid?
Are there scholarships that could help offset the cost of tuition?
Overall, how do students typically finance the program? (e.g., federal loans, private loans, need-based aid, scholarships, out-of-pocket)
Who is the financial aid point person for this program? What's my very first step when it comes to financial aid questions?
If you answer most of these questions, you'll be well on your way to making an informed decision! For more information about one of the Roseman University ABSN program in particular, contact an admissions advisor for our ABSN in Nevada and/or our accelerated nursing program Utah programs today.