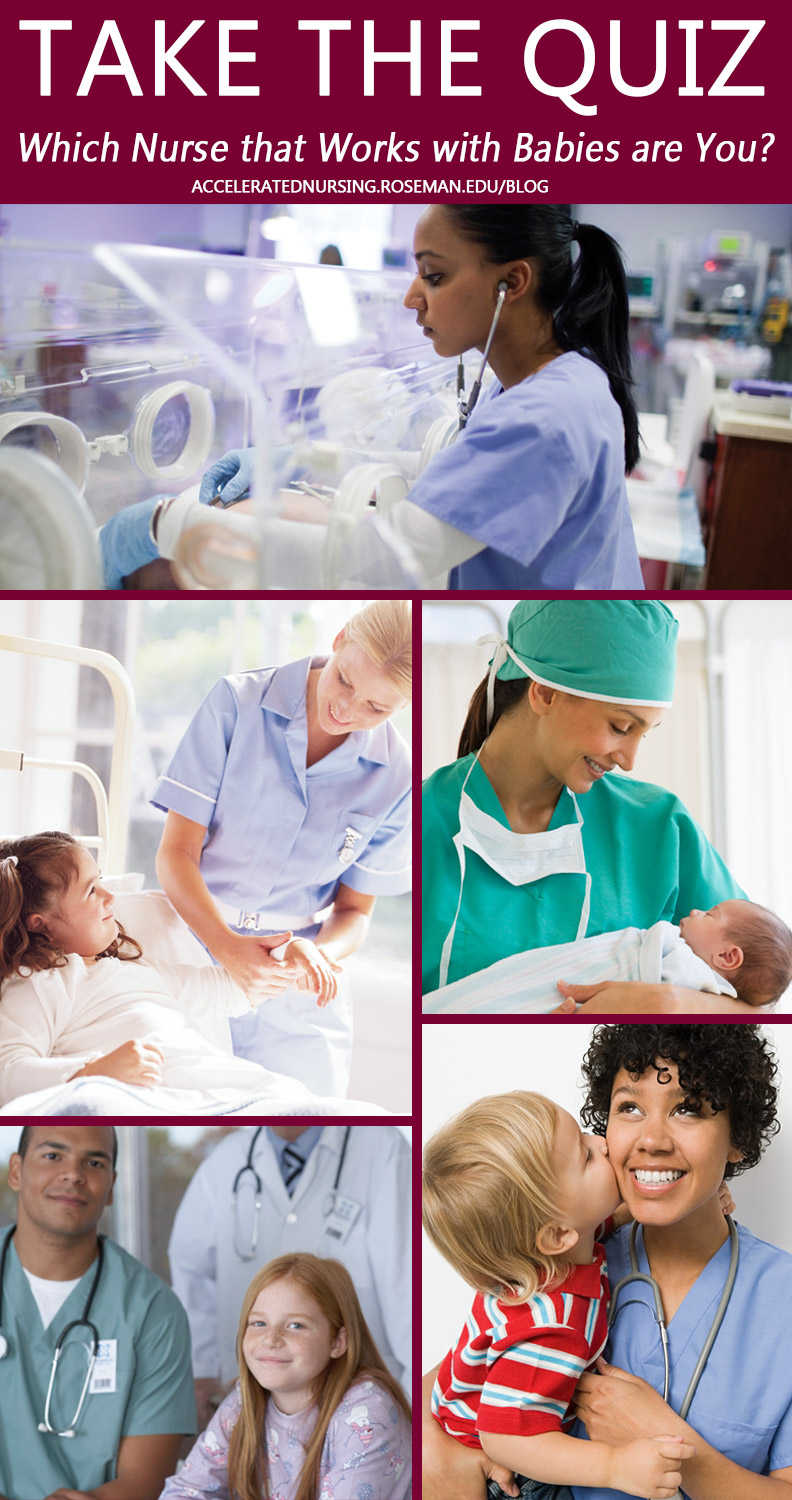 Are you passionate about becoming a nurse and want to work with children? Becoming a nurse that works with babies is an admirable career path. And you actually have several specialties you can go into.
Read a brief description of each nursing specialty available for anyone with an accelerated BSN degree, then take the quiz to find out which specialty is right for you.
Nurses that Work with Babies
1. Pediatric Registered Nurse
Pediatric RNs work with children of all ages, from babies to young adults. They are responsible for administering immunizations, giving routine check-ups, and providing counsel to family members on disease prevention and proper nutrition.
2. Neonatal Intensive Care Unit (NICU) Nurse
NICU nurses work with newborns who were born with birth defects or other health issues making life outside the womb difficult. These nurses often work with advanced technology in a fast-paced team environment and are expected to monitor patients' vital signs and keep families updated on any progress.
3. Labor and Delivery Nurse
Labor and Delivery nurses work with both mothers and newborns before, during, and after giving birth. They are responsible for monitoring vital signs for both the mother and child, watch for any complications during labor, and assist the mother after child birth with tasks such as breastfeeding. The delivery room is a fast-paced environment, so Labor and Delivery nurses have to keep up.
4. School Nurse
School nurses work for either private or public education facilities and can work with children of all ages. They are responsible for administering medications, educating students and faculty on health and nutrition, and dressing wounds that may occur during school hours.
5. Developmental Disability Nurse
Developmental Disability nurses work with children of all ages who experience mental disabilities, such as autism or Down syndrome. They help their patients learn to communicate and develop, as well as educate family members about their child's condition.
Which Nurse are you?
Answer the following seven questions to help you decide which nursing specialty you are right for.
With Roseman University's Accelerated BSN program in Utah and Nevada, you could become a nurse in as few as 16 months.
Contact an admissions advisor
today to learn more.