Our Accelerated BSN Program
As long as you meet the admissions requirements, our accelerated BSN program with two different learning modality options, a hybrid-online or on-campus, near Las Vegas or Salt Lake City can put you on the fast track to a nursing career. No matter which program location or learning modality you choose, you have the opportunity to earn a quality BSN degree in less than 18 months.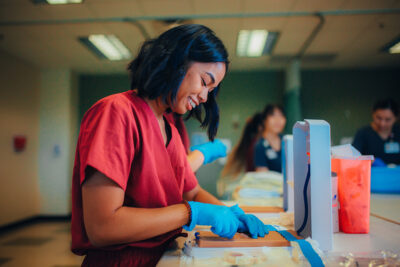 Our approach to nursing education focuses on your mastery of the course material by way of supportive faculty, blended learning, block curriculum, and ongoing assessment—all framed within an active, collaborative learning environment.
After graduating from one of our accelerated nursing programs, you are eligible to take the NCLEX-RN® to receive nurse licensure. In fact, you'll spend your final week in the program going over each portion of the exam and being assessed as to how well you know the material.
Blended Learning
Our accelerated nursing program in Nevada and Utah leverage your undergraduate experience in a non-nursing field so you can move right into professional nursing study after completing the ABSN prerequisite courses. Once you start the program, you can expect a rigorous, fast-paced blend of online and onsite curriculum.
Online Coursework: Dynamic e-Learning platform for the hybrid, online learning modality ABSN students, uses interactive content to teach you about nursing theory when it best fits into your daily schedule.
Skills and Simulation Labs: Hands-on instruction in a controlled, simulated medical environment teaches you how to safely put nursing theory into practice.
Clinical Rotations: Real-world patient care experiences at different medical facilities prepare you for the nursing profession.
While the program requires a lot of time and energy, you won't regret taking the accelerated path to nursing when you begin your new career. Just remember you are not alone in your journey. Our nursing program faculty and staff are ready to support you every step of the way.
Block Curriculum
Our accelerated nursing program comprises 15 learning blocks, a group of courses related to a specific area of nursing. Block curriculum allows you to focus on one subject at a time so that you gain a better understanding of the material. It also encourages faculty to apply various learning techniques to help you retain important nursing concepts as you progress in the program.

Ongoing Assessment
We assess your understanding of the course material every to two to three weeks. This proactive measure helps to identify your areas of strength and weakness so that you can adjust your studies accordingly. If you're having difficulty with a particular concept, we give you the opportunity to relearn the material and then redemonstrate your competence.
Contact us to learn more about our accelerated nursing programs in Nevada and Utah.